According to data, around 84% of shoppers will avoid buying from a brand that has a troublesome return process. Therefore, all eCommerce brands should focus on streamlining their return process. And how to do that? The answer is- by using efficient Returns management software. 
Returns management software is essential for eCommerce businesses to handle the process of receiving, inspecting, and processing customer returns. The most effective returns management software can simplify the return process, reduce costs, and improve customer satisfaction. With the right returns management software, e-commerce businesses can ensure a smooth and seamless return experience for their customers.
So, are you ready? If yes, take a quick look at our list of the best returns management software for eCommerce businesses!

Shipway Returns is an automated returns management solution that helps e-commerce businesses manage their returns process. It provides a comprehensive platform for tracking returns, automating order-related communications with customers, and streamlining the return and refund process.
Features

Offers a simple and user-friendly branded return page that allows customers to initiate across multiple orders. 

Provides real-time tracking information, allowing customers to keep track of their returns at every step of the process

Merchants can reject/approve return requests, offer a one-click exchange of products with other variants, specify categories that can't be returned, and more

API integration with all major carriers for reverse pick-up. Moreover, it also offers quality-check option

Shipway returns feature automated cod/prepaid refund processing, ensuring that customers receive their refunds as quickly as possible without delays


Returnly is an innovative software solution that offers a comprehensive suite of features that enable businesses to manage returns, refunds, and exchanges quickly and efficiently. 
Features
Provides an automated solution for processing returns and exchanges, allowing customers to initiate returns and exchanges directly from the merchant's website  

Enables merchants to process refunds quickly and securely

 Merchants can use fraud protection to ensure that only legitimate returns and exchanges are processed

Integrates with major shipping carriers, allowing merchants to create and manage return labels

The next returns management software on our list is LoopReturns. It is an innovative platform that helps eCommerce brands optimize their e-commerce business by providing real-time insights into their customer's shopping habits.
Features
Offers Reasons for Returns form that will keep you updated about the actual reasons.

Instant exchange approval and exchange credit process

Integrated with various third-party platforms 

Merchants can offer customers a refund, store credit, and gift vouchers
4. AfterShip Returns Center

AfterShip Returns Center is an easy-to-use returns management solution designed to help businesses streamline their returns process. With AfterShip Returns Center, businesses can create custom return policies, manage return requests, and more.
Features
Lets you make custom return policies for your business 

Manage return requests from customers and track the progress of each request

Has an easy-to-use self-service portal to initiate returns and track their progress

Generate reports and analyze data to gain insights into your returns process. 

Integrated with third-party platforms such as Shopify, Magento, and WooCommerce

Return Rabbit is another popular returns management software that helps businesses manage and track their returns.  It offers automated returns processing, tracking, and reporting capabilities. 
Features
Enables businesses to create custom return policies and manage returns across multiple channels

Offers a comprehensive dashboard to track returns and analyze return trends 

Integrated with popular eCommerce platforms and shipping carriers

Businesses can set up automated email notifications for customers and staff

ReturnLogic is a software platform designed to help businesses streamline their returns process. It simplifies the process of managing returns and refunds, helping businesses save time, money, and resources. 
Features
Offers an automated returns processing system that streamlines the entire returns process, from initial customer contact to final refund or exchange

Provides real-time tracking of returns, so customers can track the status of their return at any time

Automates the refund process, so customers can receive their refunds quickly and easily

Offers fraud detection to help protect businesses from fraudulent returns Provides detailed reporting to help eCommerce brands to track and analyze their returns

The last returns management software that eCommerce brands cn use is Return Prime. This useful tool can help businesses to get insight into why people are returning or exchanging products, and smoothly manage all sorts of returns.
Features
Offers a powerful dashboard to capture all the refund and exchange orders

Automates the process of approving return requests

Integrated with famous shipping providers like Delhivery, Blue Dart, and more

Provides analytics and reports about all return orders that can give you an insight into the performance of your products and shipping providers.
Final Takeaway
All the above-listed returns management software can easily get rid of your returns issues. So, try the one that suits your requirements and get ready to enhance your CLV (Customer lifetime value)!
Frequently Asked Questions
Q. What is return management software?
A. Return management software is a specialized software solution designed to help businesses manage the returns of products. Some of the software that you can use are Shipway Returns, Aftership Returns Centre, and more.
Q. Which is the best returns management software for small or medium eCommerce businesses?
A. Shipway- the all in one shipping automation is the best returns management software, be it a small, medium or larger eCommerce businesses.
Q. How do you manage eCommerce returns?
A. Some of the best ways to manage eCommerce returns are listed below-
Establish a clear returns policy
Invest in a good returns system
Automate the return process
Keep customers informed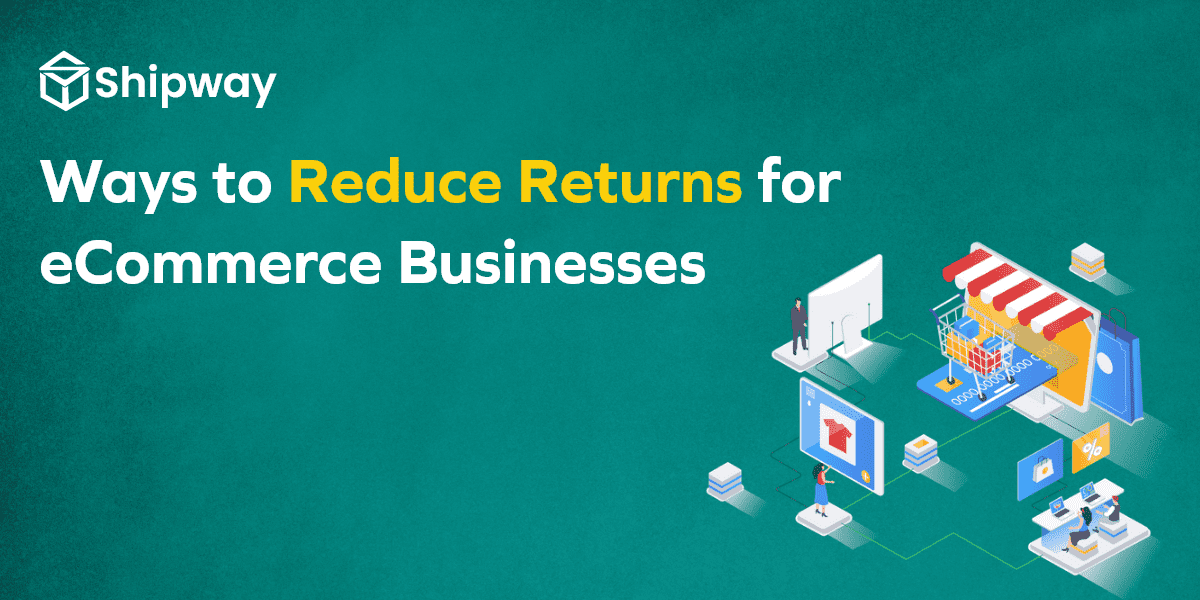 The goal of launching an eCommerce site is to facilitate a successful transaction between your store and customers. However, this goal isn't always...
read more