When was the last time you waited for weeks for your order to arrive? Years ago, right.
As a customer, you would have either contacted customer support or at least considered doing it for the delay in your online order. Am I right?
But today, you can receive your orders the next day itself. Isn't it amazing?
Similar to you, every eCommerce customer has one simple expectation from D2C order deliveries i.e., fast delivery with responsive customer service.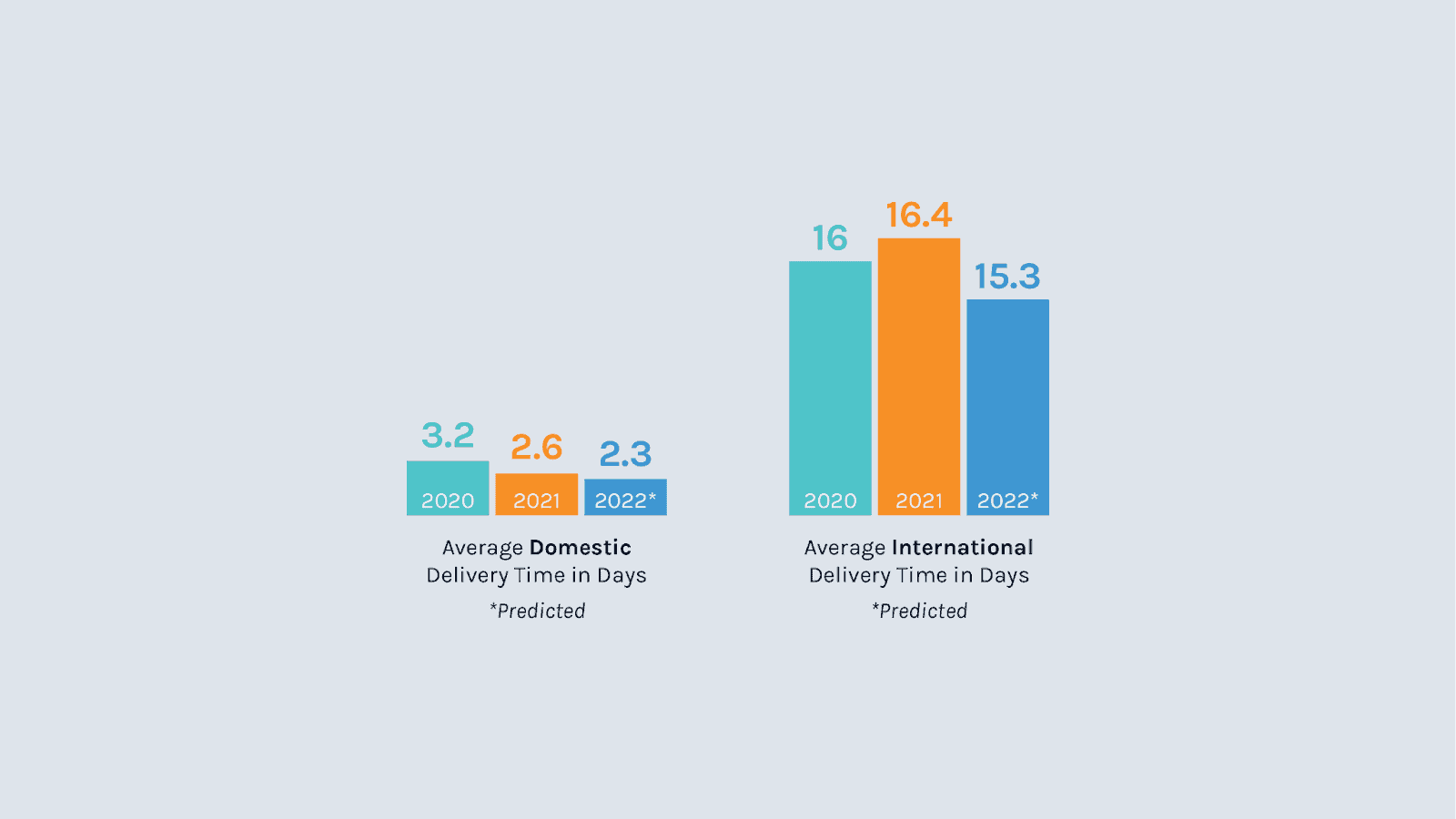 The above image denotes how delivery time has to go down considering the ongoing demand for same-day & 2-day delivery. 
This is a real challenge for D2C businesses, especially when you are a start-up. As per industry stats, 53% of retailers state that delivery and fulfillment are still a challenge for them.
That's why scaling growth while managing logistics is one of the toughest challenges for a lot of eCommerce businesses.
How to choose an app for your logistics needs? 
Customer reviews

: Look up what others are saying about the app to understand if their experience is satisfactory.

User experience:

Check its usability and how easy it is for you to navigate the app.

Pricing:

Ensure the plans provided by the apps meet your business budgets and goals.

Customer support:

Ensure their team is available to support in your preferred time zone.

Improved Logistics for Faster Deliveries
Whether you are running your eCommerce platform or using a platform like Shopify for your online store, you have to nail your logistics.
8 Best and Cheap Shopify Apps to Improve Your Logistics Game
So as you set up your Shopify store and think about all that you can offer, here are some platforms that can make eCommerce order fulfillment simple and easy for you.
Better Shipping is the solution to help your Shopify store manage shipping rates. You can easily set this up and define rules for shipping rates.
Whether you are an eCommerce platform dealing with small products or large ones, Better Shipping has you covered for all kinds of products.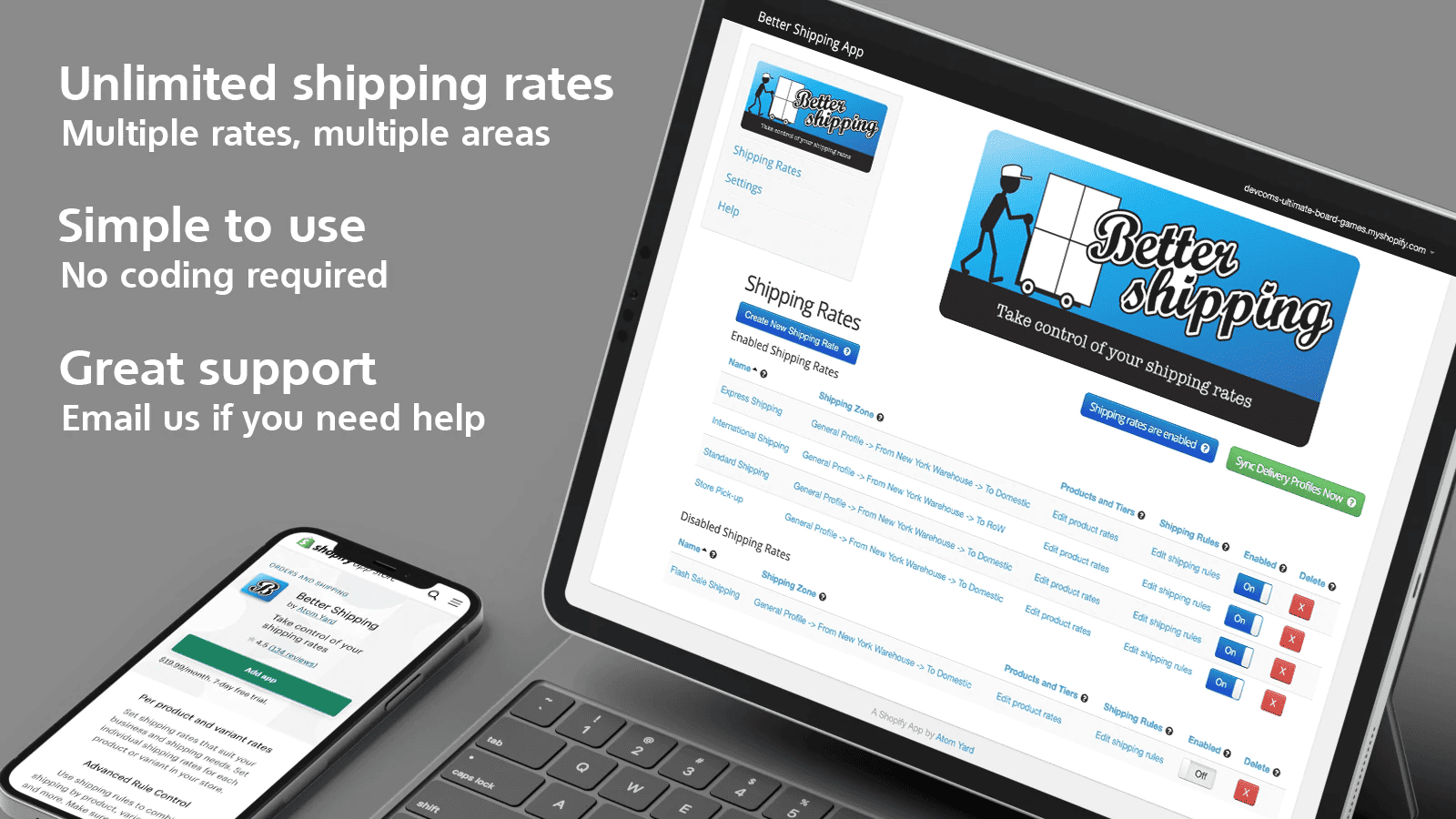 Features:
Enable flat shipping rate for products and their variants 

Set rules for products that cannot sustain long deliveries 

Add additional charges for fragile goods 

Ensure specific shipping methods for specific goods. For example, goods like fresh food could have limited delivery options to maintain quality and you could set Zipcode limitation rules

Provide customers with loyalty rewards like free shipping when they make a valuable purchase

In house customer support 
Pricing:
Better Shipping comes with a 7-day free trial after which there is a standard payment option of $19.99/month.  
Shipway's Shipping Automation platform is an end-to-end automated order fulfillment solution for eCommerce businesses.
Your worries about labeling orders, tracking them, assigning carriers, updates on non-delivery items and even handling returns can rest easy with this platform.
With its one-stop solution, the platform offers an efficient eCommerce order fulfillment process with auto-sync of customer details from your Shopify store, auto-detect fraud orders, auto-generate shipping labels, GST invoices, manifest list, and auto-assign carriers according to their shipping performance for fast delivery.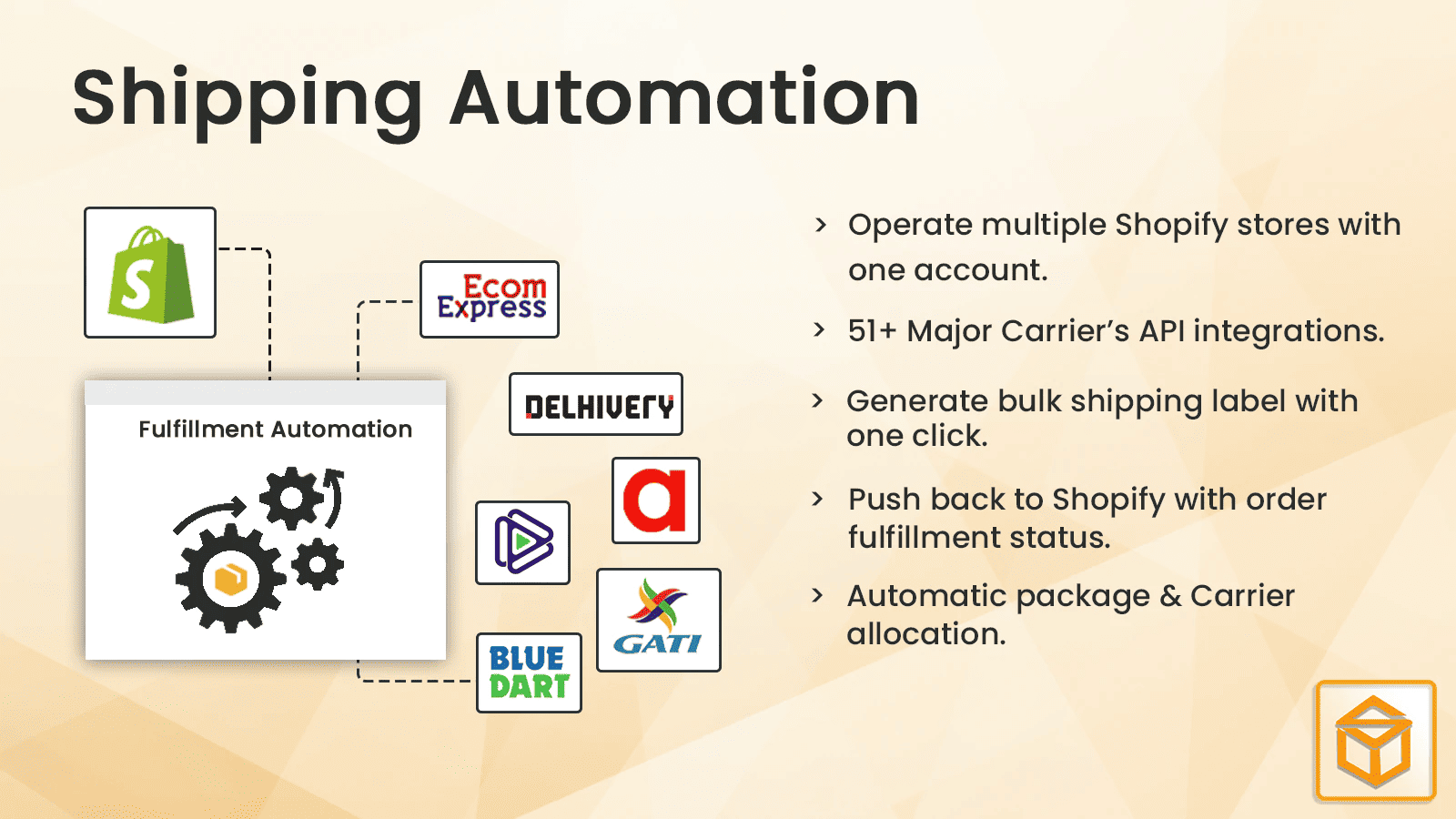 Features
Auto-allocate carriers according to pin codes, service types (surface, air, etc.) and weight & dimension for forward and reverse shipping, both.

Auto-generate and download bulk shipping labels (A4, 4 in 1, thermal, etc) and invoices.

Full control over the whole fulfillment process with real-time updates on your dashboard.

Seamless integration with all the leading courier partners and aggregators for

faster eCommerce shipping

.

Send automated non-delivery follow-ups for undelivered orders to reduce the RTO rate.

Generate reverse pick-up with multiple drop locations and Quality check options.

Provide clubbing of multiple RMAs with one AWB number.

Provide instant refunds via Giftcard, UPI, Paytm, Bank account, & Original payment source.

Send pro-active forward and return order status updates via SMS & WhatsApp.
Pricing
Shipway offers a free trial of 7-days to start with after which 4 plans are available. Starting with its Basic Plan which gives access to manage 500 orders for the amount of $19.99/month, leading to Silver, Gold, & Platinum Plans.
Shipway's track order and notifications app help to improve the tracking experience for your customers by providing seamless tracking and sending regular order status updates in real-time, significantly reducing your customer queries demanding their order status.
Create your own branded order tracking page on your website, and keep your customer traffic to your website instead of redirecting them to the carrier's website every time they want to know about their order status.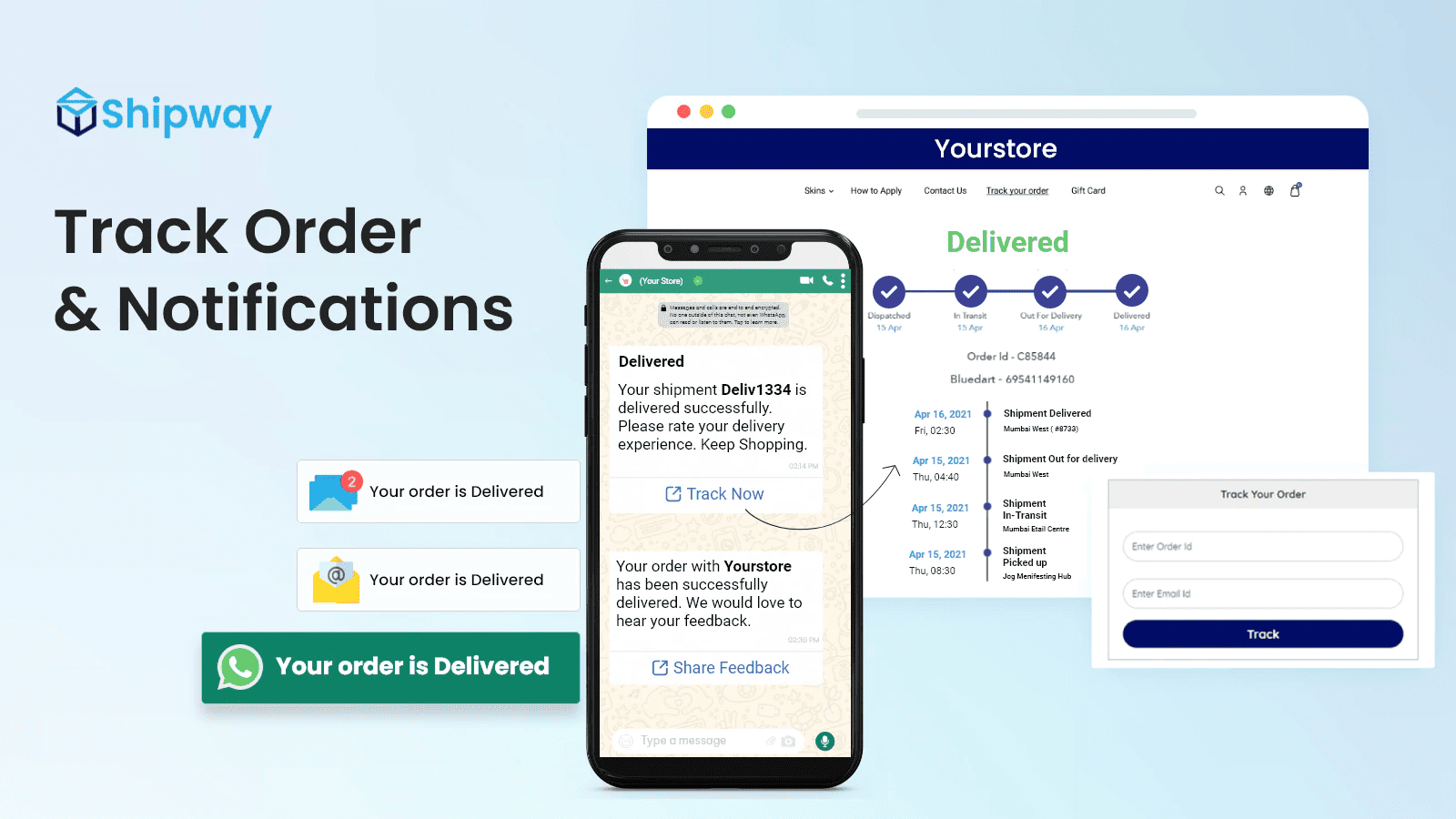 Features
Create your own order tracking page with your Store's theme – header and footer.

Real-time tracking of 600+ carriers across the globe.

Dedicated order tracking URL/page for each shipment.

Show the reason for the return pick-up failure. 

Supports multi-language and regional carriers.

Provide order status notifications with "Estimated Delivery Date"

Send branded notifications via WhatsApp, Email, & SMS.

Schedule and send feedback/review notification automatically after 'X' number of days of delivery. 
Pricing
Shipway provides a "Free to Install" Track Order & Notifications app, with a 7-day free trial. The basic plan starts from $9.99/month.
ShipStation is a platform that enables you to cumulatively manage all your selling channels including Shopify with multiple carriers. 
From the process of importing your orders to providing tracking information, you can do it all in one comprehensive solution.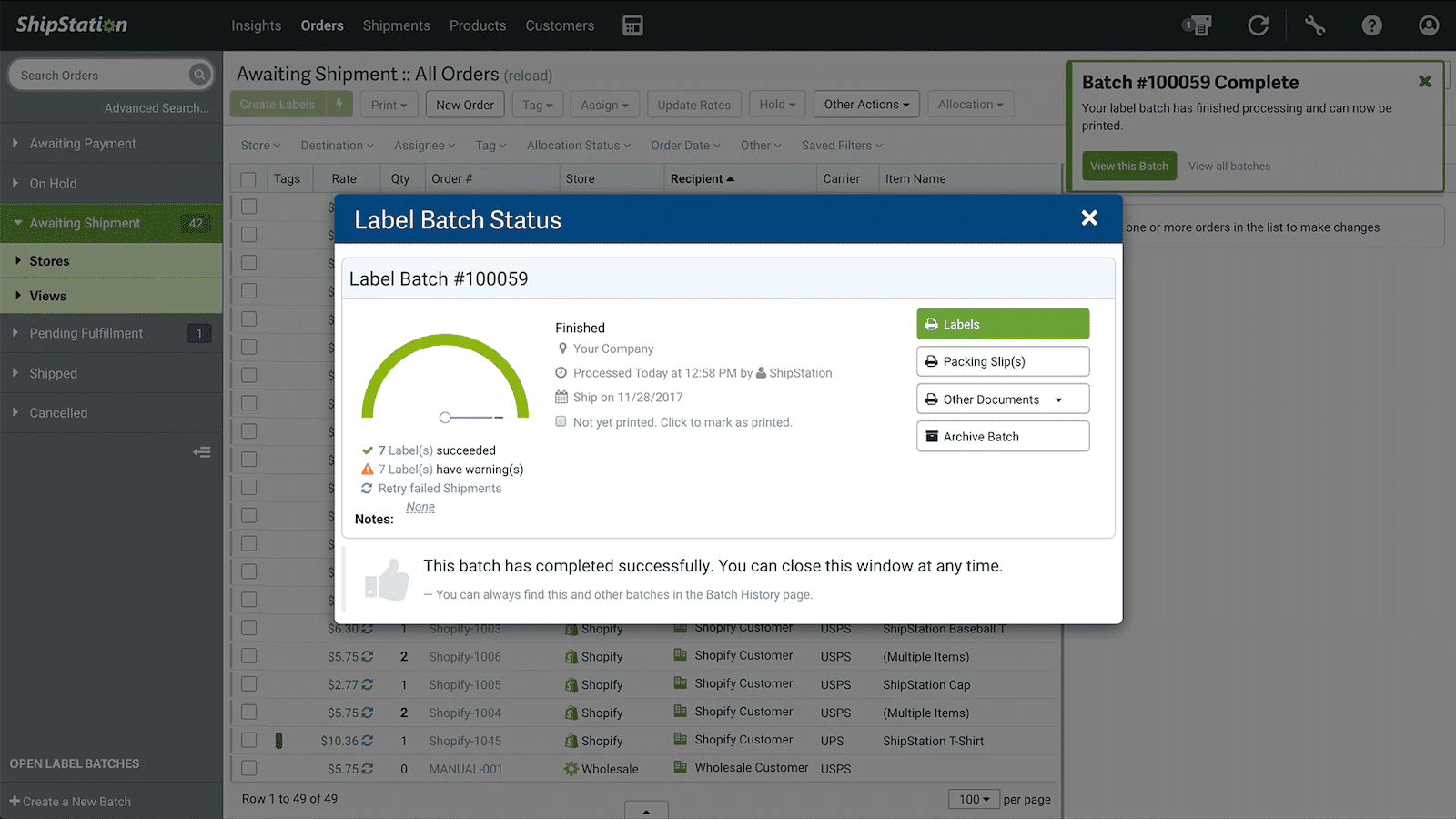 Features
Compare prices between carrier services in real-time to get the best deal

Integrate all your selling channels in one place 

Automate all the shipping processes 

Print shipping labels in bulk 

Personalize the tracking information for the customer with your brand's identity 

Enable shipping and tracking notifications 

Provide a self-return option

Choice of delivery option for the customers 

Map all the details from different inventory sources to ShipStation and then to the location
Pricing
It provides a 30-day free trial after which the basic plan starts at $9/month with 50 shipments.  
Shippo is another leading multi-carrier shipping platform for your Shopify store. It provides you with all that you need from a shipping platform including printing labels, and order tracking.
You can choose from 85+ carries globally and experience the best rates.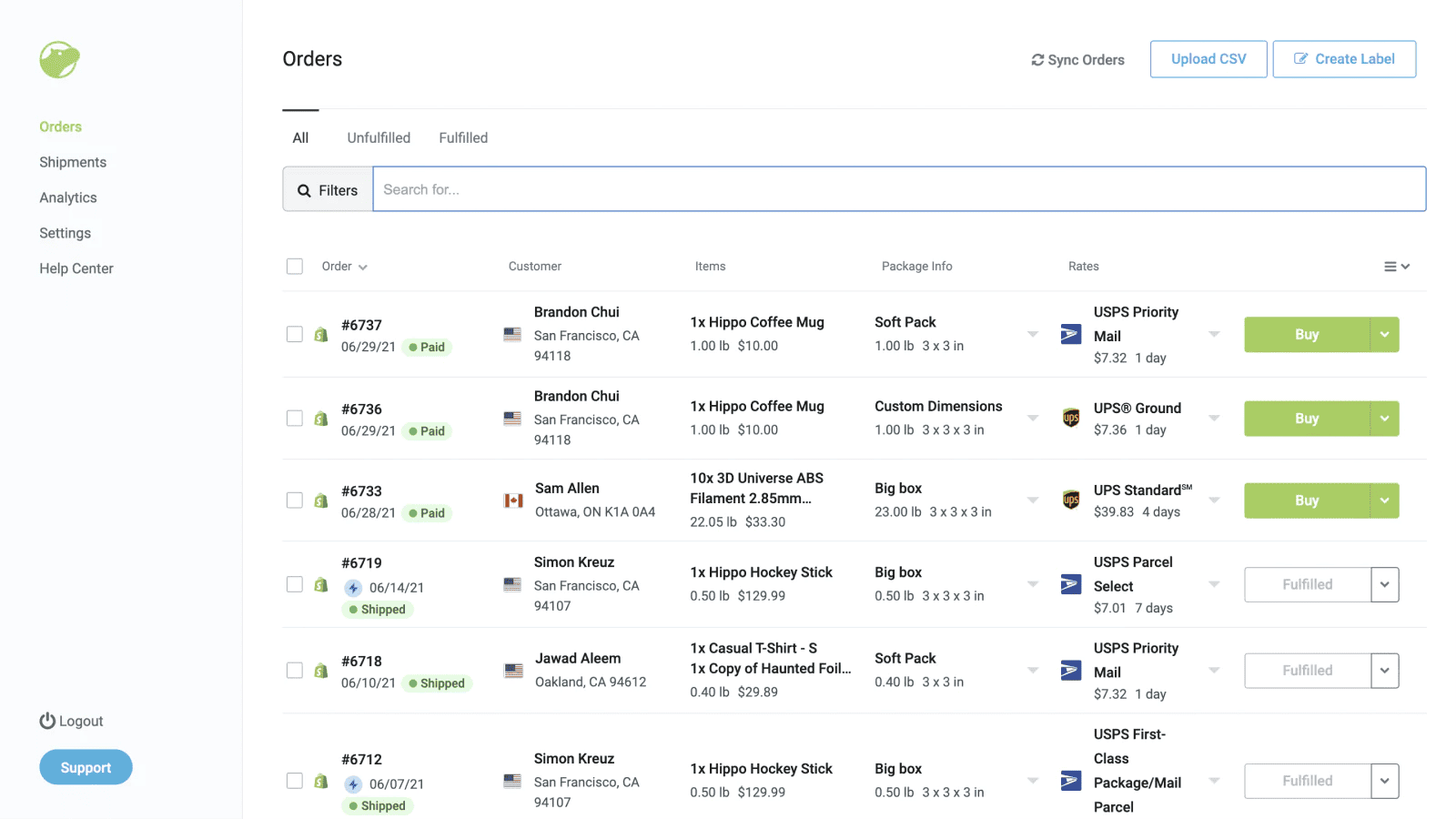 Features
Bulk print up to 100 labels 

Low shipping rates from leading carrier services like USPS, UPS, DHL, and more 

Automated fulfillment experience and manage all orders in one platform

Upload CSV files to avoid manual errors 

Increase post-purchase experience by providing branded tracking pages, shipping emails, and more 

Return labels available for the customer's ease of use 

Validate addresses globally to reduce the possibility of failed deliveries 

Insurance is available for premium shipments for packages sent with USPS, UPS, FedEx, DHL Express, and Canada Post

Multiple users can access the same account 

Carry out partial fulfillment of orders in case of back ordered items and products in multiple warehouses 
Pricing
It is free to install and the basic plan is free to use. 
ShippingEasy is a leading online shopping software solution. It manages your orders across channels and helps you in the customer's journey of receiving or returning a product.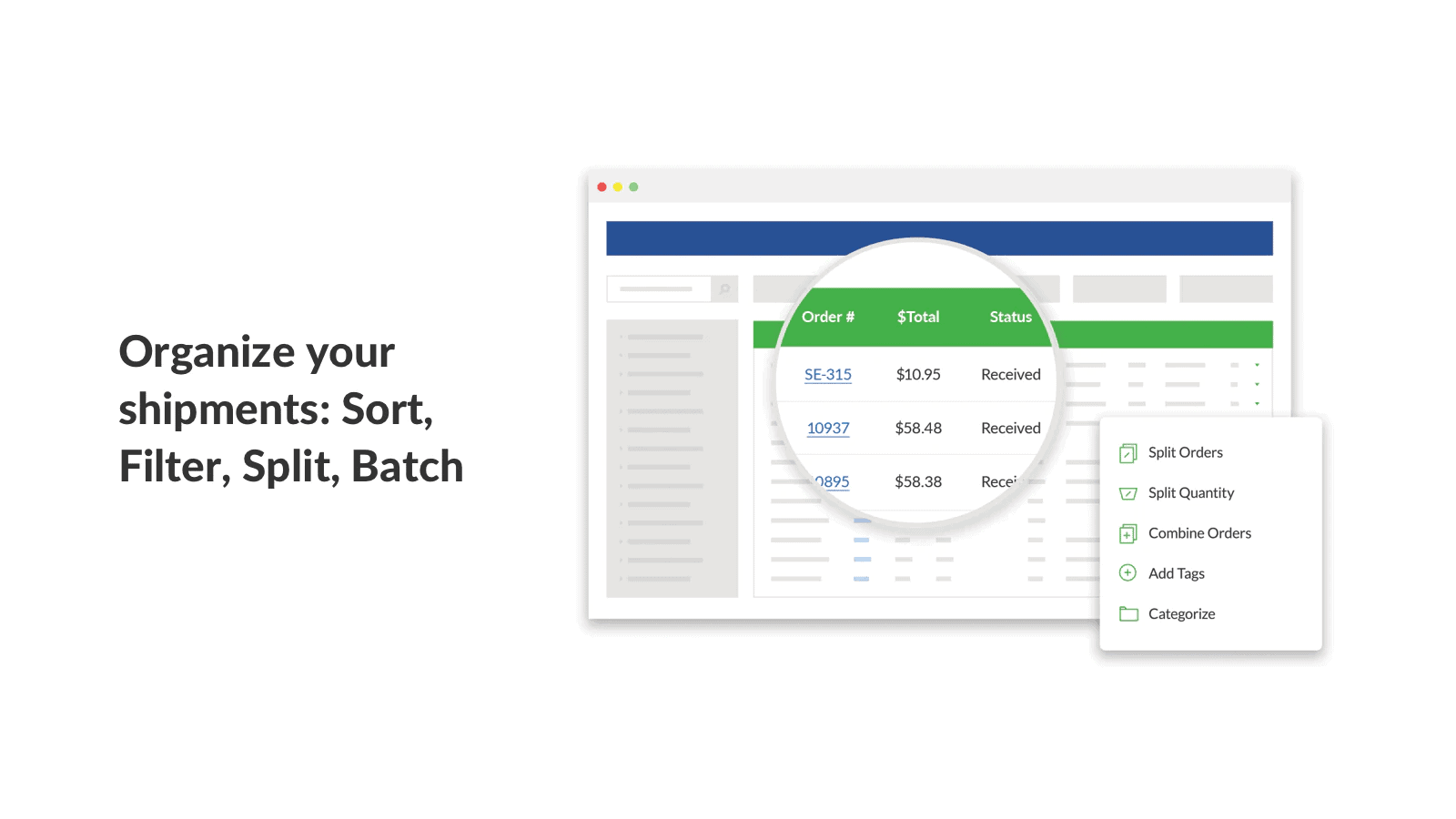 Features
Imports order information across sales channels 

Automatically assign carriers according to the customer's shipping preference 

Adds insurance to products that need it 

Print labels according to your brand and preference 

Provides branded tracking information to you and the customer 

Tracking numbers for dropshipping 

Enables easy returns with the same ease and tracking information 

Experience a customizable dashboard with comprehensive shipping reports 

Integrate with Amazon Alexa to hear all your shipping management information with ease

Customer marketing features such as automated branded emails for campaigns 

Feedback forms to build a repository of customer insights 

In house support 
Pricing
It provides you with a 30-day free trial with the basic plan starting from $5/month. 
Shipping Rates Calculator Plus
Tackle the problem of abandoned carts by avoiding "hidden" charges at the last minute. Shipping Rates Calculator Plus shows the shipping rates information upfront to avoid any last-minute surprises. 
This is calculated based on the user's IP address with alternate location options.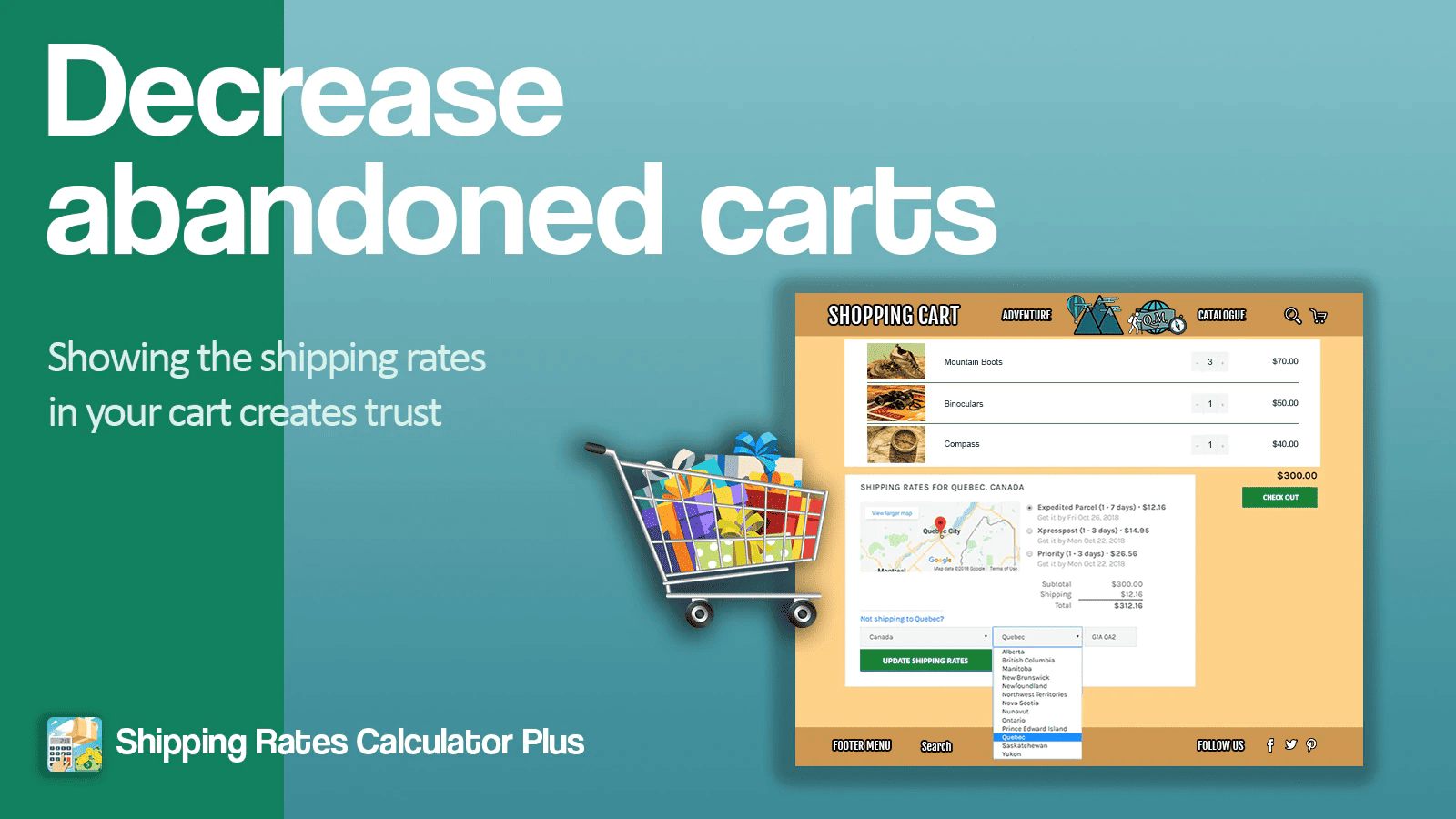 Features
Provides customers with the exact shipping rate 

Gives delivery estimates 

Does not need any configuration 

Mobile friendly 

Provides delivery rates by various carries 
Pricing
The solution provides a 30-day trial to explore the product. After which you can pay $6.99/month with no hidden fees. 
AfterShip Order Tracking & SMS
AfterShip specializes in post-purchase experience to help increase customer engagement and sales. It provides extensive features to manage your tracking details and relationship with the customer from the time an order is shipped, delivered, and beyond this for customer relations.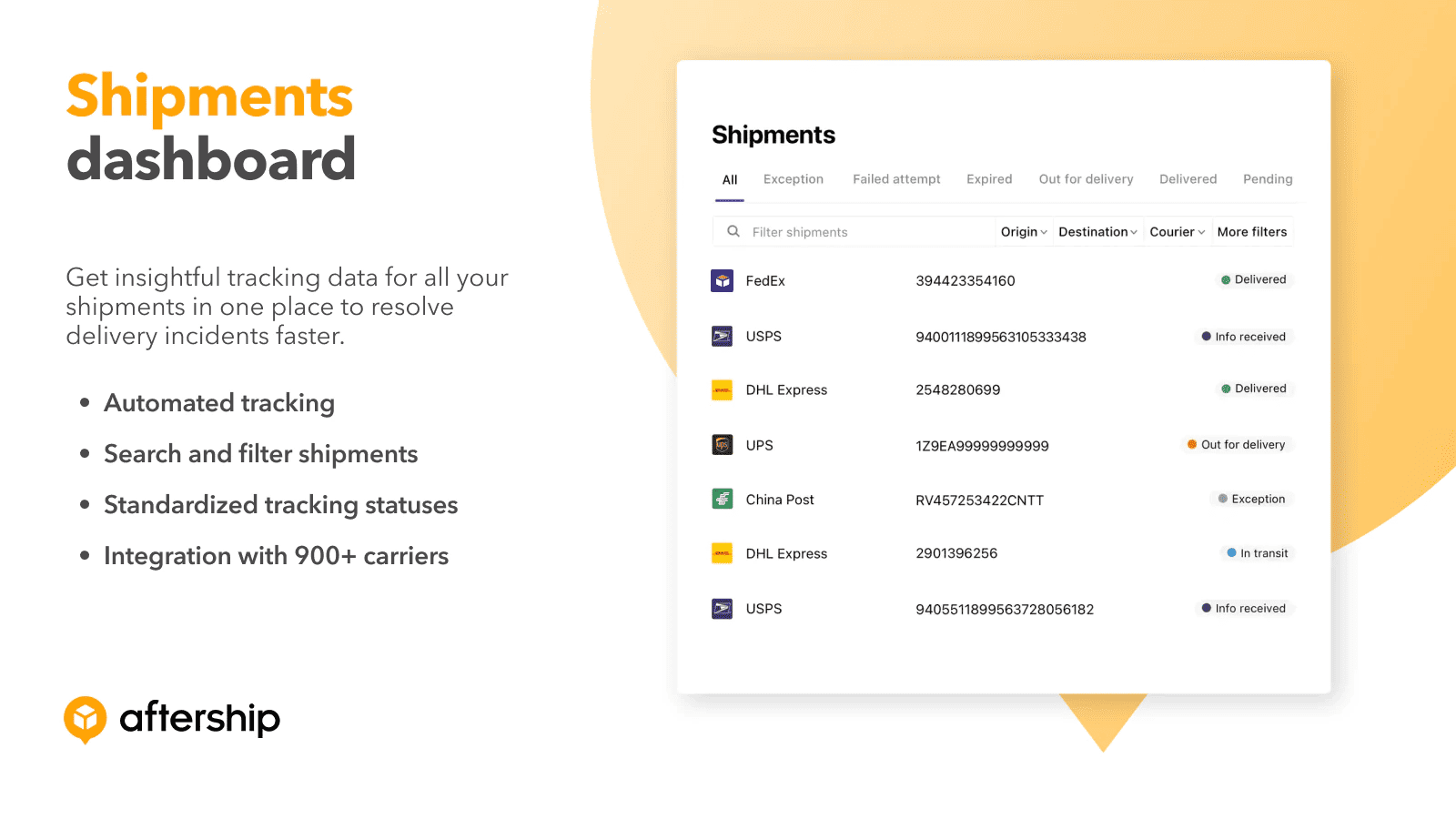 Features
Track orders from multiple sales channels in one platform 

Choose from over 981 carriers 

Automated tracking details with over 7 statuses and 33 sub statuses 

Make informed decisions based on detailed tracking insights

Integrated solution with Klaviyo emails

Use filtering options to learn about shipments based on parameters such as status, carrier, and more

24/7 customer support 

Multilingual email support 
Pricing
It offers a 7-day free trial. The basic plan is free with 50 shipments.

Conclusion
The experience you provide your customers in their purchasing journey is pivotal for customer retention.
Good logistics is a competitive advantage too. It implies that you care about your customers and are willing to go the extra mile.