Various eCommerce brands use the return merchandise authorization (RMA) process to effectively manage their return and exchange processes.
Return or exchange is a diverse process with a multitude of events that increase the total turnaround time of the process. Especially when multiple return requests are generated from the same order ID.
The basic process of return may look like this.
According to this flow, there is always someone involved working on each stage of the process, either checking the defective items, marking items as received, contacting customers for more information, etc. This process is directly proportional to the number of return requests received.
What happens when multiple returns are requested from the same order ID?
For example, a customer ordered 7 items in his/her order, after receiving he/she wants to return a few of them. For returning he/she put the return requests for each product separately (mostly due to the sequence in which the products are received).
In order to start processing these returns, you will generate separate RMA numbers for each return request received, as usual. Moving a step forward you will share the details with different courier partners for each reverse pick-up, doubling all your operational costs.
The return process discussed above will get multiplied by the number of return requests, increasing your costing on:
Operational costs

Logistics costs

Total turnaround time on the return process
Club multiple RMA numbers with Shipway
We have updated our return automation system, here you can now club the multiple RMAs of partial return requests to single reverse pick-up and easily process the further return events.
This will help you to reduce the total return process time as well as the related operational and logistics costs.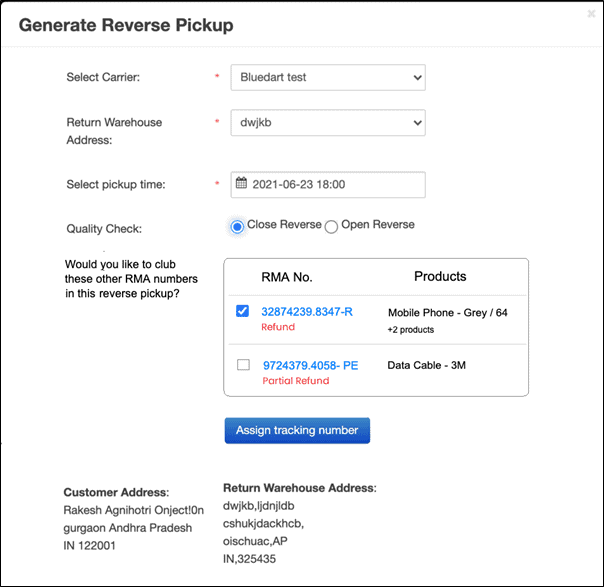 Return management system for your eCommerce.
With Ezyslips, you can have a Self-service portal for returns/exchange, Automatic schedule reverse pickup with QC, Automatic refunds/replacements, Seamless integration with Shopify, Magento, etc. and notify customers at each step. 
Upto 70% reduction in turnaround time for the end-to-end  return process