Fed up with increased COD orders in your e-commerce store? Still couldn't find any solution to reduce RTO orders? 
COD (Cash On Delivery) mode of payment is the most preferred method in India for online purchases. These COD orders are the major factor responsible for packages getting RTO (Return-to-Origin).
Customers get relaxed after selecting COD as their payment option, they don't get impulsive as they would've for their pre-paid order. Less eagerness leads to less enthusiasm to receive the order.
And if there occurs any difficulty, in-order delivery or the customer itself is not available to receive the order, they don't really bother much (as their money isn't stuck), thereby taking advantage of either rejecting the order or refusing the payment. 
There exist multiple reasons why COD is the major preference of Indian consumers as compared globally, simultaneously involving increased chances of RTO.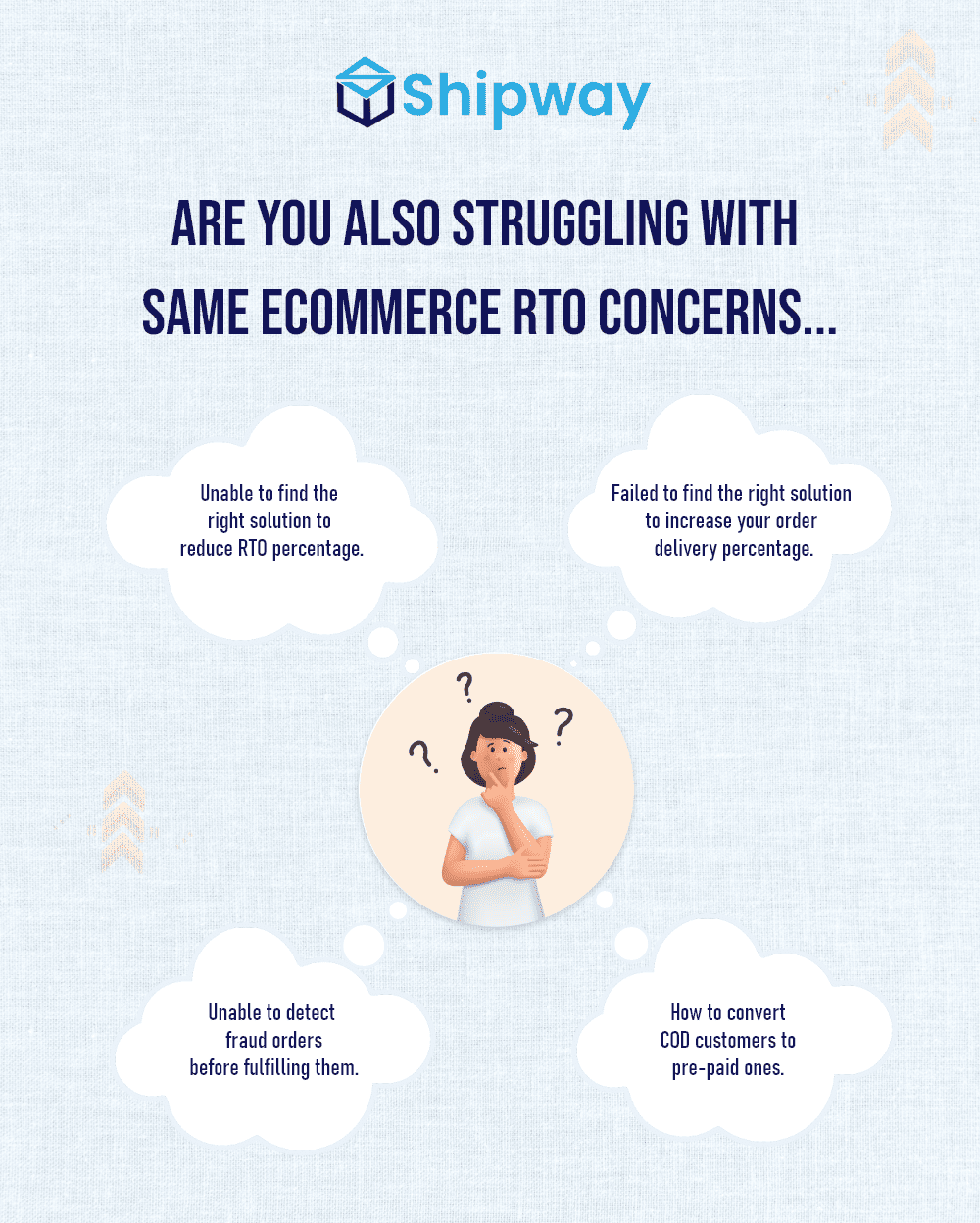 Then first, you need to understand the COD payment method and RTO as the problems correctly. Do you need to know how they are related to each other? How does one impact the other? Is one solution enough to solve both the problems?
Let's get started…
What is Return To Origin (RTO)?
Whenever the delivery of an order is not completed (especially after a few attempts), due to any reason, the order is said to be or marked as RTO.
RTO is an abbreviation for return-to-origin, where the order marked as RTO is sent back to the seller or warehouse from where it started its shipment journey.
To get the solution, you need to understand RTOs and the problems that occur from them.
Why is the Shipment Returning Back to the Seller?
RTO as a challenge can differ from country to country, from bigger economies to still growing economies.
For example, in a firm and e-commerce reliable country like the U.S., the most difficult part for eCommerce merchants is to deal with customer loyalty and cyber security as most of the orders are prepaid, which automatically makes the RTO percentage very low.
Whereas in countries like India, where major online orders are done with COD mode of payment method, chances of RTO automatically increases as there is always an insecurity of customers for not receiving their booked orders.
Why are RTO Orders Difficult to Handle?

For e-commerce shopping people mostly rely on the COD mode of payment method i.e., they prefer to pay for their order once they receive it just like brick and mortar stores.
This gives them an easy opportunity to refuse to receive the order on delivery or refuse to pay for the order, resulting in it being the RTO.
Especially with first-time purchasers, who appear the first time for their purchase on the online medium of shopping, here uncertainty of confident shopping is already low hence chances of order denial and resulting in RTO.
They are very suspicious about their ordered product's quality, whether it will reach their address properly and safely, without any damage, etc.
Their burning curiosity ends up forcing them to place their order online to try at least once but with COD mode of payment method, avoiding the chance of money loss or fraud.
This eventually adds to the customers' preference towards COD.
To add on, every pin code in India is not serviceable for the last-mile deliveries of e-commerce orders. All the Tier-3 & Tier-4 cities are still not covered by many brands and carrier service providers for ecommerce shipping operations. 
This situation includes delayed order deliveries, stuck shipments, and failed order deliveries, or they end up with cancellation and consequential RTOs.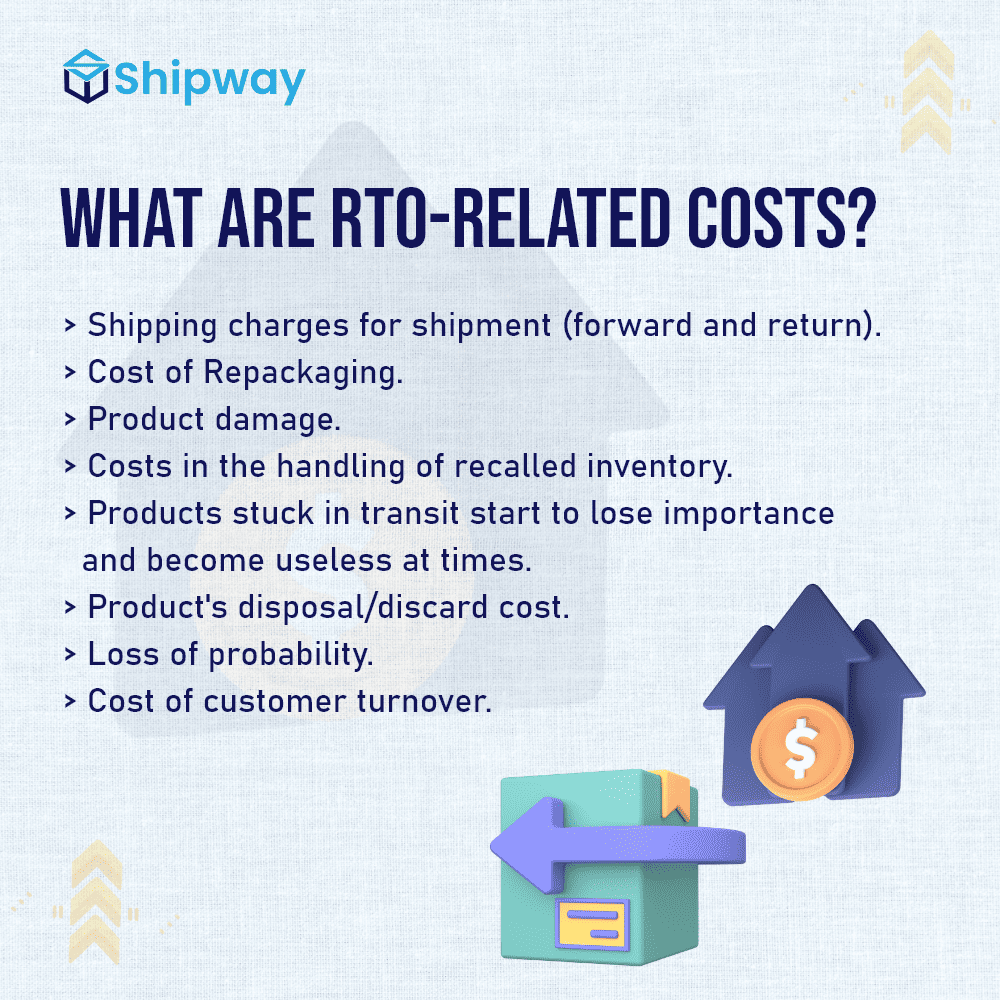 What Encourages Consumers to Return Items?
It is always important to know your customers, what they want, why they are returning the orders, the reason why they deny receiving the orders at the time of delivery, etc.
As a D2c e-commerce brand, before going towards the solution, you need to focus on why your customers are returning their orders, why there are orders turning into RTOs. 
Apart from COD orders and their percentage of RTOs, here are a few possible reasons why customers deny receiving their orders and ultimately return to their origin (manufacturer).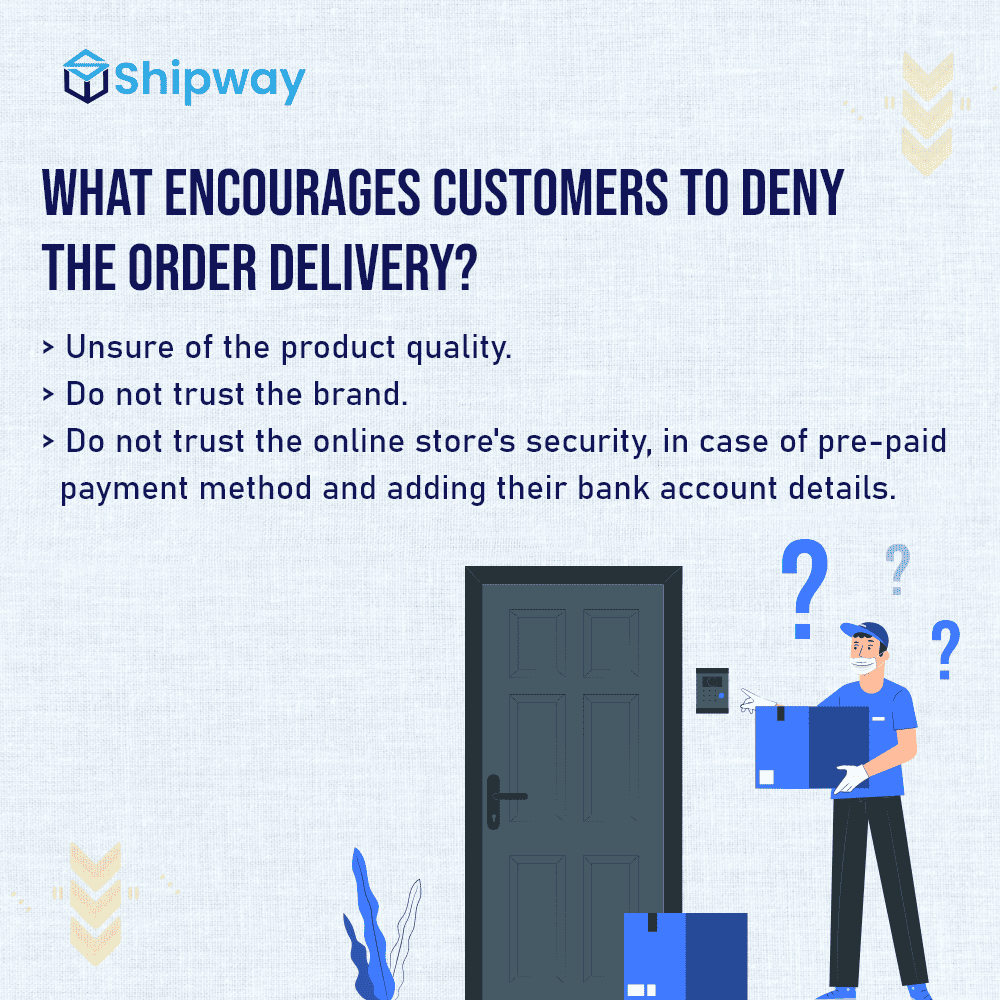 A Few Tips to Significantly Reduce RTOs in 2022.
The growth of the eCommerce industry has flourished D2C brands but still increasing RTO percentage is a matter of difficulty for them. Let us briefly discuss how Shipway can help you reduce RTO percentage.
Here's how Shipway can help D2C eCommerce brands reduce RTO percentage in 2022.
1. Fast shipping
70% of RTO orders occur because of delayed deliveries. Therefore the D2C brands need to fasten their shipping processes so as to deliver the orders on time.
As faster shipping will make customers satisfied with their purchase, reach them before their occasion, hence reducing chances for them to search for an alternative.
2. Better post-purchase experience 
Reach your customers with a better post-purchase experience, assure your assistance whenever they require it. 
Notify them in real-time of their order shipment status update when it is in transit, packed, out-for-delivery, etc.
Notification Alert in case of order delivery delay or any other exception.
3. Blacklist customers with a high RTO percentage
To avoid the high risk of increasing RTO percentage brands should blacklist the customers for the COD payment method if they had a purchase history of purchasing on COD and then deny it at the time of delivery.
4. Detect human errors
Human errors are quite normal while adding the address or contact details during the online purchase. Your system should be flexible enough to detect such errors.
For example – Missing lane no./landmark in the incomplete address, extra/missing digits in phone number, etc.
Ignoring them to refer as risky orders, instead confirm from your customers for the correct information is such cases. 
Or simply give an option to save the address and details in the profile of customers so that there is no need to enter the address and other details at the time of every checkout.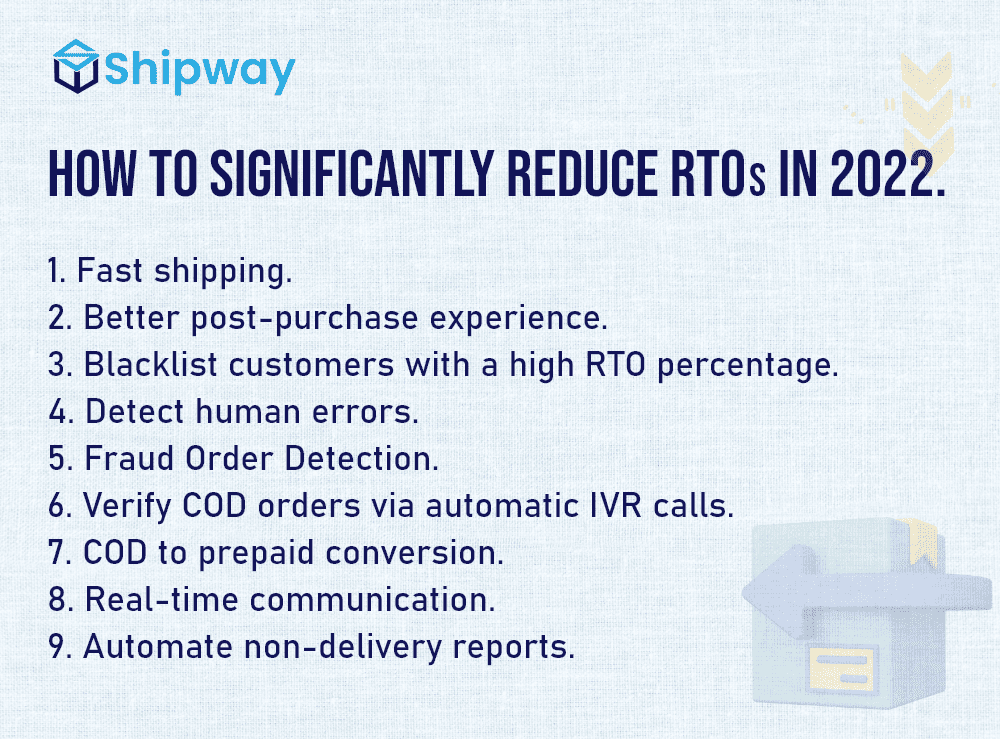 5. Verify COD orders via automatic IVR calls
70% of eCommerce customers from India, UAE, and the Middle East utilize the COD payment method. It is a huge percentage, but what businesses can do first place is verify the COD orders.
To verify the COD order most businesses started with email, sending emails for verification whose open rate was obviously not immediate. Skipping similar order verification via SMS, businesses should invest in Interactive Voice Response (IVR).
A fast, simple, and universal solution to this problem, IVR is also a great option for large-scale businesses, as it includes repeated actions with the least human touch involved.
Shipway with its COD verify app offers this simple flow to e-commerce businesses to handle their COD verification. As soon as the customers place an order with the COD mode of payment, an automated verification call is delivered to their registered mobile number.
The IVR call prompts a response, with the following options:
"Press 1" to confirm your order.
‍"Press 2" to cancel the order.
Shipway has been successful in reducing up to 60% of COD fraud risk through IVR calls as the method for COD order verification. Thereby reducing up to 20% of the overall RTO percentage.
6. COD to prepaid conversion
With COD as an easily available option for online shopping, customers impulsively purchase many items, even what is not required with the intention to return them ultimately.
Shipway understands the concern of brands for RTO orders with COD mode of payment, therefore assisting eCommerce companies with the service of converting COD orders to prepaid before delivery, with a success rate of up to 15% reduction in RTOs
Shipway's COD to prepay app enables you to send notifications to your customers via WhatsApp and SMS to prepay for their order with last-minute discounts to entice them.
7. Risky Order Detection
As per growing digital trends, it's been difficult to detect fraud orders for eCommerce websites, with the increased sales, leading them to bear huge losses.
Many of the customers purchase online with the intention to return (or don't accept its delivery) it. For this fraud, they either mention their wrong address or have a repeated history of denying the order delivery.
Analyzing this risk factor, Shipway is helping eCommerce companies to reduce their operations costs on fulfilling fake orders by fraud detection before fulfillment by up to 30%.
8. Real-time communication
Post-purchase communication is an integral part of the eCommerce business, customers cannot be happier than receiving their order status update in real time.
Shipway not only enables you to inform your customers about the whereabouts of their order but also with the medium that has the highest opening rate of messages.
Shipway-Shipping Automation app allows you to send notifications to your customers on WhatsApp along with the order lookup page link where your customer can check other details of their order.
– How order lookup page can help?
Order lookup page is an advanced version of the order tracking page which allows your customers to check their order status as well as
Option to prepay for their order, in case of COD

Cancel order, if they wish to

Mark re-attempt for delivery, if wish to receive their order
9. Automate non-delivery reports
Many times, the order didn't get delivered to the delivery address which can either be due to wrong delivery information or customers not being available at their address to receive their order.
In both cases, the order will be returned to the origin (RTO), if not re-attempted for delivery.
Shipway's fulfillment automation app allows you to generate a detailed non-delivery report for all the unsuccessful orders deliveries along with the reason behind it.
The app enables you to ask your customers the re-attempt of their order delivery, for whatever reason it went unsuccessful previously.
Shipway has successfully reduced up to 30% of RTO with non-delivery reports and delivery re-attempts for the same.

Ways to optimize the COD orders before the fulfillment process 
However, the e-commerce industry has changed over the years especially in developing countries like India, where COD is the most used payment mode. 
Businesses started to offer COD payment methods in order to grow in countries where digital payment capabilities were challenging, at some extent they proofed to be good. But caused a massive due to operational issues and risks of fraud leading to RTOs.
The rising RTO percentage has given huge losses to the e-commerce businesses, therefore it is urgent now for D2C brands to at least optimize COD orders, if they can't be ignored.
Here are a few ways COD orders can be optimized before the fulfillment process.
– Analyzing customer history
eCommerce observe many types of customers, some of them are fast-paced and believe in e-commerce and digital payments thereby preferring pre-paid payment method. Still there exist some customers who don't rely on digital sources much hence hesitate to prepay for their orders, end by selecting COD mode of payment.
Brands can always check the purchase history of their customers if they have previously ordered in COD and then denied their order at the time of delivery in such cases you can either blacklist them from the COD payment method or confirm their purchase before forwarding it to fulfillment.
With over 6 years of experience in the industry and managing over 5M orders every month, Shipway has helped various D2C eCommerce brands in fraud detection by 85% of accuracy.
– Customer contact and address verification
Most customers from Tier 3 & 4 cities place their orders with COD mode of payment during their online purchases. It is important to guide them to write their correct address with nearby landmarks while placing their order. 
The brands can implement an address validation software just like bigger eCommerce players like Amazon, Flipkart, etc. to identify risky orders.
– Marking risky orders
Implement software that can automatically mark orders that are risky on the basis of customers' purchase history, incorrect address, pin code, etc. 
As if you would know the risk in the order you can accordingly decide what to do with that order before forwarding it to the fulfillment process and shipping.
– Notifying customers in case of shipment delays
Always keep your customer updated about their order shipment status whether it is on time or delayed.
Sometimes delay in the shipment cannot be controlled but you can definitely ask your customers to keep a little more patience as they will receive their order after the estimated delivery date because of whatsoever reason.
Keep them aware of their order status in real-time!
– Enable prepaid payment options for COD orders
Provide your customers with the option to prepay for their COD orders whenever they feel like, at any stage before order delivery.
Prepay will increase the chances of successful order delivery and make a huge difference in RTO percentage.
– Utilize WhatsApp, SMS, Email
Utilize every medium to notify your customers during their post-purchase journey SMS, email, and WhatsApp.
Whether it is to confirm the order, give their order status update, refund status, or offer any last-minute discounts, approach your customers with a medium that is most preferable to get read.
We are in the industry since 2015, we have been backed with strong data analytics that suggests that WhatsApp has an opening rate of 99%, if you wish to inform something or want any conversion then WhatsApp notifications are recommended.

Wrapping Up
The biggest problem that e-commerce business owners face in India is COD orders, more than 90% of businesses will agree with this.
Undeniable but COD is the major factor that makes an e-commerce business successful in India but they have to face subsequent losses because of it that is also true.
Tips to Convert COD Orders to Prepay
So the question arises how can you resolve this problem? How can you reduce COD orders?
The answer to the latter one is already discussed above, here's a better solution for your problem, convert COD into prepaid orders.
Let's check how can you entice your customers to prepay for their COD orders.
– Offer your customers free gifts or extra discounts on prepaid orders
Flashing discounts and free gifts always works. Offer them a better deal, make them understand their benefit in prepaid orders.
Give them an extra 5% off on prepaid orders, a cashback of 5%, or a coupon of 5% off for their next order only if they pre-pay for their order.
– Make a deal about free shipping
Provide free shipping to your customers on prepaying for their order. It will not only increase prepay percentage on your online store but create a conscious in customers' minds that they are paying an extra amount for shipping by choosing the COD mode of payment.
– Put minimum order value for COD
Brands can set the minimum order value for the COD payment method on their online shopping website.
For example, if you set the minimum order value to be Rs.1000 then they have to purchase the items at least worth Rs.1000 if they want to choose COD as their mode of payment. 
This will again create a conscious in customers to prepay for their order or leave without shopping. 
– Provide all possible payment gateways
Make all the possible payment gateways such as Razorpay, Cashfree available for your customers. Credit cards, debit cards, UPI, bank transfer, etc. so that your customers don't face any problem while paying for their order.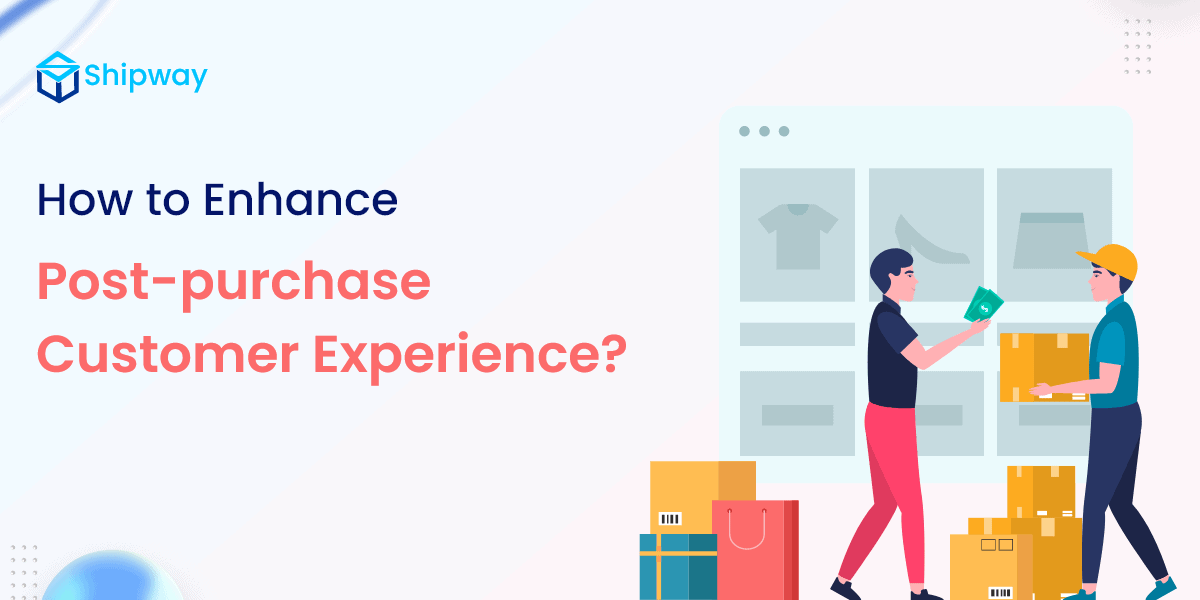 77% of customers are likely to repeat purchase from a brand or refer a brand that has an exceptional post-purchase experience. So, where do you...
read more