The convenience of automated return pick-up has made the operations a lot easier and supported the return automation system. But still there remains a gap that is troubling many eCommerce merchants.
Failed return pick-ups, a genuine problem that was obstructing the whole return process.
Many problems occur whenever a return pick-up fails, to name a few are:
– How many return pick-ups failed?
– How to manage these failed return pick-ups?
– Why did the return pick-up fail? What is the reason behind it?
As there could be many possibilities with which the return pick-up could fail such as unavailability of the customer, missing original packaging of the product, missing product tags, closed premises, etc.
Noticing this gap, Ezyslips introduced a new feature for its return panel, where you can easily generate reports for failed return pick-ups.
How do Ezyslips return panel help?
Reschedule the return pick-up
With all the reasons that failed the return pick-up could not be possibly enough to cancel the return request.
In order to save the return process, the Ezyslips return panel allows you to reschedule the return pick-up for its successful attempt so that the return process could move ahead with further steps in the row.
You can reschedule the return pick-up for the same or different reasons until the return pick-up is successful or canceled.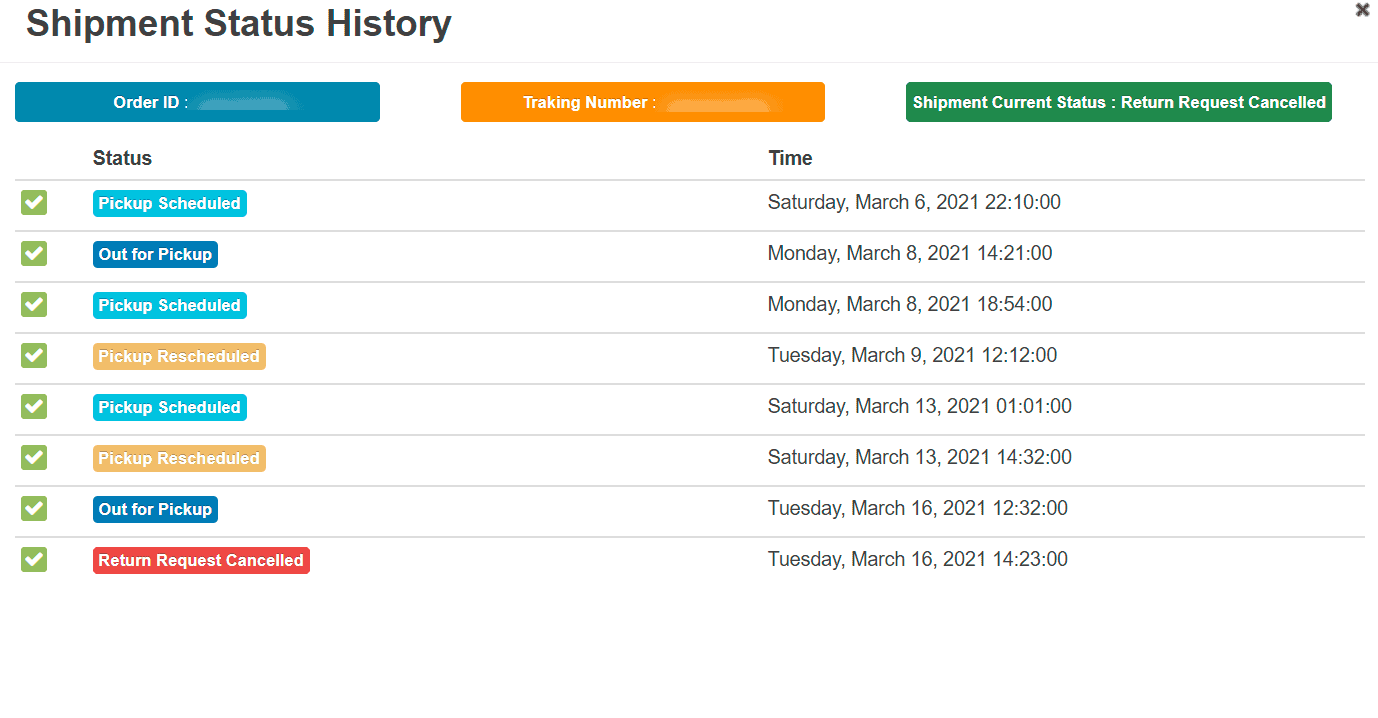 Cancel the return request
The panel allows you to cancel the return requests if there is no scope for successful pick-up or rescheduling.
For e.g.,  if the product doesn't approve the QC at the time of rescheduled pick-up then the return request needs to be canceled.
Generate Pickup failed report
The upgraded Ezyslips return panel allows you to generate a detailed report on failed return pick-ups.
In this detailed report, you will find all the failed return pick-ups with their reasons, total re-scheduled attempts, and the courier partner who carried these pick-ups.
The convenience that failed return pick-up report provides.
– Check on courier partners performance
– Check on timely pick-up by the carrier partner 
– Increased chances for the successful return process
– Better analysis of failed return pick-ups and rescheduling them
Return management system for your eCommerce.
With Ezyslips, you can have a Self-service portal for returns/exchange, Automatic schedule reverse pickup with QC, Automatic refunds/replacements, Seamless integration with Shopify, Magento, etc. and notify customers at each step. 
Upto 70% reduction in turnaround time for the end-to-end  return process