You are all set with your business account, and the orders are flooding. While you are earning profits, you see there are a lot of cases wherein the product was returned back to you. And, now this is making you worry! The Whys and Whats behind the RTO or Return to Origin orders are stuck in your mind. But, don't worry as we are here to help you.
RTO or Return to Origin is a common issue that all D2C brands face. Around 30% of orders in India fall under the RTO category. Furthermore, it is a problem that needs multiple ways and a lot of focus for eradicating it completely as it impacts your business in a massive way.
So, here we are with a set of useful ways through which you can tackle Return to Origin and get rid of the adversities that you face in your eCommerce business because of it!
How will RTO Impact your Business?
RTO impacts any eCommerce business in a big way. Our below pointers will help you understand better:
Reverse logistics costs

May result in damaged goods

Loss of revenue 

Blockage of inventory

Most importantly reduces your cash flow 
Now that we have covered the way it impacts your business, let's take you through various reasons that your orders are turning into RTOs.
Reasons for Return to Origin
Besides giving you losses, RTO also affects GMV(Gross Merchandise Value) as well as your conversion rate. Therefore, it is super important to know the reasons behind the return to origin. So, scroll below and check the most common ones!
Customer didn't have the intent of buying the product

Customer added incorrect address or wasn't available

Fake Delivery Attempt

Customer didn't accept the order(mostly happens in COD cases)
How to Tackle Return to Origin in eCommerce
All D2C brands should become an active part of the whole order process and make sure to enhance customers' trust and increase their conversion rate while reducing their Return to Origin rate. Are you thinking about how to do the latter? We have got you covered. From pre-purchase to post-purchase, we have listed all the ways through which you can decrease your Return to Origin rate. Check out!
Build a brand, resonate buyers with your story
Choose the Right Courier Partner
Use COD Order Confirmation Automation
Check for High-Risk Orders & Blacklist those Customers
Convert High & Medium Risk COD Orders to Prepaid Orders
By Incentivizing Prepaid Orders
Offer Freebies & Discount Coupons at Checkout
Provide a Cancellation Option before the Order is Shipped
Fast Order Fulfilment & Delivery Process
Deliver Post Purchase Confirmation
Automated NDR Follow-up
Make Use of OTP-based COD Order Cancellation at the Doorstep Services
Things that you should do before the Pre Purchase Stage
1. Build your Brand Image: Stay on the Buyer's Mind
When was the last time you bought a product from Myntra or Amazon? Most likely, it would be a week or two weeks back. But, when it comes to new brands, the chances of ordering become once in two or three months. Why? As the new brands don't often cross your mind.
Hence, all brands should focus on staying on the buyer's mind. Though it is a long process, if you start now you will soon build a strong relationship with your potential buyers. Most of the brands face RTO cases and lose customers as the trust and low brand visibility factor comes in.
And, how can you work on it? Check out a few ideas:
70 to 80% of customers read reviews before purchasing a product. So, you should always work on the product quality and make sure you have a good number of reviews that are genuine and pro your brand.

Build a brand story and educate all potential customers about your vision and products. Reach them through your social media handles and post frequently so that you make a place somewhere on their mind.

Focus on branding and promoting your brand on all parcels. Also, all communication should go from your brand name. 
While the list of ways to build a brand image can go long, the above three ideas will help you get started. By implementing these ideas, you can reduce your RTO cases as the customers will trust you enough to pre-pay for the order, and it will lead to lesser COD orders that majorly contribute to RTO cases.
2. Track Buyer Behaviour & Block those who lead to RTO Cases
In addition to reaching out to your customers, you can use an AI automation tool that companies like Shipway through which you can track buyer behavior and block pin codes or customers that often cancel orders and increase your RTO rate. This can only happen in to in case of registered users and so, you should always make your customers log in for better understanding.
On the other hand, you can also block COD payments for customers who have a habit of ordering and then canceling. For example, if a customer previously ordered thrice and then later canceled it, then for the fourth time you should remove the cash payment option for them.
Bonus Idea: Apart from the above two ways, you can also reduce your RTO cases by filtering out the audience of your social media ads. You should not target the ids that always place fraud orders. This will save you pennies that you may be spending on the wrong audience.
1. Check for High-Risk Orders & Blacklist those Customers
Do you know that up to 30% of COD orders come under the category of fraud orders and high-risk orders? Yes, they do. And, what are high-risk orders? These are basically tracked by the customer's purchase history and happen due to lack of customer intent, having a wrong address, or being placed from pin codes that always lead to RTO. 
Today, the AI-powered automation tools offered by famous logistics automation providers can help you in finding high-risk, medium, and low-risk COD orders. After figuring out the risky orders, you can request the customers to prepay for their orders and remove the COD payment option for them.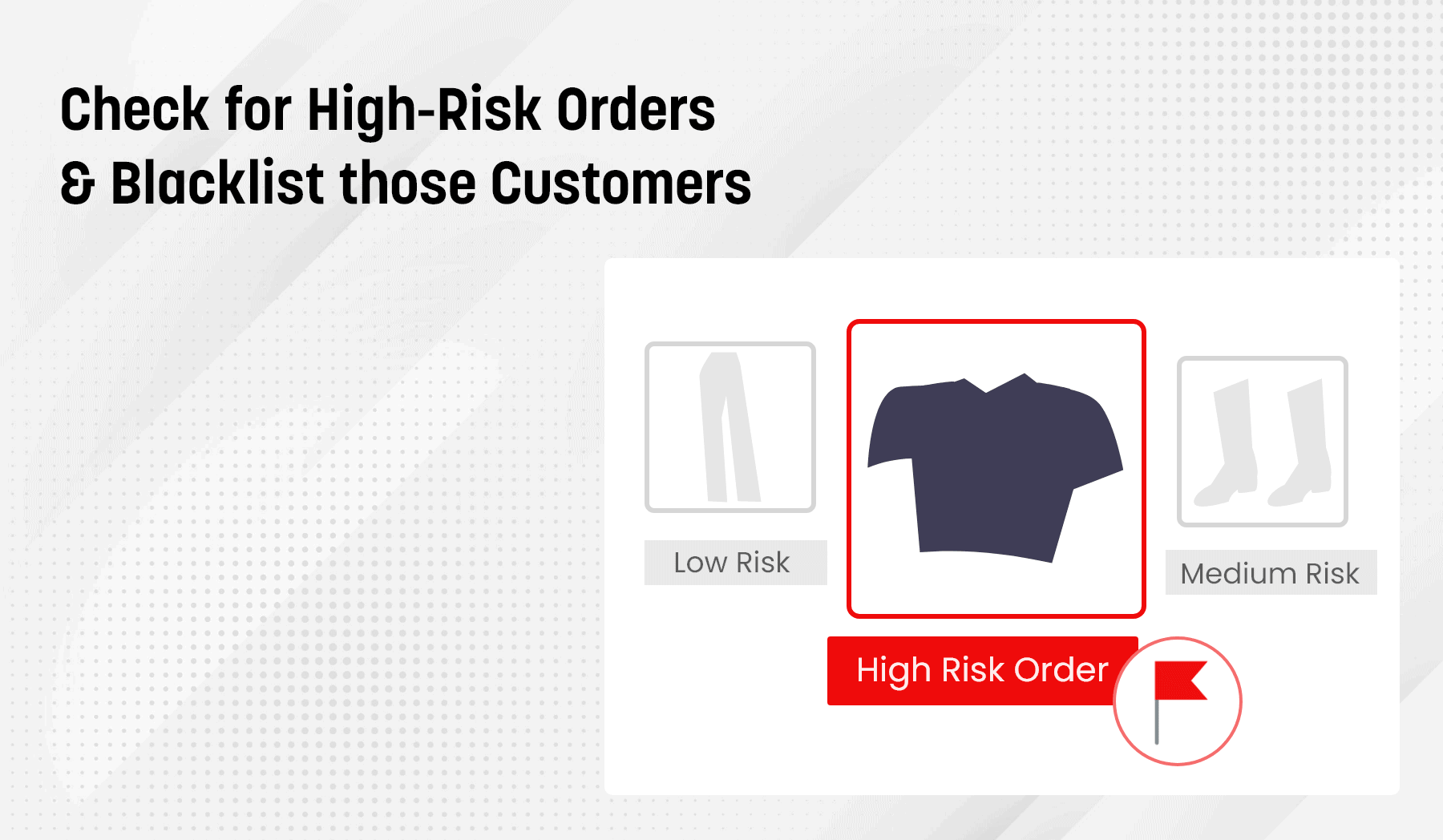 Bonus Idea: Moreover, you can also blocklist the high-risk customers that have a bad purchase history and have no intention of buying. This will help you in saving forward and reverse shipping costs and will reduce the chances of RTO.
2. By Incentivizing Prepaid Orders
The next one on our list of how to tackle RTOS will definitely lead to up to a 7 to 8 % decrease in the RTO rate. Let's not waste time and dive straight away into it. 70% of Indian customers place COD orders and 20% of them are RTO cases. How can you solve this?
 You should focus on incentivizing prepaid orders at the time of checkout by showing them a message that says- You'll be saving INR 200 if you pay right now, or you'll be losing INR 200 if you opt for the COD payment method. 
The former message will entice the customer to as they are saving money. On the other hand, the latter message will make them feel that they are missing out on something.
Both ways, it will compel the customer to pay for the order at the checkout. You can also give them the option to pay now and get 10% off on the next order. This will bring the customer back to ordering again and generate revenue as well as help you in reducing RTO cases that happen due to COD payment.
Bonus Ideas: Additionally, you should not offer COD payment on orders above INR 1500 to 2000.
3. Offer Freebies & Discount Coupons at Checkout
Who doesn't like some free goodies? As per studies, freebies and discount coupons increase sales as it is human nature to get attracted to free products or coupons. You can use this to lure your customers into receiving the order. Mama Earth and The Wow company often offer freebies, and it resulted in reducing their Return to origin cases.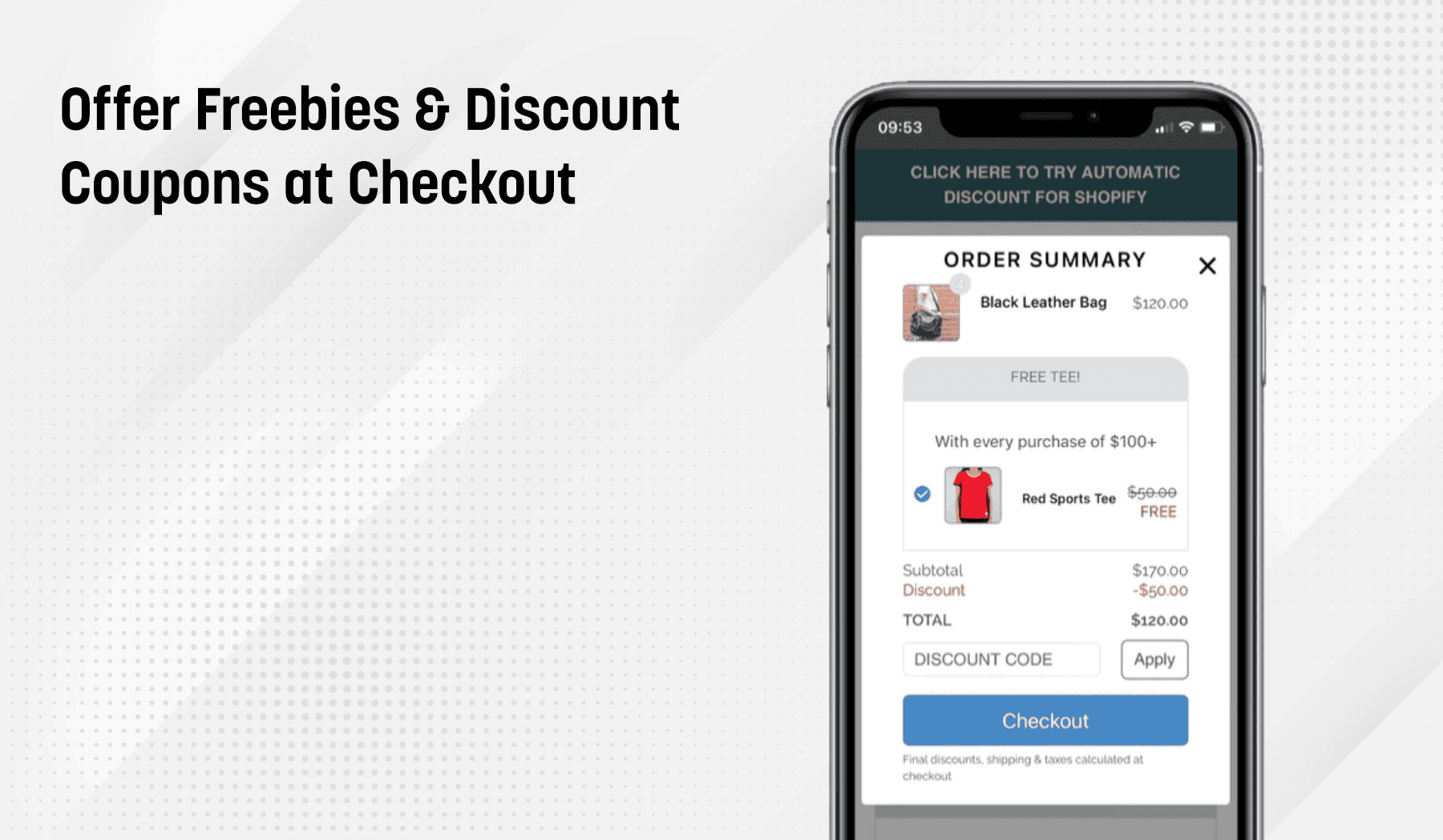 1. Provide a Cancellation Option before the Order is Shipped
As customers, all of us look for a cancellation option for the order if we don't need it anymore or add the incorrect address. What can you learn from this common practice? 
That you should always provide a cancellation form on the product tracking page. Furthermore, you can also add a tab for the reason for cancellation and work on it. This method will be extremely useful and save the pennies that you may have lost in the shipping process. 
Additionally, the ease of ordering and canceling will build a customer's trust in your brand if he or she has a genuine reason for cancellation. You can easily make these forms on Shopify and reduce 5 to 10% of your RTO rate.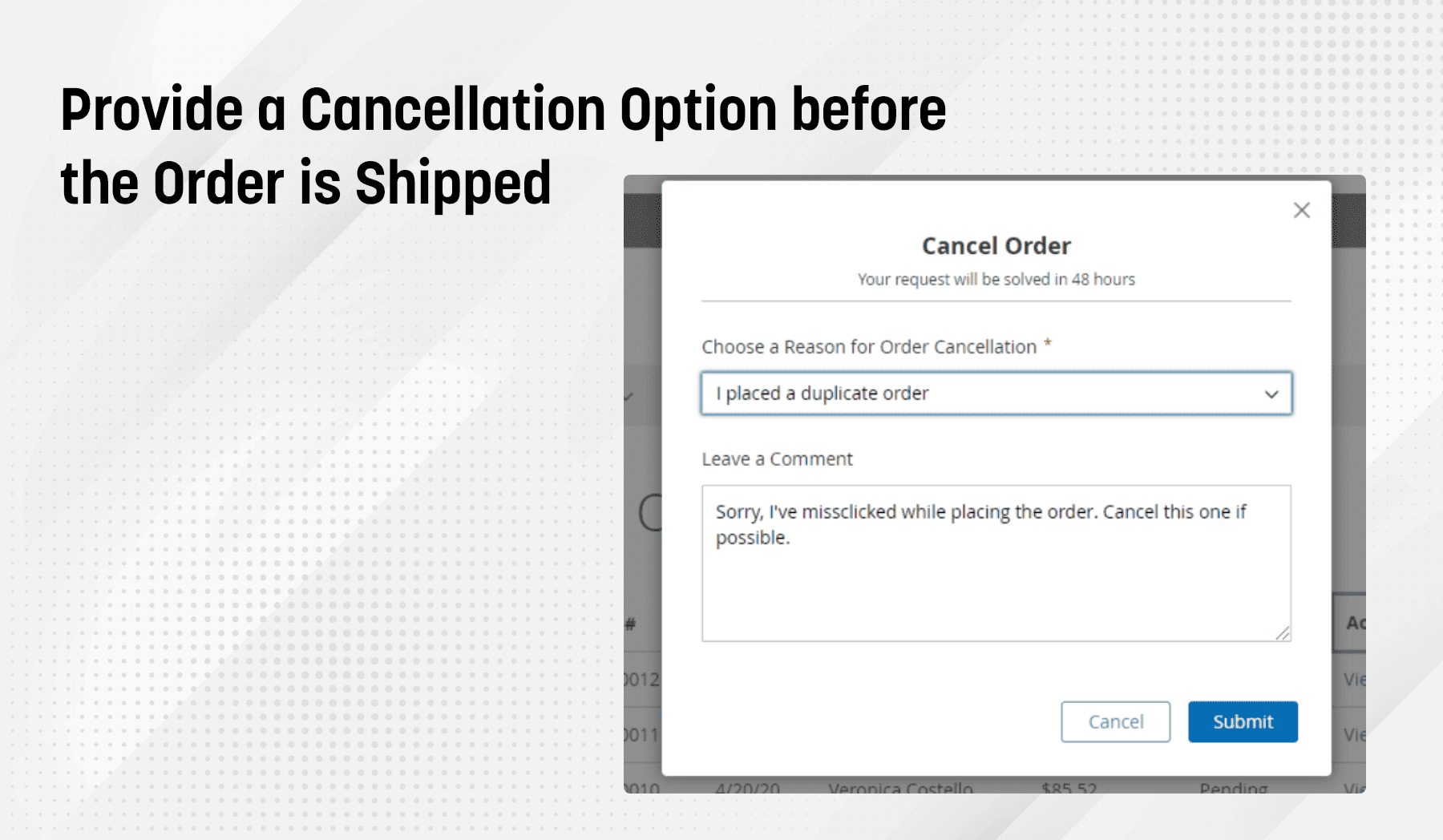 2. Convert High & Medium Risk COD Orders to Prepaid Orders
To reduce the RTO rate by 5 to 10%, you should use an AI-automated tool. Before fulfilling all COD orders, you should always confirm them and prioritize converting the high and medium-risk COD orders to prepaid orders. The automation tools use the customer's purchase history and mark some of the orders as high based on various factors like incorrect address, a history of past cancellations, high-risk pin codes, and more. 
As soon as you are aware of high-risk or medium-risk orders, you ought to take a call through your order processing panel. If you feel that you want to go ahead with the orders, then you should convert them into prepaid orders. You can call the customer or inform them via mail or WhatsApp and request them to pay online.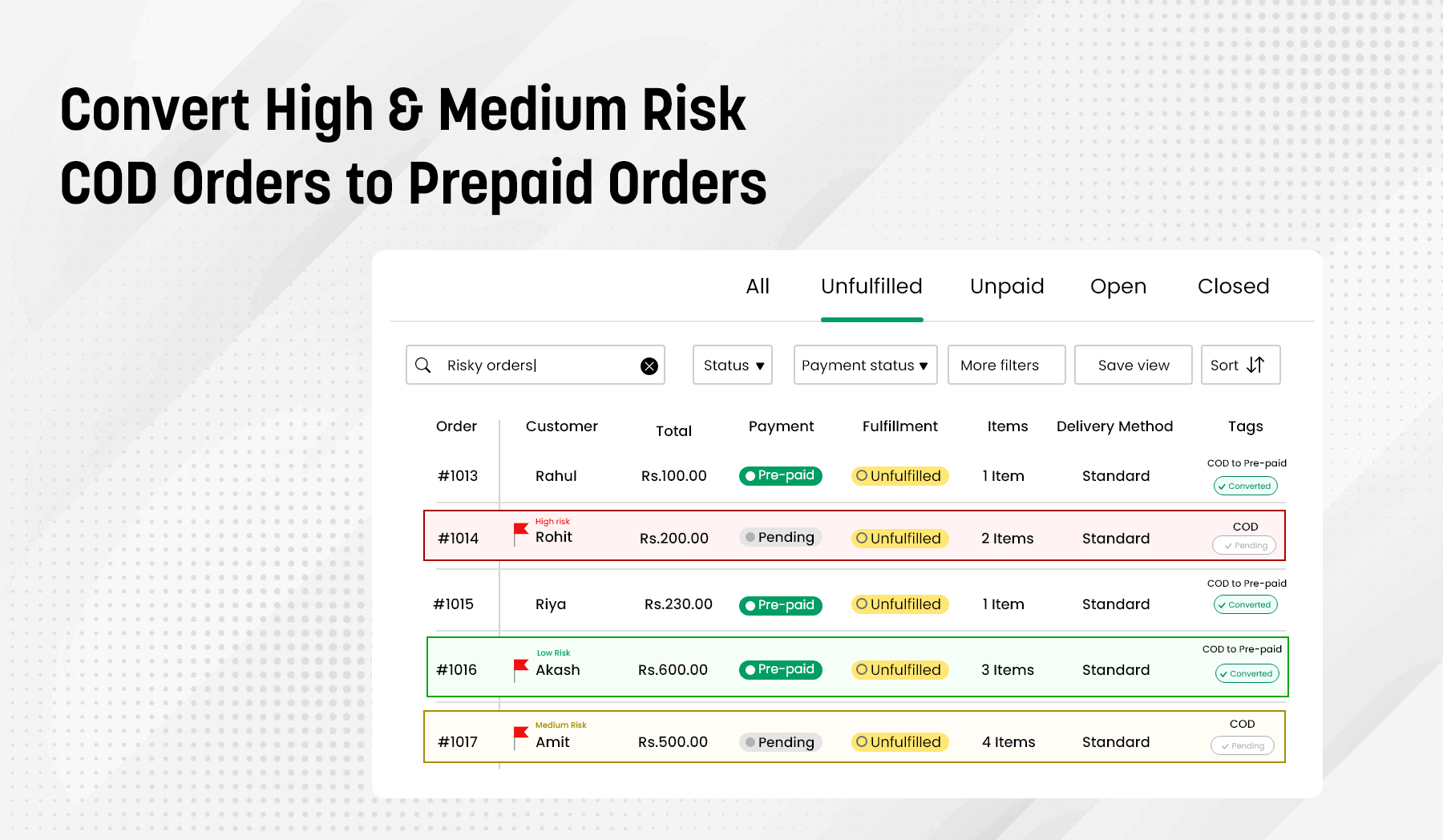 3. Use COD Order Confirmation Automation
First, you should create a proper check-in process on your portal. As soon as you receive the COD order, you should make calls and always verify if the customer has the intent to purchase the order. Besides confirmation, you can also verify the address and other details. 
But, is it really possible for you to make 100 or 200 calls in a day?
 No, it's not. You can easily do so by taking help from shipping automation providers as they will automate the whole process for you. With the order fulfillment panel that is offered by the logistics provider, you can check the high, medium, and low-risk orders and then confirm them through IVR calls, WhatsApp, etc, or convert them to prepaid orders. You can confirm the lesser amounts through IVR calls, and Whatsapp messages and even go for confirmation by OTP through WhatsApp for orders that are of high amounts.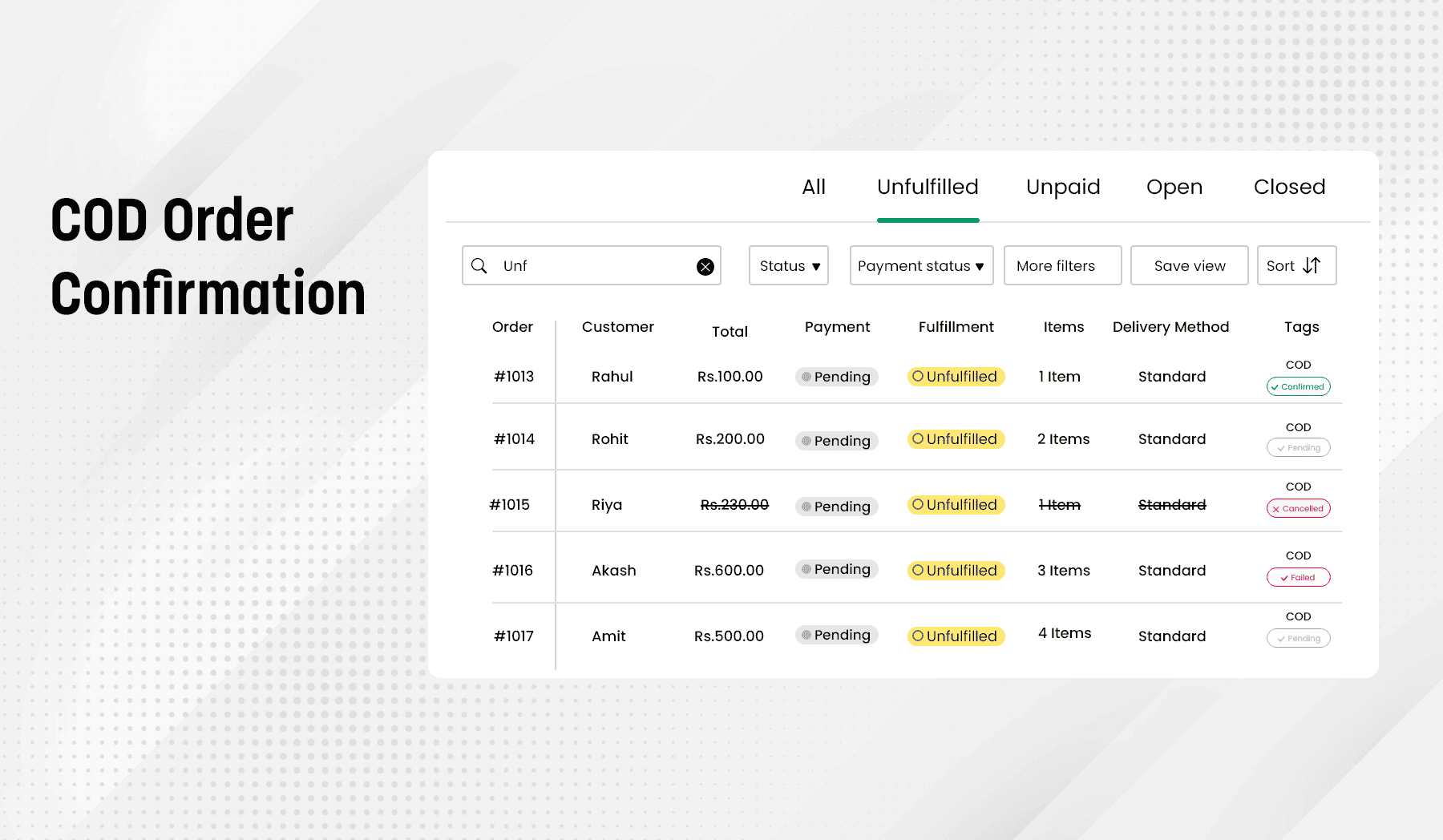 Bonus Idea: Moreover, you should also re-attempt confirmation if the customer didn't reply to the first call or message. This will help you in majorly targeting the customers properly.
4. Fast Order Fulfilment & AI-based Carrier Allocation
In today's fast-paced life nobody wants to wait as they have plenty of alternatives and this contributes to 15 to 20% of RTO cases. 
Therefore, you will have to increase the speed of your order fulfillment process and delivery. You can upscale your order fulfillment process by taking help from an effective eCommerce automation solution. 
The eCommerce automation providers are a great help as they will help you with AI-based carrier allocation(they will assign the high-performing carrier provider according to the Pincode), IVR order confirmation calls, printing labels, and other order processing activities effortless and time-saving for you.
5. Choose the Right Courier Partner
Late order delivery and fake delivery attempts are the reason behind 20% of RTO cases. How to reduce it? You can do so by choosing the right courier partner that has good reviews and offers services like same-day delivery, order tracking alerts, delivery re-attempts, and more.
Furthermore, the right courier partner also depends on the region your order is being delivered to. You should pick the ones that serve the most pin codes in a specific region, be it North India or South India. This will reduce your RTO cases by at least 15 to 20%.
6. Engage customers Post Purchase
Have you ever ordered something online, and the company went MIA on the delivery date? Didn't it stress you out? Now, think about your customers and focus on coming up with solutions for improving the overall customer experience. Check out a few solutions below:
6.1. Proactive Order Confirmation Update- 
Send interesting order confirmation messages that will engage them and also earn you brownie points. For example-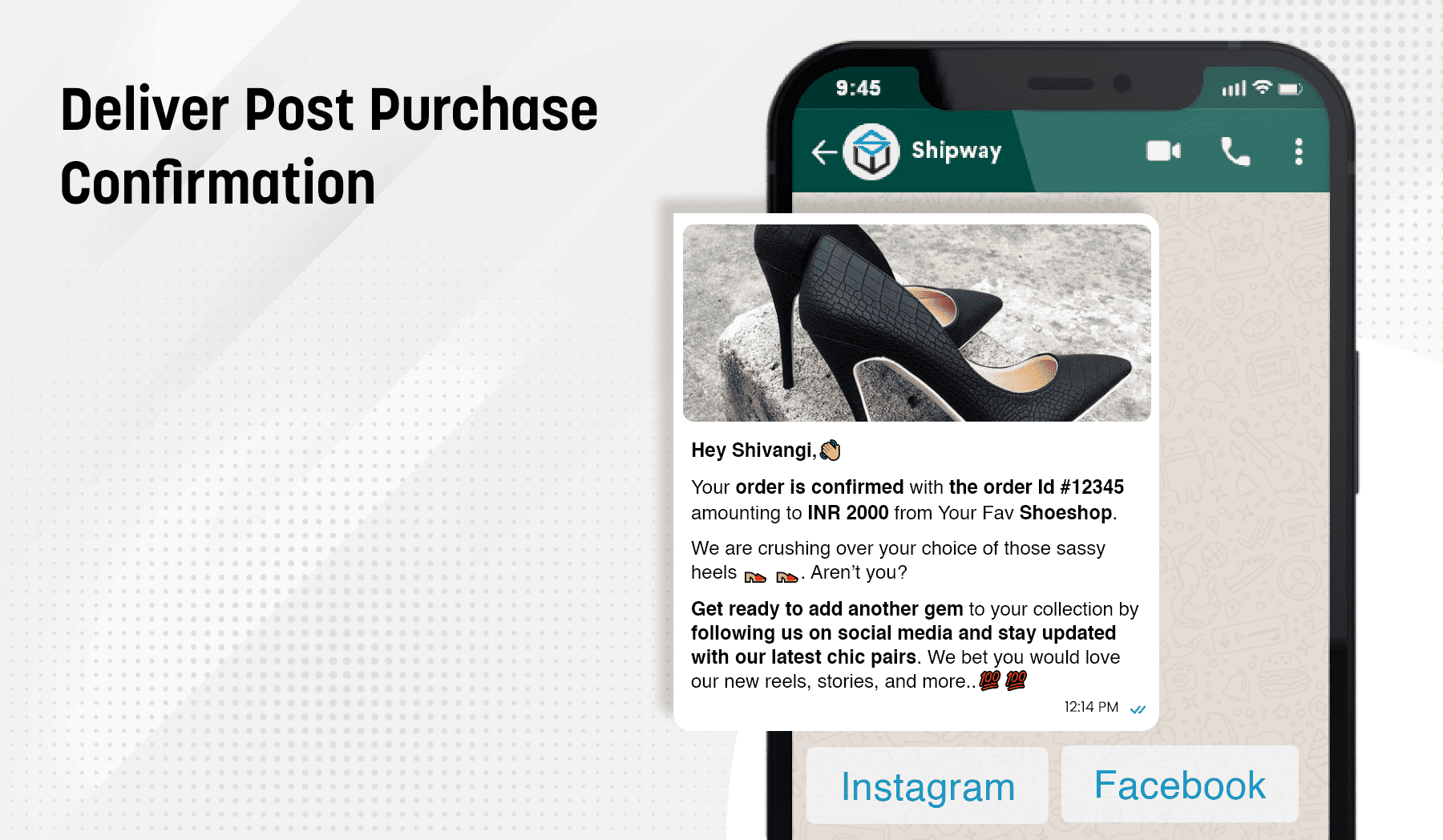 6.2. Delivery Updates
Your customer is always enticed to know all about the delivery date. And, as their favorite brand, you should update them about the same. You can either mention it in the order confirmation message or reach out to them on WhatsApp or SMS and inform them about the delivery date or that their order is out of delivery. 
You must also inform the customers if there is any delay in the delivery. Besides this, there are a lot of WISMO(where is my order) queries raised by the customers and if you will inform them at every step it will make them calmer and trust your brand more.
In addition to this, you can also make the delivery update process a two-way communication and ask them if the delivery person reached out to them or showed a fake delivery attempt.
7. Automated NDR Follow-ups
NDR stands for Non-Delivery Report. It refers to the status of the delivery attempt of any order. NDR management is the most significant way as it may save your order from being converted into an RTO case. You can easily track the undelivered orders and then again request delivery attempts. 
How can you do so? It is pretty easy as today a lot of eCommerce logistics companies provide NDR management solutions. You can easily get notified about delivery attempts and request re-attempts through them.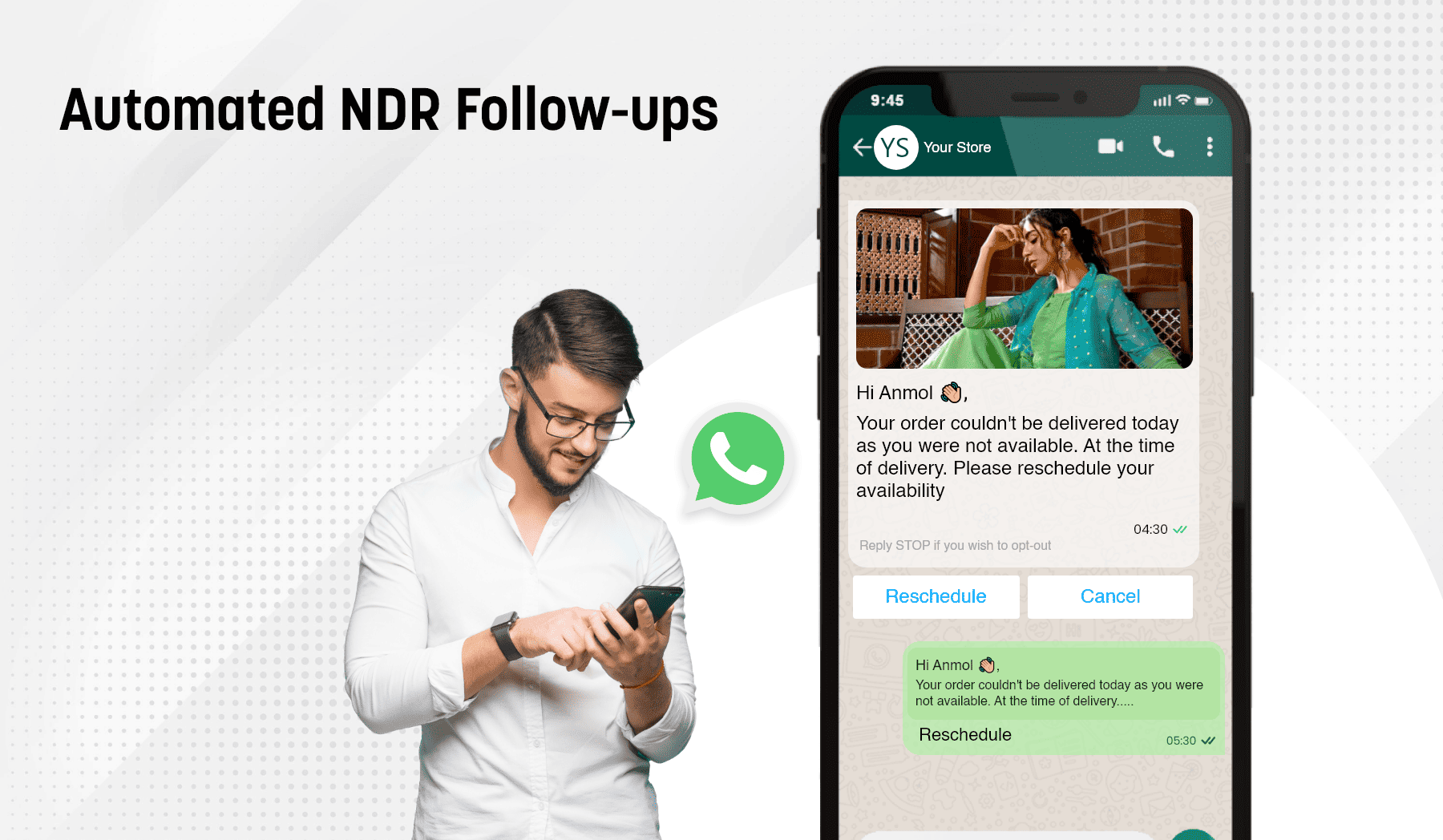 8. Make Use of OTP-based COD Order Cancellation at the Doorstep Services
The last and most useful way to minimize RTO cases at the post-purchase level is by using the latest cancellation technique. How does it work? One of the most observed reasons for RTO is that the carrier partner didn't attempt delivery and marked the order undelivered.
Now, companies like Bluedart and Ecom Express are offering opt-based COD order cancellation that will completely get rid of the fake delivery attempt cases and lower your RTO rate up to 5 o 10%. 
Conclusion
Now, if in the end, the customer is still canceling the order, then you ought to analyze the previous steps and see where you are lacking. All the above-mentioned steps will help you in reducing the RTO rate by up to 80 % and also enhance the customer retention rate. Furthermore, if you are looking for an eCommerce logistic solution that will help you in executing all these steps, then request a demo right now!