Automatic package allocation according to weight and dimension of the product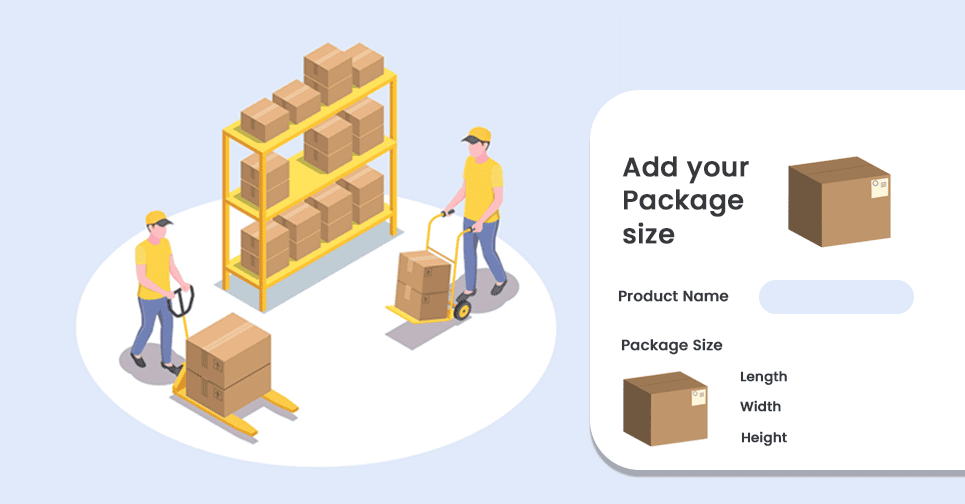 Order shipping timely to customers is the most intensive part of the eCommerce supply chain as there are a lot of steps involved in order shipping like choosing the right packaging to the selection of a carrier partner.
As an eCommerce merchant, you might have implemented an automation solution to take care of your order fulfillment process. Also, being an important aspect, Shipway allows you to directly work with multiple carriers that streamlines your shipment process and assists you quickly to deliver orders to your customers.
Now, coming back to the first step which comes while shipping the order i.e. packaging. It includes many hidden losses in the eCommerce business that can be rectified to improve revenue and more customer satisfaction.
Have you ever wondered how it would be to assign specific packaging to specific products, automatically according to their weight and dimension? That sounds great, isn't it?
What if you would be able to assign different package sizes to products, automatically?
We understand your concern about the losses that you bear with the cancellation of orders by the carrier partner because of incorrect measurements of packaging, weight disputes, and many more. So, you require different sized packaging for different sized products.
Therefore, Shipway has come up with a solution for you that assists you with the auto-assigning of packages according to the weight & dimensions of your products.
As all the carriers charge by size and weight of the package, so it's necessary to ensure that your packaging is appropriate with the size of the product to save the extra cost and make your product safe too while transporting.
Also, adding accurate weight and dimension of the products help you in assigning the right package to your orders else the default package dimensions will be sent to your shipping carrier for the unmentioned weight, and shipping rates will be calculated accordingly for your customers.
So, whenever your customer will place an order, the app will automatically assign the right package for the order, according to its weight. It will help you to calculate accurate shipping rates, de-stressing you from being overcharged.
The convenience of automatic packaging allocation
For instance,
if one of your orders weighed only 500gms and you had put 56″ x 8″ x 36″ (LWH) dimension box as the default packaging size for every order that you receive.
It will be really problematic for you to do either of the following:
change the packaging size manually (time-consuming)

put on extra charges of packaging from carrier side + shipping costs for this huge package(transportation)

RTO/canceling order because of incorrect packaging

Damage to the product while transporting because of incorrect packaging.
So, automating your system for packaging allocation will be very much convenient and will reduce loads of extra costs that you must have been bearing for a long time now.
The automation will help you in the following ways:
Reduce costs and efforts –

The automation will help you to reduce your RTO, order cancellation, damage to the product, and also reduce your packaging cost because of the incorrect packaging dimensions assigned to the package. 

Less time-consuming –

It will be a less time-consuming and hassle free task for you because once you set your default package dimensions for a particular product according to its weight, then you don't have to do anything manually.
How to implement automatic package allocation on Shipway?
You can adjust the package dimension to the best size and weight and create different package sizes in Shipway other than only one default package size, which can be used to calculate shipping rates.
You can update the auto-assign package under your Shipway > Settings
Add Package Box > Packages
Saved packages, click on the "+" button to add package boxes, along with the default package box.
Automatic Package Allocation > Select Weight Range and Assign Package Box to it.
Conclusion:
Shipway enables you to automatically allocate the package according to the weight and dimension of the product which makes your order fulfillment process smooth, hassle-free, and easy. It also maintains accuracy with order delivery and reduces extra operational costs.
Makes your business process simplified and automated as it not only reduces your man-power but also saves you a lot of time that you can utilize in making business strategies and helps you improve your revenue.