Imagine never having to worry about stock shortages or overstocking again. This no-worry stage can only be achieved if you invest in an efficient and one of the most-preferred Inventory Management Software. This software empowers businesses to manage their inventory and get rid of stock running out or being misplaced.
So, what are you waiting for? Let's revolutionize your inventory management together. Here are the top 6 inventory management software your eCommerce brands can invest in!
The first inventory management software on our list is Zoho Inventory. It was launched in 2015 and since then is one of the most famous software. To know more about its features, scroll down!
Features
Offers a multi-channel inventory management system that integrates with Amazon, eBay, Etsy, and Shopify>/li>
Eases order management through its single inventory management app
Get end-to-end tracking for your inventory
Let you integrate with Zoho CRM & Zoho Books
Website- https://www.zoho.com/us/inventory/
Pricing
Free- $ 0

Standard- $ 59

Professional- $ 99

Premium- $ 159

Elite- $ 239

Ultimate- $ 329

Established in 2016, Increff will help you in improving inventory efficiency throughout the supply chain with smart merchandising and warehouse automation. 
Features-
Offers data-driven assortment planning

Lets you Optimize allocation & automate Replenishment

Provides Pin Code level Analysis

Partnered with Amazon, Shopify, ODN, and more
Website- https://www.increff.com/
Pricing– NA

Vinculum is the next top inventory management software on our list. It was started in 2007 and offers a centralized view of inventory that encompasses all channels, fulfillment locations, and systems.
Features-
Integrated with Amazon, Cred, Flipkart, Myntra, Meesho, and other famous marketplaces

Full inventory visibility and management

Client-based inventory segregation

Regular inventory rotation & Automated replenishment system

Easy inventory comparison and counting
Website- https://www.vinculumgroup.com/
Pricing-
Startup- $15/month

Essential- $35/month

Advance- $75/month

High Growth- $150/month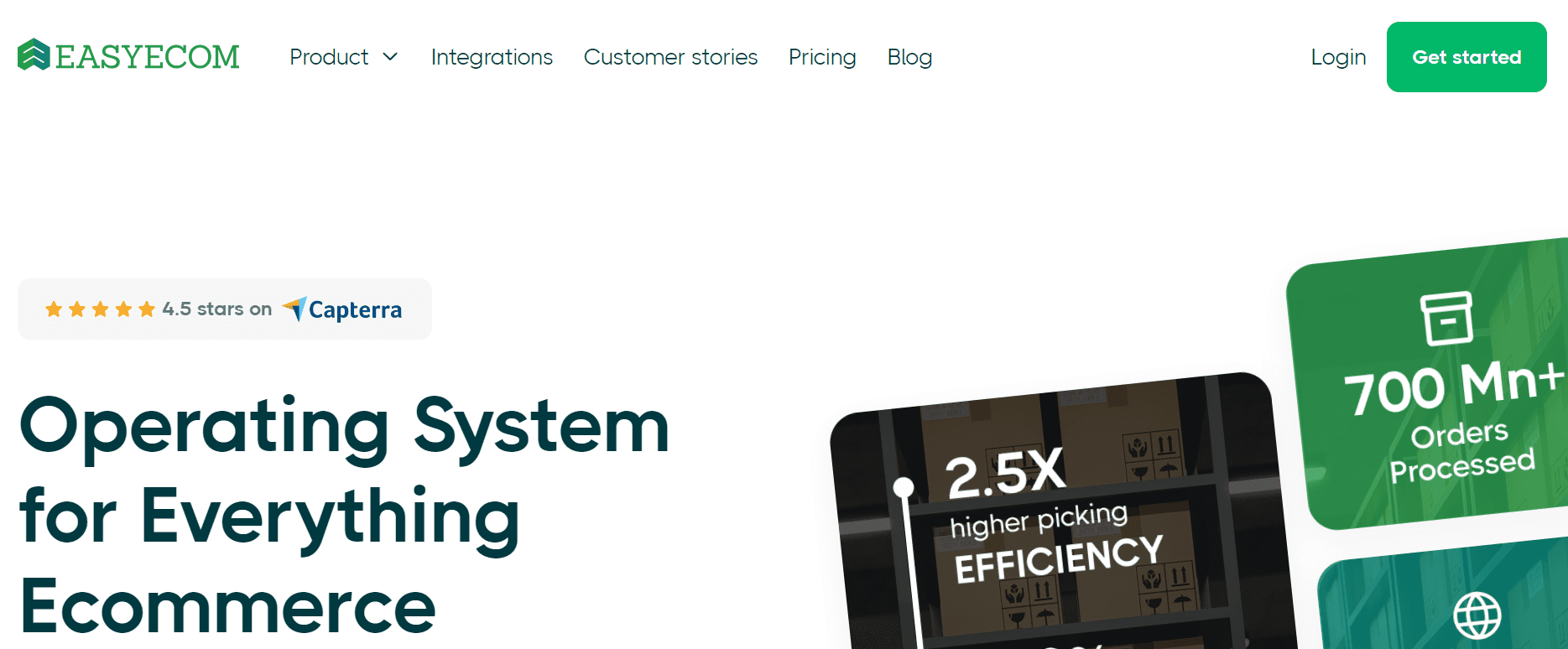 Easy Ecom was founded in 2015. With EasyEcom's top-rated platform, you can easily access and manage your inventory from a single dashboard.
Features-
Integrated with 17+ marketplaces like Amazon, Cred, Myntra, Flipkart, Nykaa Fashion, and more

Automate multi-channel inventory

In-depth inventory analytics

Smart inventory planning and replenishment

End-to-end inventory visibility and aggregation
Website- https://www.easyecom.io/
Pricing- NA
Fishbowl was started in 2001 and is the last one on our list of best inventory management software for eCommerce. Fishbowl Inventory is a powerful inventory management solution designed for small to mid-sized businesses. 
Features
Integrated with Quickbooks, Shopify, and more

Automated inventory management platform 

Systemwide visibility on all your parts & tracking data

Accuracy and efficiency with scanning hardware or a smart device
Website- https://www.fishbowlinventory.com/
Pricing- NA
Final Takeaway
We have listed down the best inventory management software for eCommerce stores. Whether you are a small enterprise or a larger one, inventory management software can help you in automating the process and will make things easier for you!
Now, when your inventory is all set, you should next focus on automating your order fulfillment process. What will it lead to? It's simple, a better post-purchase experience and huge profits. Ready for both? Let's do it together!
Q. What is Inventory management software?
A. Inventory management software is a tool used to track and manage inventory levels, orders, sales, and deliveries. It helps businesses improve efficiency, reduce costs, and prevent stockouts.
Q. What are the benefits of inventory management software?
A. The benefits of inventory management software include improved accuracy, increased efficiency, better visibility, reduced costs, enhanced customer satisfaction, and streamlined operations.
Q. Which is the best inventory management software?
A. The best inventory management software includes top providers like Zoho Inventory, Fishbowl, Increff, and more.

Inventory management refers to the process of getting the right things to the right place at the right time. However, there are different...
read more