Festive season is near! Are you all ready to welcome the huge amount of purchase orders? Are you prepared well to deliver them on/before time?
As the festive or holiday season comes near eCommerce businesses start with marketing and campaigning of the new product launches, they were planning for months.
We wish you all the best for the launch of a new series of products and hope it shall be a huge success for your brand.
Putting so hard in gaining people's interest and attention, you can't let that go with a little mistake from your side. All the difficulties or challenges that you as a brand can face in the festive season are after customers place their purchase order. 
Where the major challenge is to deliver the product on time i.e., as fast as possible because it will be of no use once this period is over.
Registering the difficult challenges that D2C eCommerce brands face during the festive season, we found 3 of them to be very common and huge at the same time.
Challenge I. Faster Delivery
Challenge II. High RTOs/Undelivered Orders
Challenge III. Managing refunds/exchanges
Tips to overcome festive challenges.
I. Offer fast shipping to boost conversions across marketplaces/own online store
In this growing eCommerce market, the race has now slightly bent towards "who will reach the customers first".
As the Indian eCommerce market alone is expecting the growth of US$62,953m in 2021, so reaching your customers before your competition can get you more sales converting more new as well as existing customers, and definitely more profit.
According to industry experts, faster shipping can make you reach more customers automatically. Here's why,
– It covers your customers' expectations as 63% of online shoppers expect fast delivery from wherever they're shopping.
– Visible faster shipping converts more business. Customers are not willing to compromise with faster delivery speed hence want to use a filter to know who (retailer) is delivering the fastest.
– Customers are willing to pay extra for faster delivery programs, the biggest example is Amazon prime.
– Faster delivery leverages you to capture last-minute customers (who forget to buy presents for some occasion or holiday requirement) they'll naturally move to the retailer who delivers the product faster.
To boost your market for the upcoming festive season, here is how you can offer faster deliveries.

i) Increase your standard delivery speeds
As mentioned earlier, customers today are unwilling to compromise with faster deliveries they want their order to reach as soon as possible. 
58% of the customers accept that they would choose another retailer to purchase online if providing faster deliveries.
To satisfy your customer requirement for faster deliveries, you can offer them various delivery options on your online store, such as:
– Eliminate delivery that requires more than 1 week time.
– Provide options for same-day delivery or within 24 hours, 2-3 days, 3-5 days delivery options only.
– Provide cost of delivery in a combination with delivery speed (e.g. pay Rs 100 and get same-day delivery, set a minimum order amount for free delivery).
ii) Sign up to fast shipping programs
Apart from your own store, you need to update the delivery options at the marketplaces you sell. As the marketplaces, for this reason, leverages you to push your customers to take fast shipping programs.
The marketplaces give you more power to reach more customers by enabling more exposure for your faster delivery speeds. 
One of the most popular fast shipping programs is Amazon Prime.
It is a monthly or annual subscription, where Amazon customers get free one & two-days shipping. Whereas Amazon Prime Sellers gets:
– A blue Amazon Prime badge on their listing (as a verified seller)
– Higher search results in order of ranking
– Increased chances of winning the Buy Box
iii) Reduce shipping options
With the expanded technology and consumer behavior, offering too many delivery options is not profitable enough. Don't diversify your customers into wide-range, it also increases your headache to fulfill these orders.
Keep it simple and short, by offering limited delivery options to your customers, Such as:
– Same-day delivery
– Guaranteed 2-days delivery
– Standard delivery
You can also keep these options "Free" for your exclusive customers (subscribers) and set a payment amount for non-subscribers.
Fewer delivery options will easily let you deliver products with automated shipping solutions, ensuring the fastest speed.
iv) Leverage multiple fulfillment center locations
Providing faster delivery options includes an important factor – choosing a fulfillment center location. The big question arises – 
How would you provide same-day or 2-days delivery to your customer, in an affordable range?
When you know that your store receives orders from all over the nation, then fulfillment centers only in major cities cannot cater to the delivery options you promise. You need to open the warehouses/fulfillment centers in the area that can deliver to Tier II & III as well as remote areas within the same-day or 2-days delivery period.
To provide affordable delivery, you need to analyze your sales data, from where you receive most of your orders, the demand of products you receive from customers of these regions, the time that is taken to fulfill these orders, etc.  
Using multiple fulfillment centers will allow you to provide the fastest delivery at affordable prices. As nearest the delivery location from the fulfillment center lower will be the shipping costs you have to bear.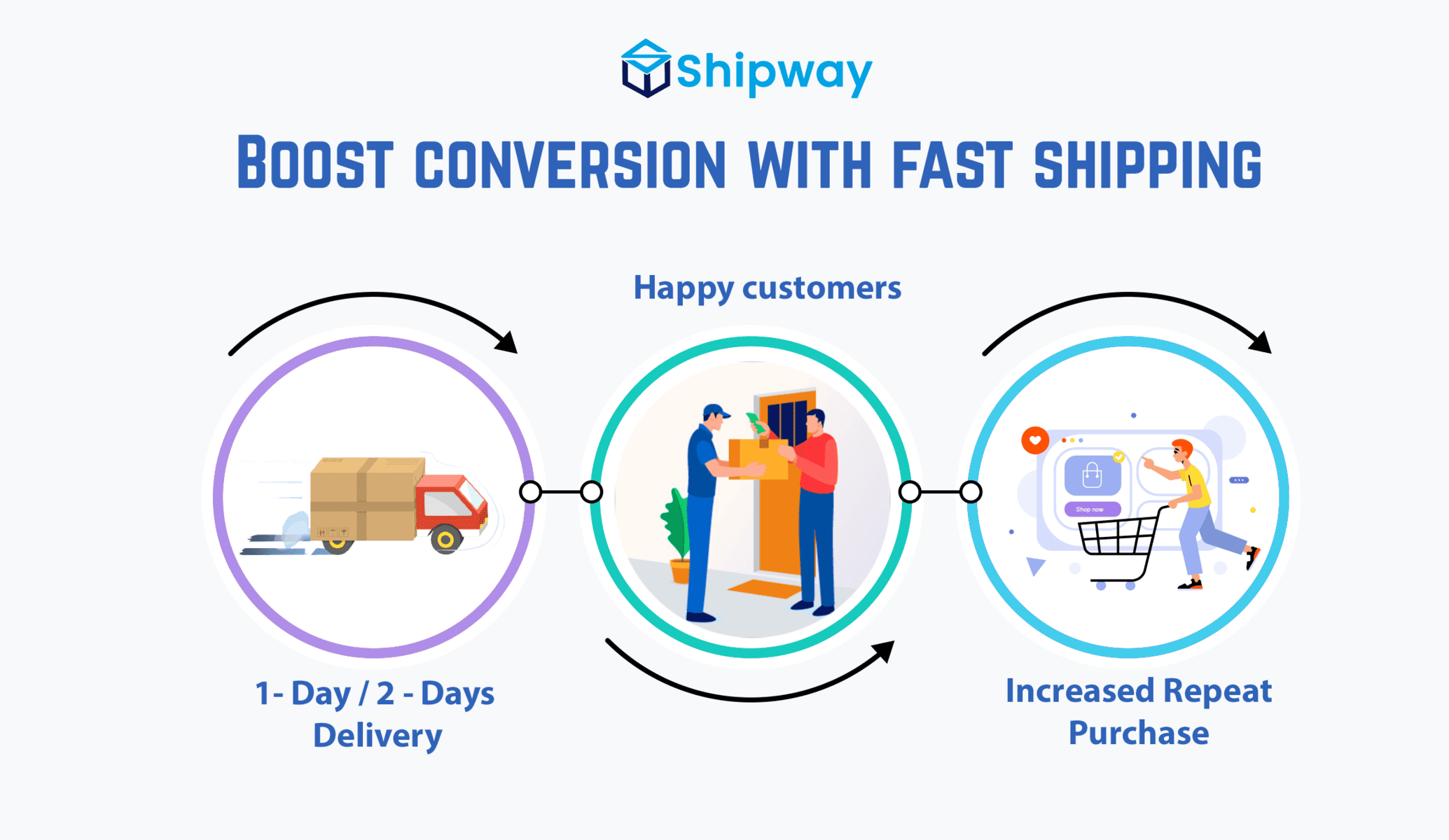 v) Automate your fulfillment process 
AUtomation has become the key factor to streamline all the processes in function for an eCommerce store, especially for warehouse, inventory, and shipment management.
It is a huge headache when you have a flood of orders in the festive season and you have to manage everything manually from creating an order, gathering shipping documents, and fulfilling them. 
So, it is easy to acquire an automated solution that at least takes care of timely shipping and delivery of orders. One more benefit of shipping automation is that it tracks the shipment in real-time thereby chances of losing your shipment will be reduced to 90%.
Beyond this, more than 90% of customers demand real-time status of their purchase order till the time it is delivered, it has become an important part of eCommerce so you get the best deal with automation.
vi) Efficient and well-trained staff
Although you need less staff, if you are equipped with an automated solution but still you need a well-trained one. Otherwise, it will be equivalent to your earlier functioning – full of errors, slow process, delayed fulfillment, cost compromises, etc.
An efficient and well-trained staff can do wonders for you, they'll handle your operations like a well-oiled machine.
vii) Outsource fulfillment, if possible 
If you lack the expertise and processes to achieve fast shipping speeds, you can anytime outsource to a 3rd party fulfillment partner that fits your current sales strategy.
Nowadays many fulfillment centers carry out packaging as well as shipping in a seamless flow and with professionalism. So you can think about outsourcing fulfillment for at least the festive or holiday period.
You might think that outsourcing is an expensive affair but the efficiency you'll get is worthwhile.
viii) Well prepared for in-house fulfillment
Also, if you think you need to go with in-house fulfillment, then be ready with all the necessary arrangements. Such as:
– Get enough packing material in-advance
– Arrange separate spaces for packaging and storage
– All sizes of label stickers and label printers
We'll recommend an automation solution, for all these operations it not only reduces your manpower but promises accuracy and speed, then only you can deliver at a faster speed.

II. Convince more customers for pre-paid orders
Indian eCommerce receives more than 70% of COD orders from which 1/3rd remain undelivered i.e., RTO, leading to business losses for the brand.
Therefore, it is an urgent need for you as well to reduce your COD orders and convert them to pre-paid. Still in thoughts about how to do it,
i)  Incentivize your customers to pay online
– Provide some offers, discounts, and coupons to your customers, if they pay online via wallets, UPI, debit cards, etc.
– Keep a minimum purchase amount to limit the COD orders.
– Offer COD payment for selected products/product categories only.
ii) Detect fraud orders
The biggest concern with COD orders is their incompetence with deliveries and plaguing businesses with RTOs.
So, how will you stop or reduce RTOs?
As a 1st preventive step to reduce RTOs, you need to reduce COD orders as much as you can convert them to pre-paid orders or prevent fulfilling risky COD orders.
Detecting COD order is not as difficult as it sounds, you need to upgrade your fulfillment system according to your needs, which can:
– Automatically identify incomplete/ non-deliverable addresses
– Profile order into risky and non-risky according to parameters like customers' previous history of not receiving the orders, etc.
– Region-wise detailed report on non-delivered orders to discover cues on maximum RTO-prone regions.
– Confirm COD Orders via IVR calls. Before starting the fulfillment process, assure that the customer is surely interested in the product.
– Convert risky COD orders to pre-paid. Use smart automated solutions to convert your COD orders to pre-paid orders by sending payment links to your customers prior to the delivery.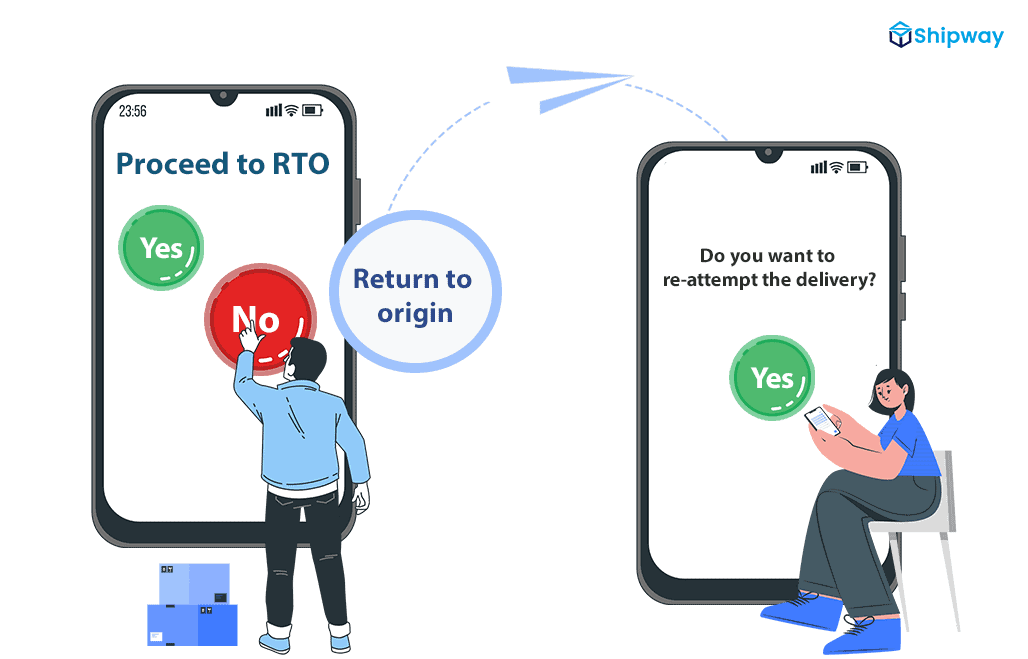 III. Automation to manage undelivered orders
Apart from the high COD order RTO percentage increases with the non-delivery of orders adding a huge cost to eCommerce businesses.
The easiest way to manage the non-delivery of orders is NDR management. The detailed report on the non-delivery of orders will allow you to take necessary action towards all the orders that get undelivered for any reason.
NDR management allows you to auto-generate requests to customers for re-attempt of the order delivery.
Increase the chances of successful order deliveries by 30%, with:
– Follow-up with SMS/IVR
– Allow customers to change the incorrect information and next suitable delivery date and time
– Get customers responses auto-sync to your courier partner
Read here to know in detail, what to do when the order gets undelivered.
IV. Upgrade your return operations with an automated return management system
Currently, the eCommerce industry is receiving returns against 30% of the total online purchased goods, worth $600 billion.
For the new-age D2C brands especially, returns have appeared to be a huge challenge. 
To feed the hunger of delivering a better experience, high scale customer satisfaction, you should upgrade your return operations with an automated return management solution that can handle your end-to-end return operations.
The upgrade in return operations will help you with:
i) DIY return page to place return requests
Definitely, a good return experience will surely encourage customers to purchase again. So, to begin your customers' return experience you should create a simplified return page on your website where they can place their return requests.
Your return page should comprise of:
– Your brand's look and feel
– Sections for the reason of return, add image/video, etc.
– All the possible payment methods for a refund (wallet, UPI, bank transfer, original payment method, etc.)
– Option to select variants for seamless exchange
ii) Offer same-day refunds
Instant refunds and the fastest exchange delivery are in huge demand from online purchasing customers and compiles a great difference when it comes to their experience from online returns and your brand.
Enable your return system to provide instant refunds to your customers with their chosen mode of payment i.e., original payment method, IMPS, UPI, store credit, gift card, etc.
As quickly you manage/respond to refund requests they will boost your repeat purchases and good word of mouth.
iii) Convert refunds to exchange orders
Resolving returns with quick refunds isn't gonna help you alone. There are still some chances the customers will not repeat purchases from your brand as they didn't like the product in 1st place and had to return it, refund to be specific.
To spare your business from losses you should try to convert your customers' refund request into the exchange order.
You can encourage customers to place exchange orders in the following ways:
– Replace the damaged product with the exact same variant.
– Replace the wrong product with the desired size/color variant.
– Replace the damaged products with a product from a different product range at some discount.
– Replace the product with a similar product of higher value at the same price of original order, if the desired variant is not available.
– Offer them store-wide exchange options (they can exchange with any product available in the entire catalog/store).
– Refund the amount with an in-house gift card, store credit, discount coupon, etc.
EndNote:
Hope you find the right solutions for the challenges you were expecting from the festive season coming ahead.
Consumers today expect convenience as well as the speed with their online purchase orders and returns.
Offering speedy and affordable delivery, prepaid discounts, follow-up notifications for re-attempt of delivery, and efficient return operations will show you an increase in conversions, repeat customers with high customer satisfaction, and LTV.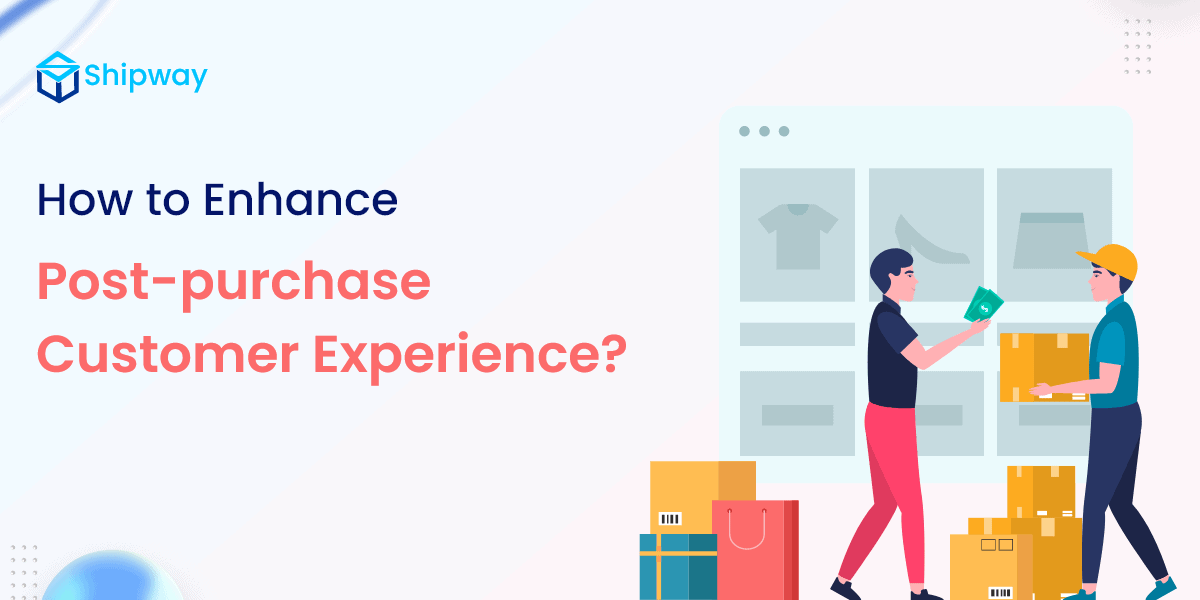 77% of customers are likely to repeat purchase from a brand or refer a brand that has an exceptional post-purchase experience. So, where do you...
read more