Over the years with some significant improvements, certain eCommerce giants had a huge impact on customer expectations and behaviors, making the eCommerce more competitive for new-age businesses to do faster order fulfillment operations.
As of the 2020 industry report shipping costs of market leaders including product sortation, packaging, delivery, etc., with a sum total of $61.1 billion, are higher than previous few years and are still expected to continue to rise in the coming years.
Looking at the trend for faster fulfillment operation, the Amazon-like market giant also moved for an automated solution to cut its costs, boosted efficiency, and fast delivery services.
Likewise, new-age eCommerce merchants face a variety of difficulties with their order fulfillment. Here the first problem is processing time for orders, and the second is warehouse management. Therefore, they require a robust solution that can provide them with a sustainable solution.
Let's start with the solution for eCommerce order fulfillment.
Outsourcing E-commerce Order Fulfillment
Most D2C businesses choose to self-fulfill orders when they start off in the industry, as they've just established a customer base and are still finalizing the product offerings. Hence, fulfilling orders in-house gives them complete control over the end-to-end fulfillment process.
However, self-fulfillment brings a number of financial and opportunity costs with itself – especially if yours is a new & growing D2C business.
It seems an easy task to get the inventory stored, pack orders, and handle shipping but only when you have ≤ 200 orders per month. As your business will grow, this order fulfillment will get difficult with higher order volume.
Unlike before, you'll require more manpower, a better inventory management system, and more storage space to keep the stock – all of which come at a whopping price.
Partnering with a D2C fulfillment provider at an early stage can make you avoid the growing distress that comes with being a growing eCommerce brand. The below image shows some of the challenges that D2C brands face when doing it all alone.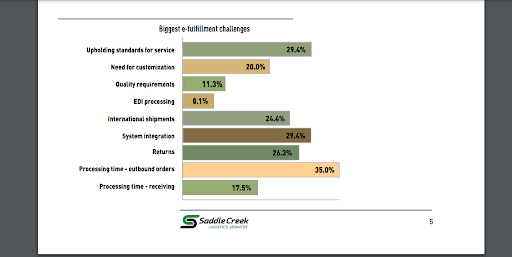 Source: Saddle Creek
You might be relating to this if you're a new D2C business, get a best-in-class automated fulfillment provider Shipway that helps D2C businesses to scale effectively with advanced proprietary technology and a nationwide fulfillment network.
How Shipway's assistance is helping D2C eCommerce businesses scale?
Shipway provides a comprehensive platform for order fulfillment automation to D2C businesses, giving them full charge for their order processing, syncing all the new orders, and automating the stages of order processing operations henceforth dispatching the orders quickly to the customers.
The entire procedure includes order processing, auto-generating shipping labels, GST invoice, auto-allocating packaging size (w.r.t. dimension and weight), auto-assigning carrier, alongside real-time order status updates to your customers.
– Generating Automated Shipping labels
The Shipway platform enables you to automatically generate thousands of shipping labels in bulk. In all various printable formats such as A4, 4 in 1, thermal, etc. with advanced settings to manage information on shipping labels.
You can also generate bulk invoices using the platform.
– Handling Last-mile fulfillment inefficiencies
The system allows managing your last-mile fulfillment inefficiencies by auto-allocating carriers (according to pin codes, and service types) for a 'Faster Fulfillment Rate'.
Providing integration with all the leading courier partners and aggregators (Delhivery, Bluedart, DHL, etc.) for seamless order synchronization and operations processing.
– Delivering excellent customer experience with real-time notifications
With Shipway's platform, schedule your order pick-ups from the warehouse and get full control over your fulfillment process with real-time updates on your dashboard.
Get these order status updates shared with your customer in real-time via different channels (Email, SMS, & WhatsApp). Get the order updates on shipping as well as non-delivered and RTO orders.
– Managing high return volumes
With Shipway, create a branded return page for your customers allowing them to request returns across multiple orders. Integrate with all major carriers for reverse pick-ups with QC opinion across multiple drop locations.
Get access to one-click exchange and instant refunds for quick resolution of return queries.
Shipway Partners With Increff to Build Efficiency in the Supply Chain; from Warehousing to the Last Mile
As D2C becomes an emerging retail strategy, it's critical for brands to use technology-driven solutions to build a strong foundation for rapid, sustainable business growth. An integrated technology solution that helps analyze customer demands and optimize inventory management, is necessary for achieving supply chain efficiency.
Increff WMS is one-stop comprehensive inventory management, order fulfillment, and warehouse management solution, that helps digitize every piece of inventory through serialization.
Digitization enables automation of processes within the warehouse to increase accuracy in inventory management and efficiency in order processing. Providing a smooth shopping experience to customers is the need of the hour. Retail brands need technology expertise at every step of the supply chain to build and expand their loyal customer base.
Shipway partners with Increff to provide a focused, collaborative solution to D2C brands to help boost inventory efficiency and support rapid business expansion.
How Increff is helping D2C brands improve process efficiency and boost business growth?
Increff is helping D2C brands scale faster with a robust warehouse management and order processing solution to improve business efficiency.
1: Pre-built integrations and rapid implementation
Through in-built channel integrations and rapid process implementation, Increff WMS allows 100% inventory exposure across all B2B, B2C, offline, and online sales channels, to get you started in 2 days. Greater exposure increases reach and improve brand visibility to boost sales.
Quick integration ensures a seamless & smooth transfer of information between sales channels, and near real-time inventory -order sync to prevent order cancellations due to excess order booking. 
2: Robust WMS and Inventory Management System
Increff Warehouse Management System (WMS) is an advanced SaaS-based, cloud-hosted technology platform to boost warehousing & order processing efficiency. Serialization of inventory allows 100% tracking of inventory within the warehouse, optimum space utilization, 100% inventory picking, and order fulfillment accuracy, and reduces delays in order processing.
Digitization of inventory makes the system ~100% scan-based so tasks can be performed on handheld devices, minimizing errors and maximizing workforce efficiency. Auto picklist generation based on channel or order priority boosts efficiency and ensures ~99.9% order fulfillment within SLA to improve customer satisfaction.
3: Distributed Warehousing and demand-wise inventory distribution
Increff has value-driven collaborations with Third-Party Logistics (3PLs) providers for distributed anytime, anywhere warehousing with expert robust tech support of Increff WMS and zero upfront cost. Outsourcing warehousing allows brands to distribute inventory as per demand across a network of warehouses, bringing brands closer to customers for faster, low-cost order fulfillment. 
4: Efficient returns processing to enhance the customer experience
Increff WMS returns management feature helps track returns and conduct a thorough quality check to reduce returns rate and minimize related costs. It helps segregate items into re-saleable, refurbished, and rejected so appropriate action can be taken. Re-saleable inventory is immediately made available for resale to maximize sales are higher margins.
Refurnished inventory can be sent to the secondary market after price optimization, and rejected items can be sent back to the vendor, mentioning the exact reason for rejection so it can be prevented in the future.
What D2C Will Get From Shipway <> Increff Partnership
A growing D2C brand can become a victim of its own success if its order fulfillment strategy cannot speed up with its growth. As the order volume escalates, it can result in lengthy delays to process orders and then fulfillment.
Rather with choosing the right automation partner and seamless integration, you can scale more effortlessly.
Shipway <> Increff Partnership offers you the following list of benefits:
Fulfillment & Inventory Management Solutions Under One Roof

Aligned last-mile fulfillment and deliveries

End-to-end tracking of eCommerce order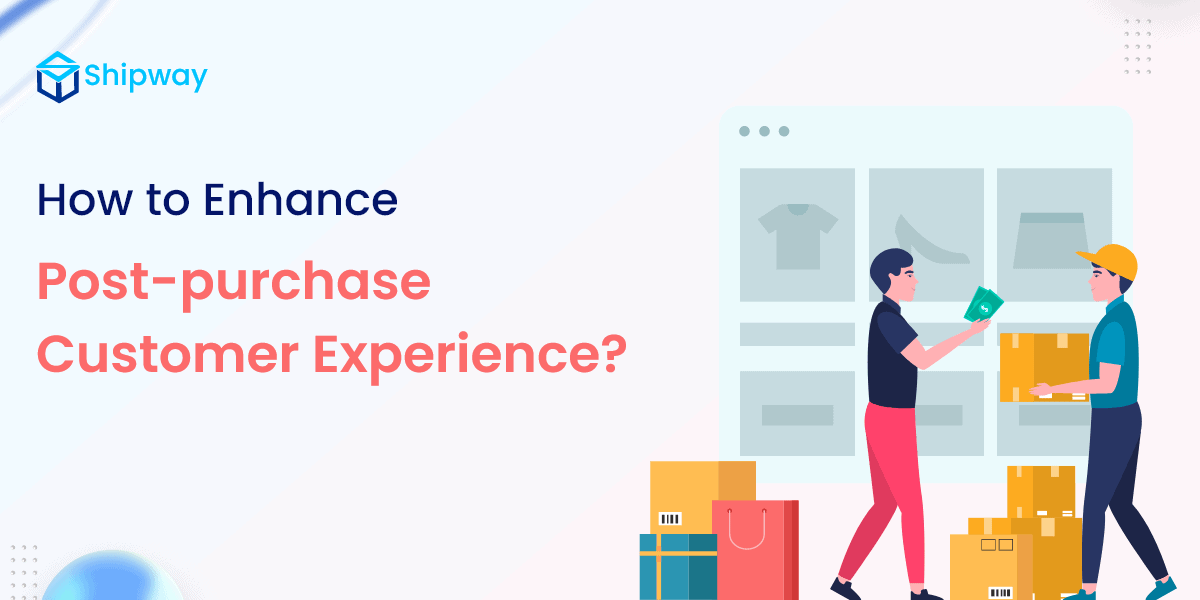 77% of customers are likely to repeat purchase from a brand or refer a brand that has an exceptional post-purchase experience. So, where do you...
read more