Returns and refunds create a huge disturbance to the growth of an eCommerce business. Especially when you are a D2C brand, returns act as a major hindrance to your growth. Today India is home to 800+ D2C brands and if you are also one of these new ones, you can surely relate to the eCommerce return problem.
Apart from losing customers' loyalty and repeat purchases, a brand has to bear many other losses and make an unacceptable compromise with the growing business. You cannot stop your customers from returning the purchased products, and you cannot deny the refund but you can surely turn these refund requests to exchange orders and get your business goals fulfilled.
 Do you want to know about the ways through which you can convert returns into exchanges? If yes, then check out our guide and get yourself another chance to make your customer happy. You deserve it!
Reasons for eCommerce Returns
According to the data, at least 30% of the online purchased products are returned. The top reasons for these product returns are stated below: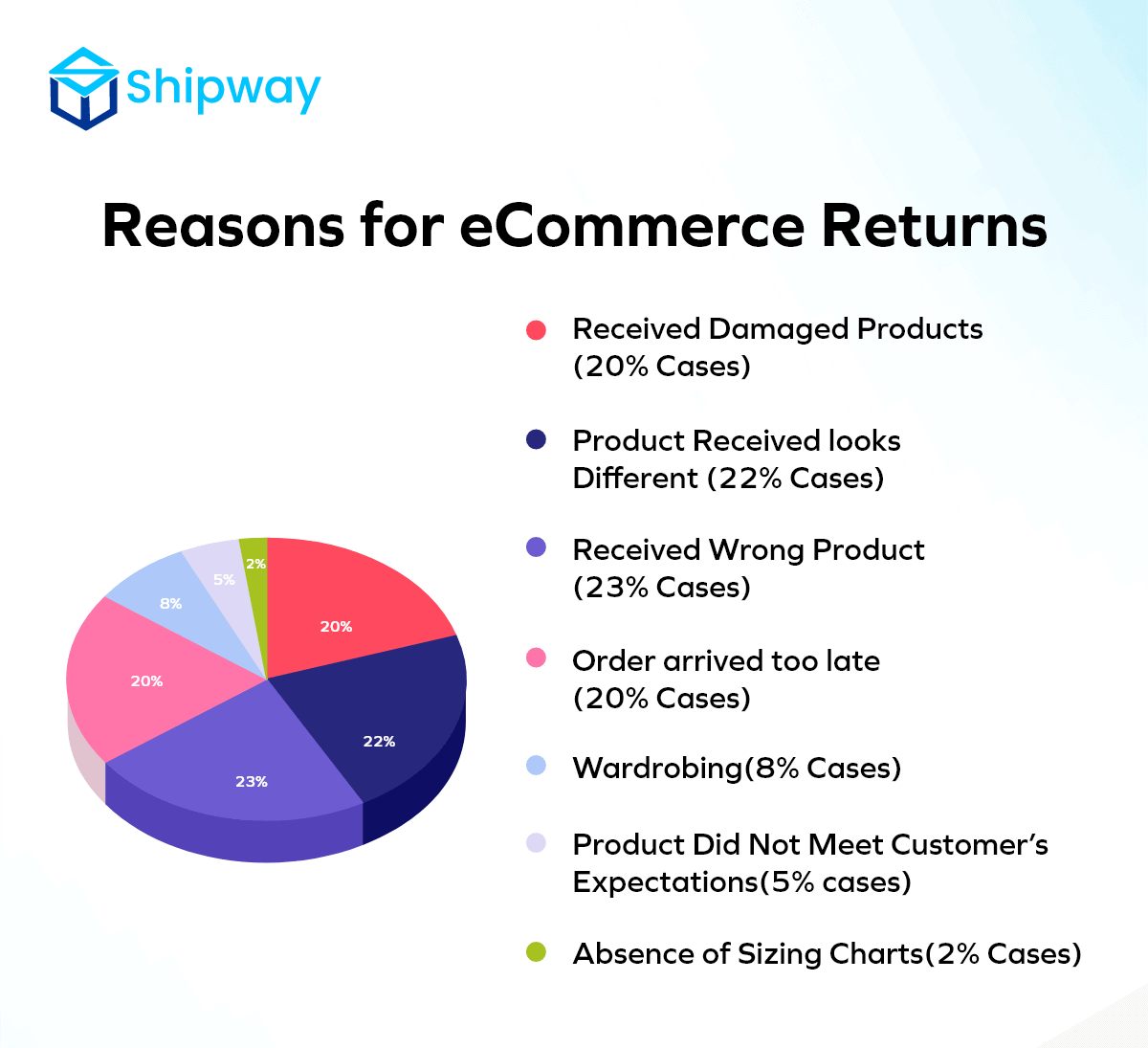 Received Damaged Products(20% Cases)
Product Received looks Different(22% Cases)
Received Wrong Product(23% Cases)
Order arrived too late(20% Cases)
Wardrobing(8% Cases)
Product Did Not Meet Customer's Expectations(5% cases)
Absence of Sizing Charts(2% Cases)
How are Returns affecting your Brand
Here are some of the disadvantages of returns that all eCommerce brands should know about:
a. Loss of Sales and Revenue
The prime goal of all brands is earning profits. And, each return request for a refund will lead you to lose the sale and also the revenue that you may have earned through it. The National Retail Federation estimates the cost of returns amounts to $101 billion. Isn't it a big amount?
b. Bear Additional Costs
While you deal with the return requests, you have to go through a lot of other costs like shipping costs, cost of restocking, costs of refurbishment, etc. Among these additional costs, the return logistics costs affect the brands most severely, contributing to up to 15% of overall losses.
c. Spoils Customer Experience & Brand Image
No matter what the reason for the return is, it spoils your customer experience, and it may also make you lose them. If a customer is ordering for the first time and places a return request, it means that he or she won't come back in the future for any purchase. Similarly, you can also lose a loyal customer if he or she has to return the products often. 
In short, be it a loyal customer or a new one, the whole return issue will impact your brand image and may lose you any potential clients that may have come by the word-of-mouth marketing done by the satisfied customers.
d. Impacts on Customer Lifetime Value
Customer lifetime value is the total amount of money a customer is expected to spend with your business, or on your products, during the lifetime of an average business relationship. 
And, as mentioned in the above pointer, return cases will make you lose a loyal or old customer which will impact the customer experience and Customer Life Time Value.

How to Leverage Exchanges over Refunds
Every time you receive a request for a return/refund, you have lost a sale and a faithful customer. How can you reverse it?
Let us take you through the best ways through which you can leverage exchanges over refunds & retain customers along with increasing your profits.
1) Focus on the Reasons for Returns
Before you start to process the return request, it's important to ensure why the customer just wants to take his/her money back. The reason could be any, either he/she might be dissatisfied with the product or find it cheaper elsewhere.
You should check the return form, know about the reason and then connect with the customer and offer them better options. The reasons for the return(size issues, fitting issues, product quality, etc.) will also help you to improve the products for the future.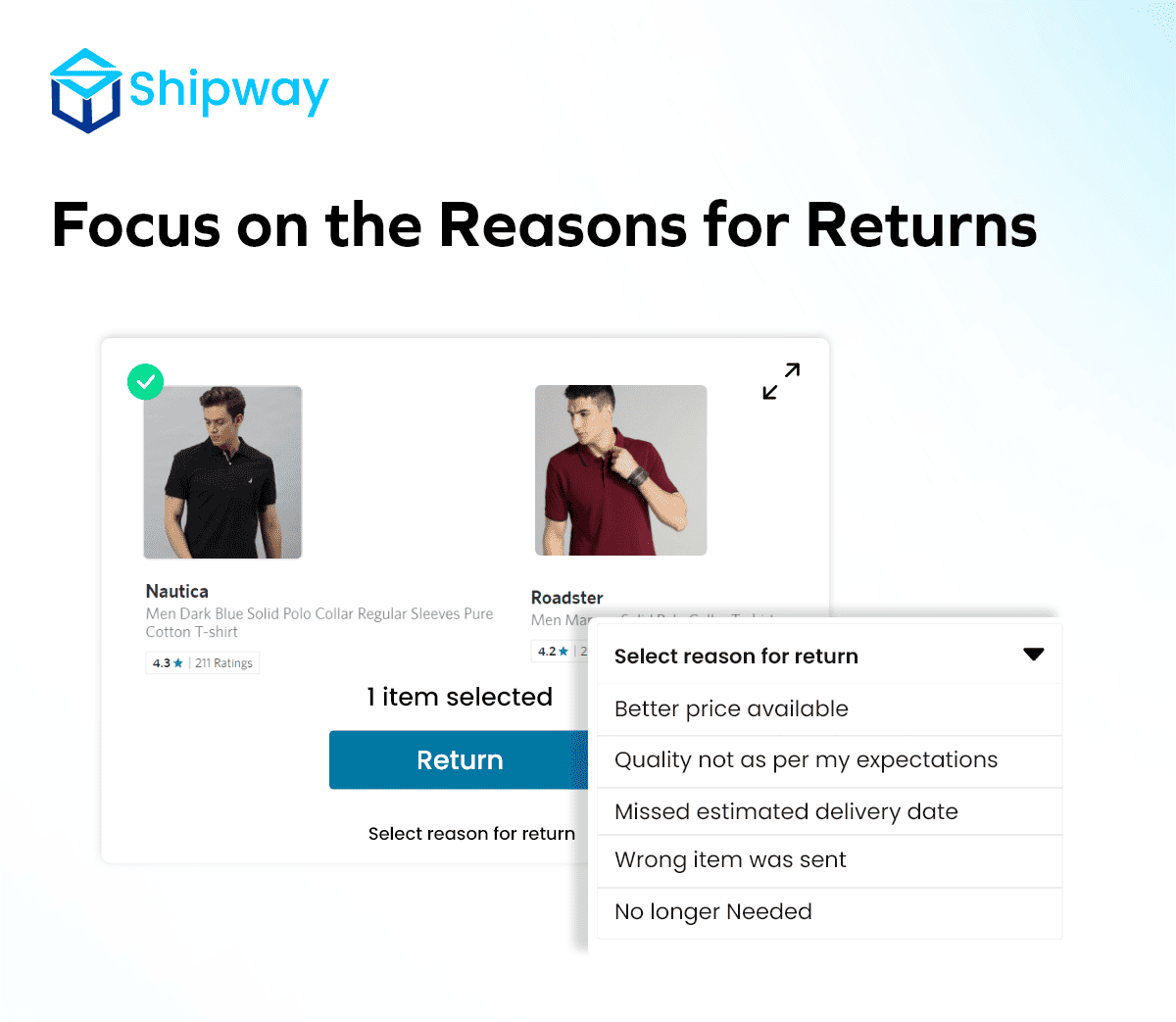 2) Suggest Similar Products
"70% of customers prefer exchanging the products."
If the customer likes the product and is returning it because of size, fitting, or color issues, then you can convince the customer to exchange it with a similar product of a different size or color. If you are using a return automation panel, then you can easily add exchange options on the customer's return page or call them for the same.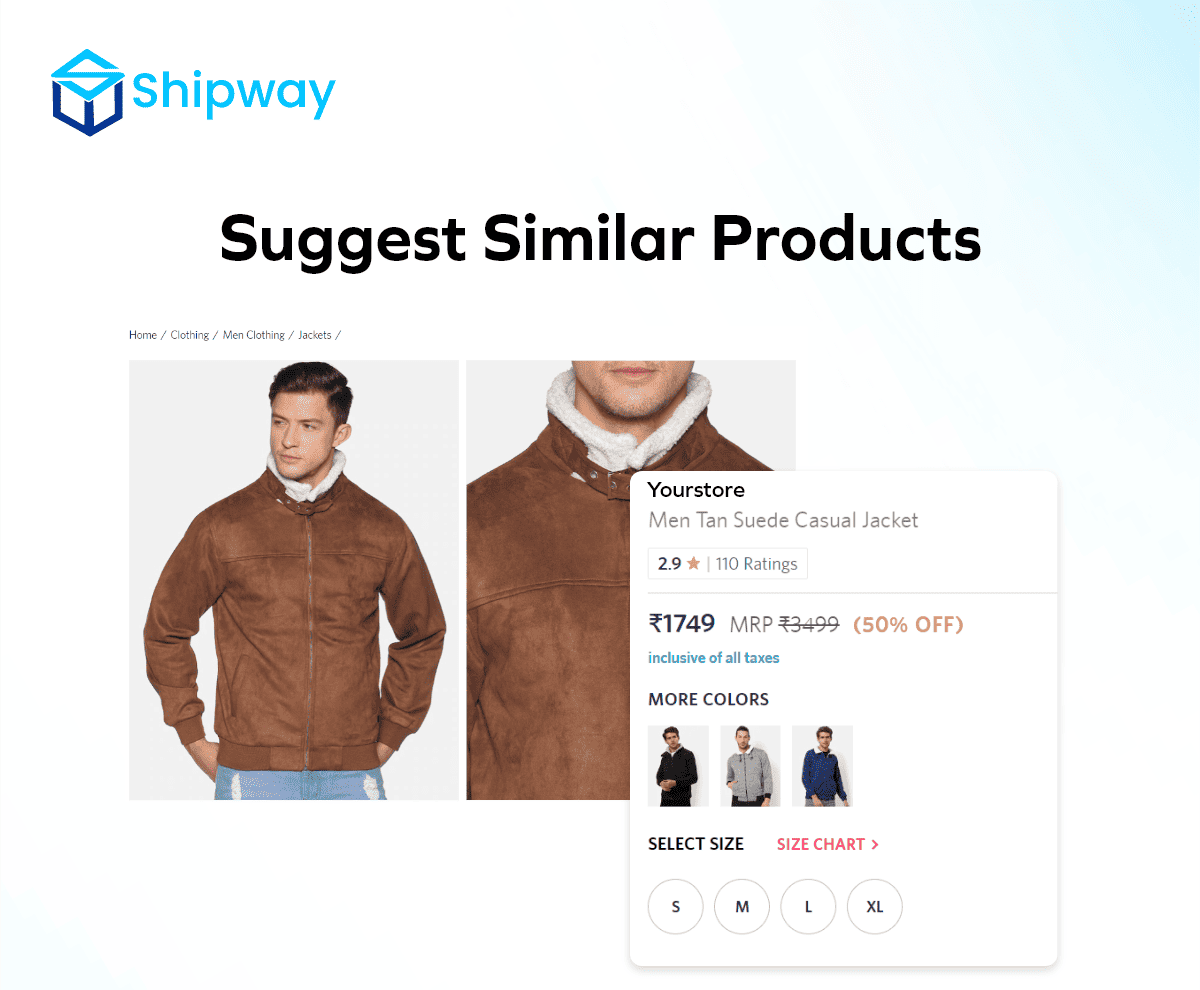 3) Introduce Exchange for Anything
The next on our list are ways to turn refunds to exchange orders that will enhance customers' experience. Besides offering them similar products, you can also give them the option of exchanging their order for another product.
In the case, where the customer purchases a product of lesser or more value than the price of the original product, then you can also easily adjust the amount. In the former case, you can provide their store credit and in the latter case, you can make them pay while they are placing a request for the exchange order.
Example
Say the customer purchased a black shirt, then you can offer to exchange it with a black shirt from some other brand or in any other pattern. Similarly, you can also offer the option of exchanging the shirt for a pant, shoes, or any other product the customer likes and is of the same cost value. 
Moreover, you can add an option of 'I want a different style on their exchange portal to make it easier.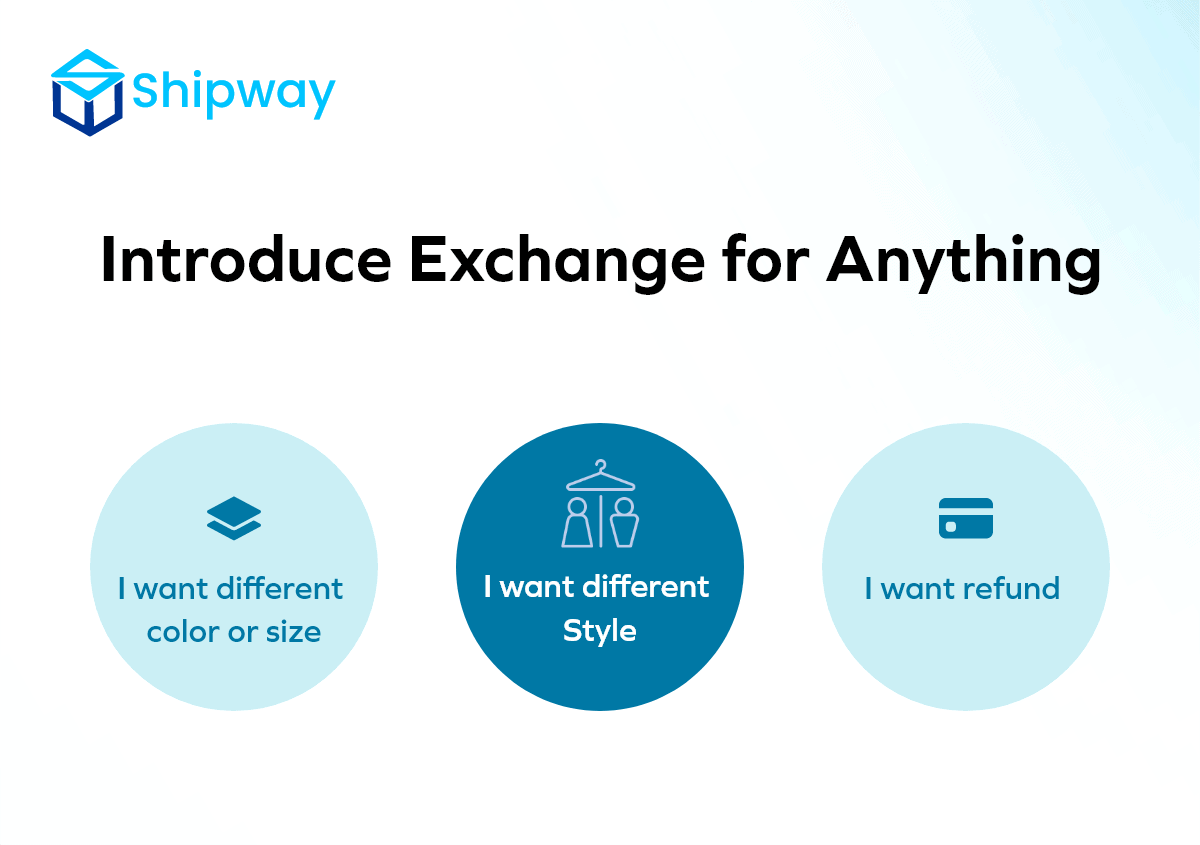 4) Entice Customers with Pre-discount Credit
Now, you can smoothly incentivize exchange over refunds and decrease your losses by offering Pre-discount credit.
What is It:
Pre-discount credit lets the customer make use of the discount that they availed on the product that they want to exchange. By this, you can allure the customers to buy some other product with the same discount amount.
Example:
If a person bought a top of INR 1000(original price=1200) after a discount of INR 200, then while exchanging he/she can buy a new product at the same cost of INR 1000 with pre-discount credit.
Benefits:
By this method, you can increase repeat purchases, customer satisfaction, and Customer Lifetime Value as he/she will trust your brand and always prefer exchange on your portal.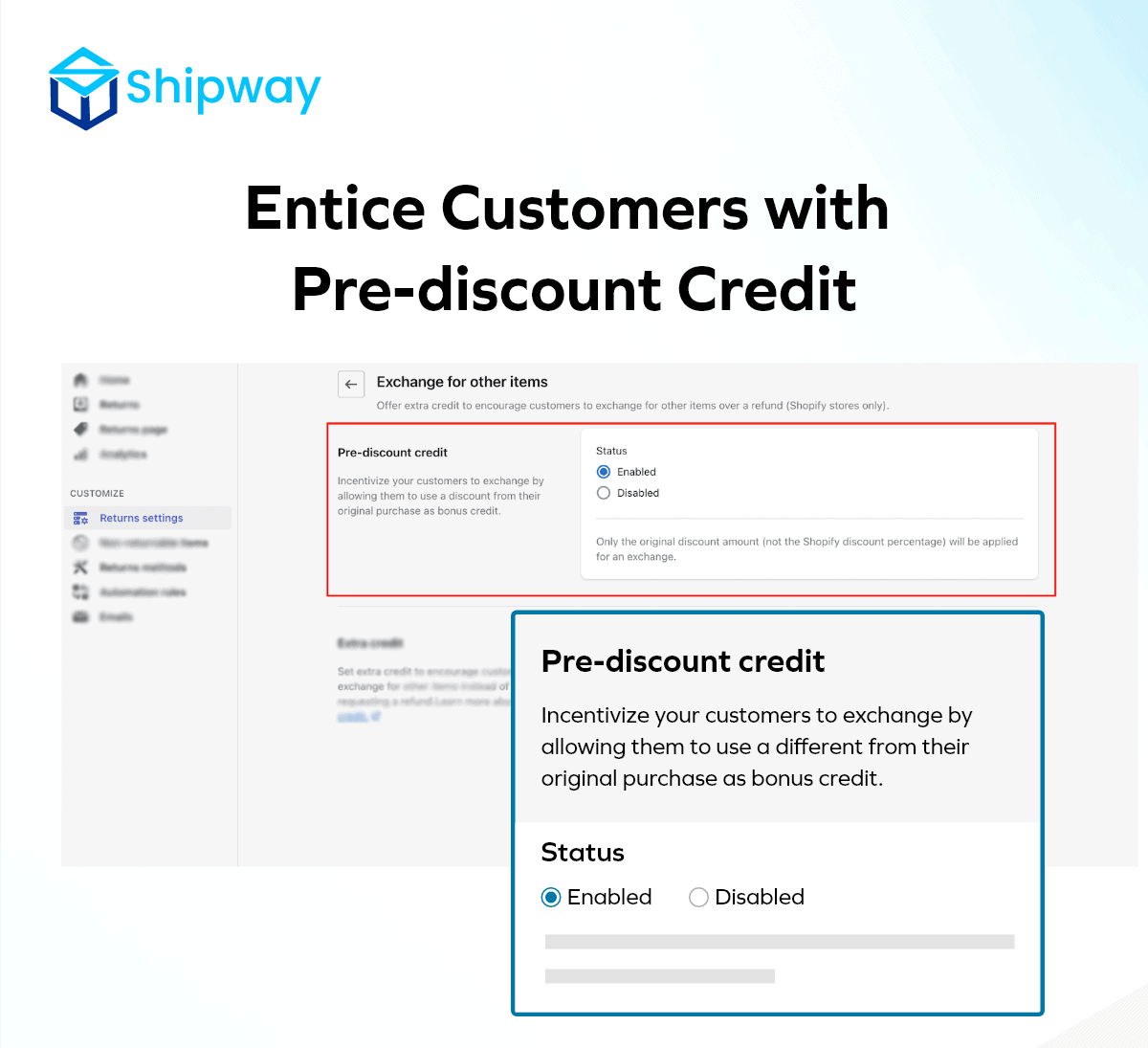 5) Lure the Customer with Free Shipping on Exchanges
Today, brands have started luring customers by providing free shipping on exchanges. This will attract the customers and may compel them to choose an exchange over a refund.
You can offer the below options that will make the customers choose an exchange. Take a look!
a) Store Credit Option
Around 55% of customers don't like the store credit option. It is beneficial for the merchant as the customer will definitely use the credit. But, customers don't prefer it. Hence, you can offer a store credit option along with free shipping in exchange and make them choose the latter.
b) Charge them on Refunds
Who wants to pay extra on returns? 89% of customers always skip the return option when the brand charges for the return shipping. In place of return, he/she will go for an exchange that comes with free shipping.
c) Free Shipping on Exchange
The final option will be profitable for you and the customer. An exchange with free shipping will entice the customer, build their trust in your brand and increase your sales.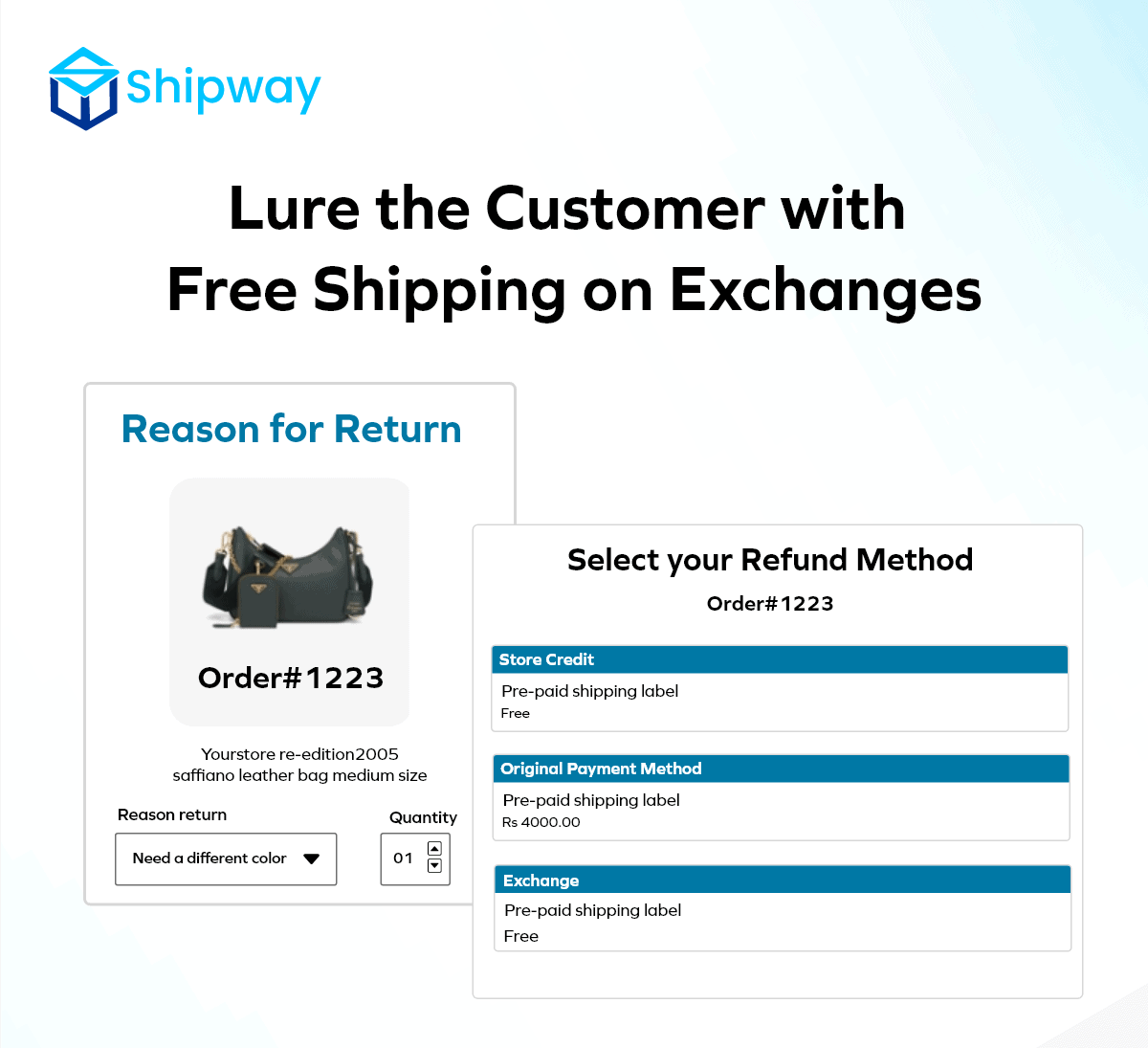 Expert Tip: You can add all the above three options on the return automation panel provided by various AI-powered shipping experts.
6) Keep the Refund Window Shorter
67% of customers look for a return page and return policy before making a purchase. Making a flexible return policy will benefit your sales as other than reducing returns it helps to regain the customers who approached for a refund. Do mention the refund and exchange window.
Next, you should incorporate what the brilliant D2C brands do.
Brands have shortened their refund to 15 Days and the customers can only choose the exchange option after this 15-day window. Furthermore, they have also incorporated one more tactic that we have covered in the next pointer.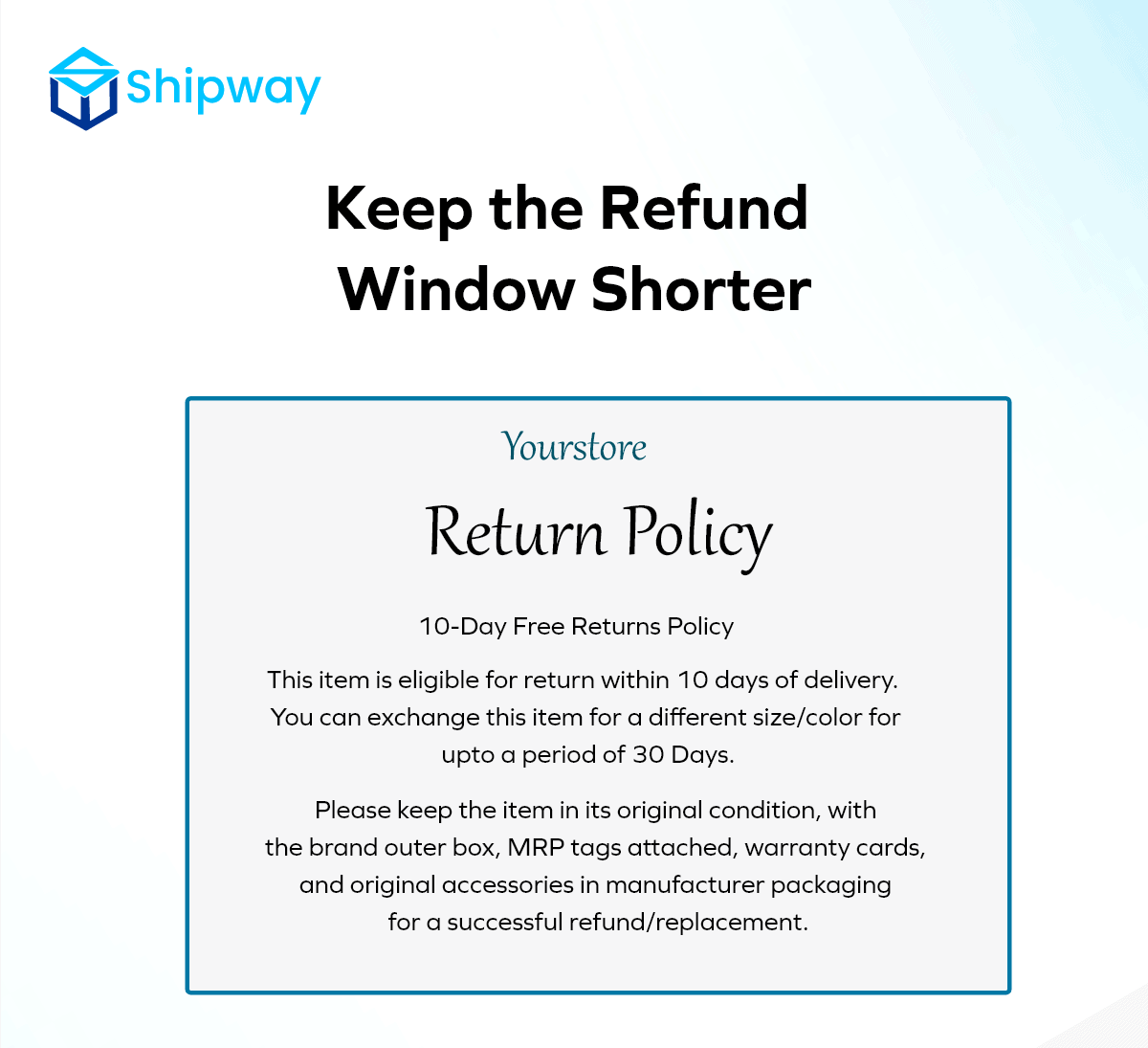 Expert Tip: All brands that have a strong presence in the market can also make their refund window to 7 Days to incentivize exchanges. On the other hand, new brands should refrain from doing so as it may impact their brand image and weaken customers' trust.
7) Offer a Larger Exchange Window
Another mind-blowing way to turn refunds into exchanges is by offering a larger exchange window to your customers. Increase the period for exchange, don't make it mandatory to upload images of products for genuine reasons, and simplify the exchange rules so that customers can request an exchange without any hesitation/difficulty.
You can keep your exchange window open for up to 30 days, and this will go along the 15 days refund window that we discussed in the above pointer.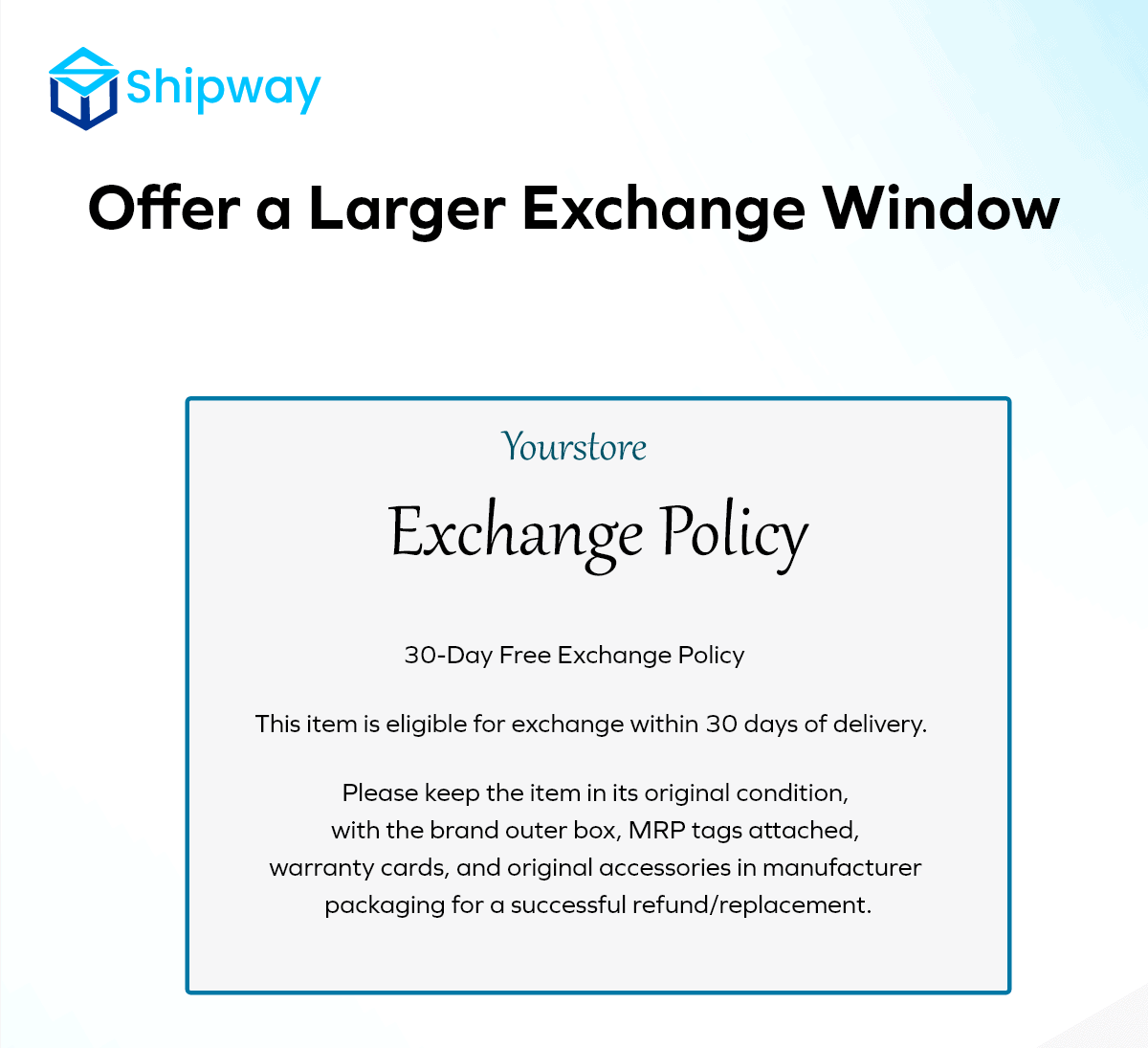 Expert Tip: The larger exchange window will improve the customer experience as well as the Customer's Lifetime Value because you are offering the customer enough time to exchange the product and buy what they actually like.
8) Offer Discounts or Bonus Credits on Exchange
s
Make sure to give them equal respect as other customers so that the overall experience will make them repeat their purchases. Don't send them an empty hand but with a handful of great return experiences from your store. 
Let them leave with an abundance of smiles! Their experience will bring them back for future purchases. Here, instead of a full refund offer them discounts for the exchange, such as:
Replace the damaged products with other products at some discount (let's say 50%).

Replace with a high-value similar product at the same price when the desired variant is not available.

Refund the amount in unavoidable cases with an in-house gift card, store credit, discount coupon, etc.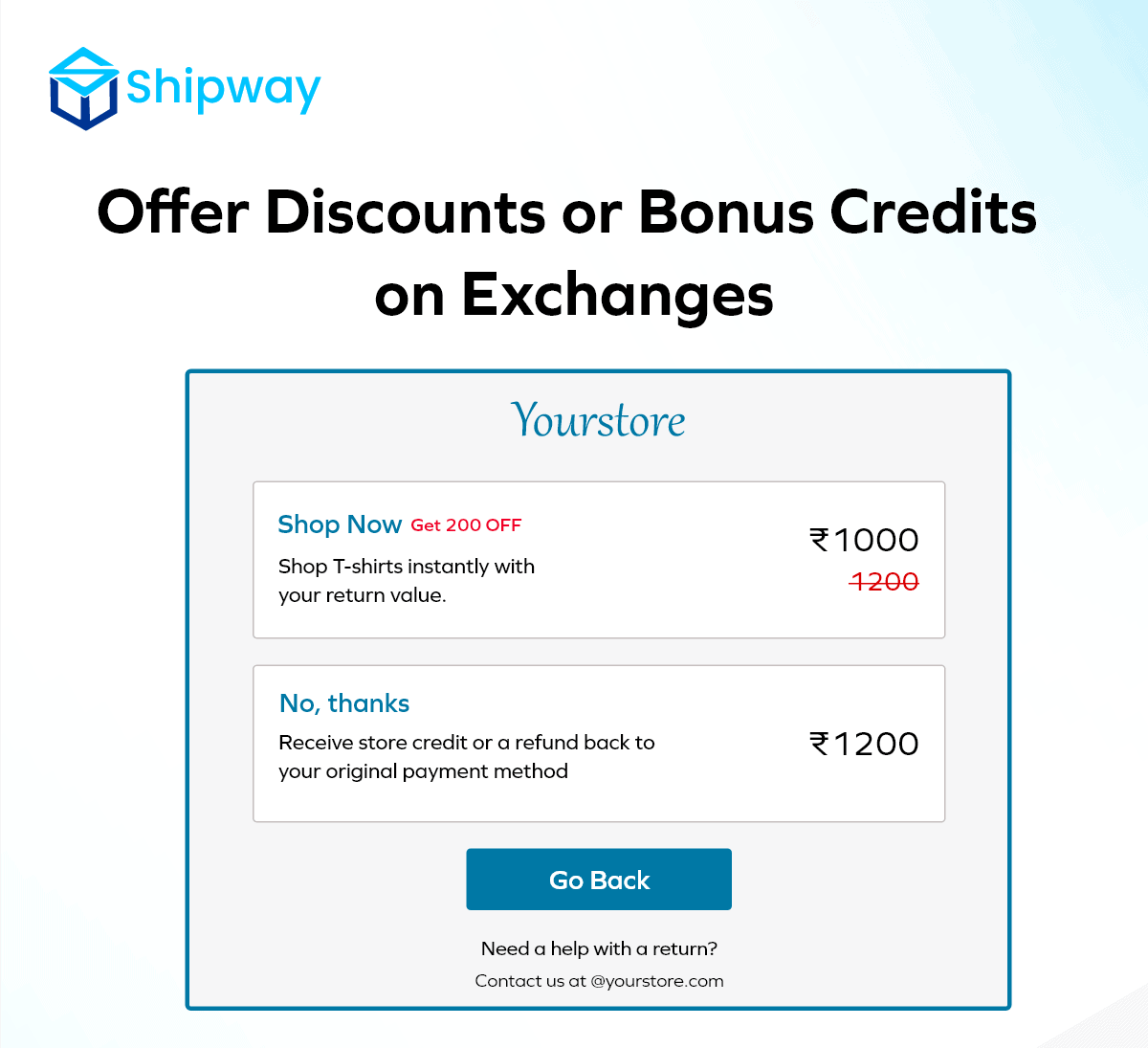 9) Automate your Refund & Exchange Process
Did you know 60% of Shopify returns happen due to size or style issues? Yes, it is true. Moreover, 92% of customers are willing to exchange the product if the process is hassle-free.
What does it imply?
It's simple. If you automate the process of return, then up to 60% of your returns can be turned into exchanges. You can take the help of a return automation provider as they offer proper return panels through which you can easily manage refunds and exchanges. Now, forget the ongoing mail trails about returns. 
Just make your branded return page through an AI-powered shipping solution provider and get ready to enhance customer experience and your sales and revenue.

How can Shipway help you with Exchange Process Automation?
Every return request brings you an opportunity to create the best customer experience that they won't forget and would never leave your store without shopping. And here's how Shipway can help you with it:
1. Branded Refund & Exchange Panel
To manage all returns and exchanges, we provide a branded page with which you can enhance the overall experience of your customers as well as you.
Our branded customer return panel allows shoppers to request returns across multiple orders. Additionally, merchants have their panel and can check and take a call on all refunds and exchange requests.
2. One-click Exchange Requests
With our panel, customers can place a one-click exchange request. Moreover, you can also list products that can be returned and can only be exchanged. You can also offer them an 'exchange with any other variant option' through our panel.
3. Smoothly Track Refund & Exchanges
We offer an API integration with all major carriers for reverse pick-ups, and you can easily club quality check-ups along with the pick-ups. In short, Shipway can help you to track your returns and exchanges for a better customer experience.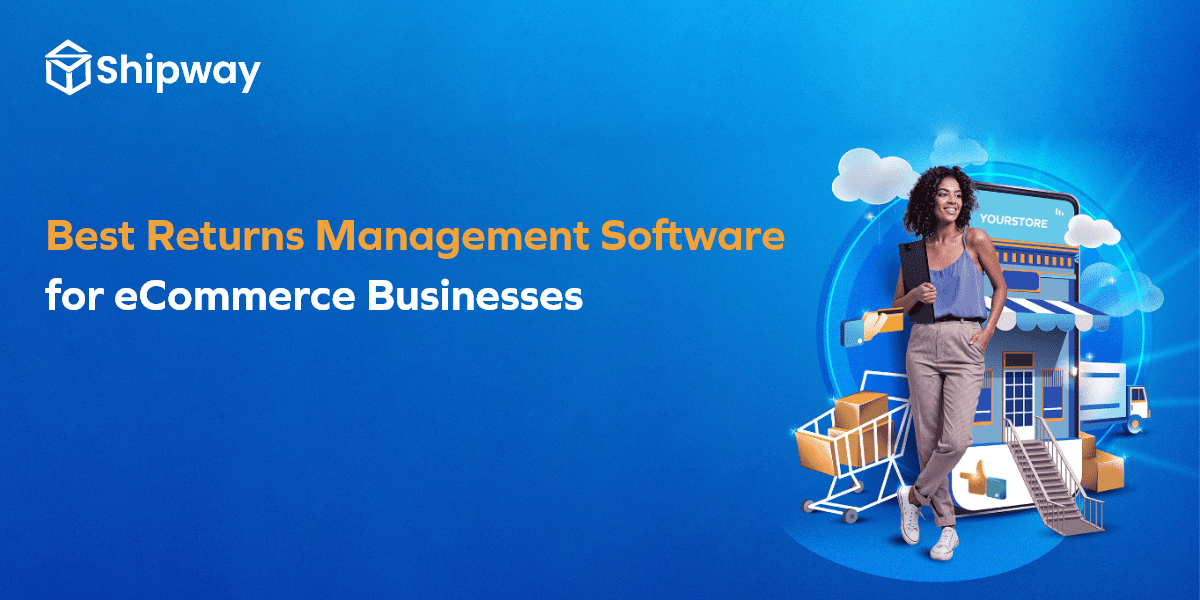 According to data, around 84% of shoppers will avoid buying from a brand that has a troublesome return process. Therefore, all eCommerce brands...
read more