Purchasing online has become an integrated part of people's lives today. Beyond shopping, they still look forward to a few things either purchasing from a marketplace, a big renowned D2C brand, or a new age D2C brand.
First, fast order delivery, as customers wish to receive the order as soon as they make a purchase. Second, real-time notification for order status updates. People eagerly start to look for their email inbox to know when their products are shipped, when they can expect their delivery, etc.
This is what happens when customers open the order tracking email for the brands – it releases their post-purchase and pre-parcel anxiety.
What generally people do when they open these order tracking emails, they simply open them – check for the expected delivery date – close the email – resume to their work. But, get stuck when they see offers, discounts, new product ranges, or products relevant to their previous purchase, etc., and a 60-70% chance that they are shopping again.
So, it is about filling the post-purchase experience gap for the customers which can be directly achieved by adding a branded order tracking page to your own website.
Continue reading and find out what hype exactly a post-purchase experience gap consists of, what impact can post-purchase communications do, how branded order tracking page works, and help you increase customers' repeat purchases.
How e-commerce Brands can fill up the Post-purchase Customer Experience Gap?
Customers these days ask for personalized services at every digital channel they prefer and expect flawless digital services when they think to shop online. The expectation is the result of the digital transformation we are living in as well as the compelling products, promotions, and your presence on all over social media through which they are extremely allured with your brand.
E-commerce brands that are able to provide these experiences to their end customers are winning both their loyalty and the race to increase their customer base among the competition.
The experience we are talking about here is the post-purchase gap. Those who don't take this seriously, risk their brand to leave behind the race of existence/success.
The trends are now well understood by the e-retail space occupiers, the eCommerce businesses have now embraced the digital transformation and upgraded the way they were managing their customer acquisition and the overall purchase experience for their customers.
A study over eCommerce customers was conducted, we found the extent of the post-purchase experience gap.
"According to this study, 35% of the eCommerce consumers selected Amazon to rank 1 in offering the best post-purchase experiences in the industry, leaving behind John Lewis at 2nd position by 8%."
This study shows that the post-purchase experience gap is a clear path for eCommerce businesses and is a new approach to retain and increase customer loyalty.
The D2C eCommerce brands can fill this gap at the quickest and benefit from the significant competition.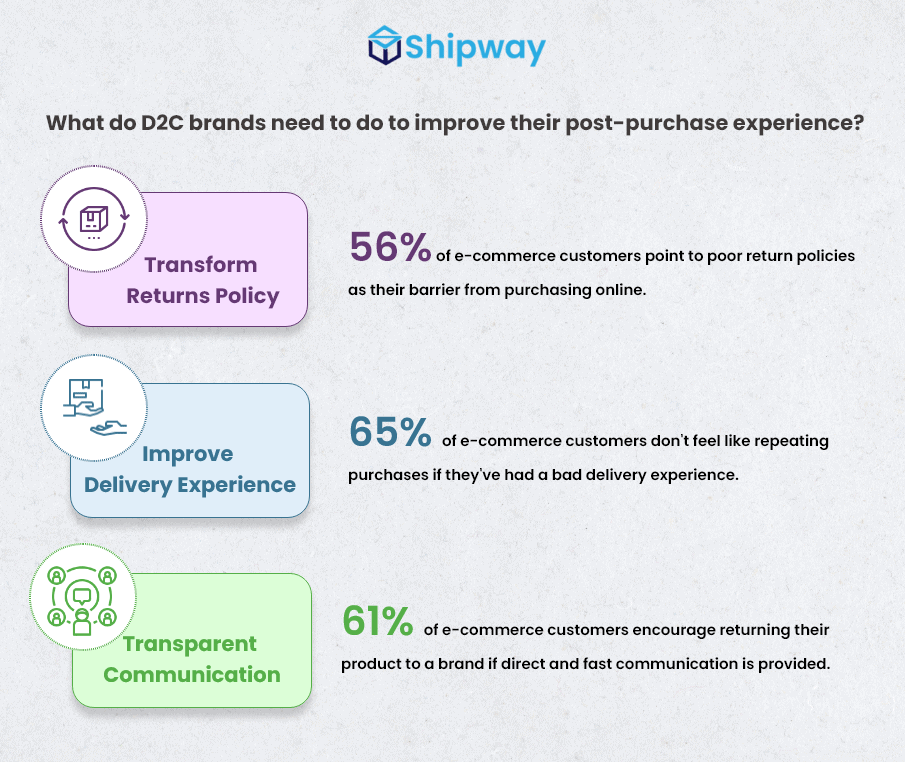 How customized order tracking pages improve the e-commerce experience?
The first step to fill the post-purchase experience gap is a customized order tracking page on your e-commerce website.
The customized order tracking pages are more effective to entice customers for repeat purchases than just an ordinary tracking page.
The customized order status pages are turned to be effective by adding the brand's touch to them. The basic custom changes that you need to add to your order status page include:
Company's branding

Company's opinion

Company's URL (rather than redirecting your customers to your logistics partners site)
You can customize your order tracking page in a marketing aspect as well, such that it becomes a one-stop solution for your customers to look for their order such as where is their order, to write a review, check out other/similar products, offers/discounts, etc.
These custom changes will turn your ordinary order tracking page into a more attractive branded order tracking page that is easy to navigate and will improve your customer's e-commerce experience.
What difference does customized order tracking give?
Customizing your order tracking page can give you a huge difference, here are some numbers to prove it:
With 65% of an average open rate, Order Confirmation Emails turned out to receive the highest engagement rate.

Order tracking and order receipts like Transactional Emails, receive 8X open rate than your other emails.
65% is a huge amount of traffic if you are transferring the same to your logistics provider website. 
Ever thought to hold this traffic to your own website? When order status emails have such amazing open rates then why share all that traffic when you can keep that to yours?

How branded tracking pages benefit eCommerce businesses?
Branded tracking pages can get a sense of professionalism in your eCommerce business, bring more customers loyalty and LTV.
You can extend their shopping experience with your branded tracking page.
Keep the buzz going. Once they place a successful order with you. Keep them engaged with timely order status updates, extend their experience with real-time notifications on their order status during the fulfillment process.
Keep them to your own website. Despite redirecting them to the carrier's website. It creates insecurity towards their purchase with you.
Create a responsive experience. Allow your customers to track their order from any device – Desktop, Laptop, Tablet, iPad, Android, or iPhone. 
More than half of the population on Earth, open and read their emails on their handsets (Android, or iPhone) – make your website pages mobile-friendly.
Re-Engage Your Shoppers.

Offer them deals and discounts on the order tracking page, redirect them back to your website, and increase the rate of repeat purchasing customers.
Not everything but create your branded tracking page in a consistent and unified manner so that it could transfer the authenticity and your customers shall feel secure with their purchase with you. Just like a big brand. 
The branded tracking page can enable you to deliver a quality experience to your customers that will match the quality of your products. Making their shopping experience extravaganza!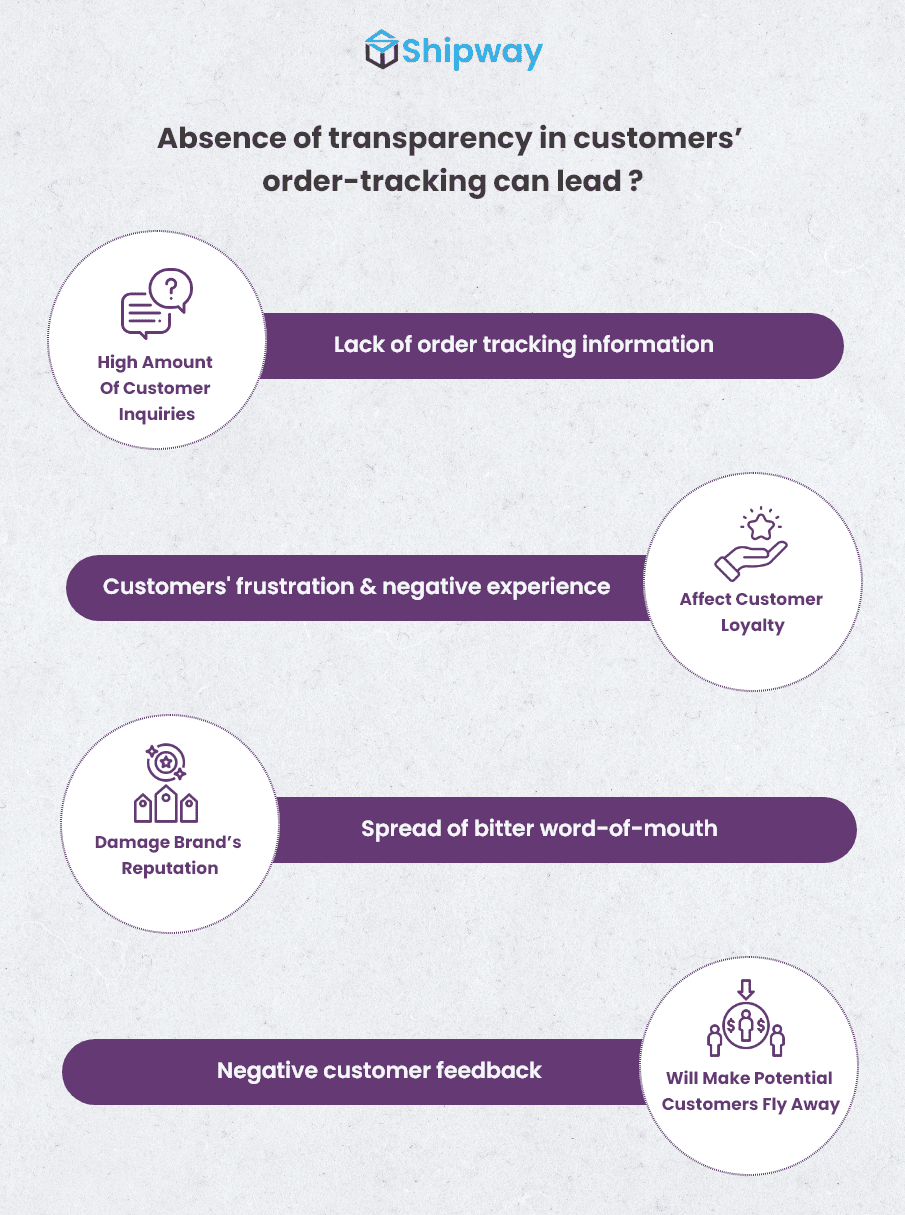 What makes an ordinary tracking page a branded tracking page?
You can make a few changes to your ordinary tracking page to make it more appealing, including your branding to customize your order tracking page.
Following are the ways you can turn an ordinary tracking page into a branded tracking page.
Use your brand's logo – 
Adding your brand's logo will mark identity to your order tracking page, driving more loyalty from your customers. 
Now the question arises, whether you can do this with your existing logistics partner, and how?
Because mostly all the carriers provide their own order tracking portal, offering you the same URL that you provide to your customers. Here, you cannot be distinctive and customize the order tracking page for your customers' personalized experience.
So, you can uplift your brand's standard by creating your own branded tracking page. It can benefit you with the following:
Empower you as a D2C e-commerce brand in the market. Have full authority on your sold products and their tracking.

Add more value to your branding. Your business logo will help your customers to recall and remember you for their purchases.
Customized order tracking URL for your own website – 
Bring your customer traffic to your website instead of redirecting them to your carrier website's tracking page.
As discussed above, you can customize your order tracking page and make it a part of your branding. You can also create a customized URL for your branded order tracking page and bring all your customers to your own website for order tracking.
Order status of customers – 
Order status update is the most important information for your customers that they are looking for on the order tracking page. The branded order tracking page also helps you to keep your customers in the loop, to the information 'wherever their order has reached'.
Unlike many e-commerce sellers, don't mislead your customers by informing them about only EDT (estimated delivery time) of their order rather notify them about every passing stage in your order fulfillment.
Be transparent about the information you notify your customers about.
Premium Customer Support – 
While displaying information to customers about their order status, also provide them the touchpoint with which they can reach you directly, in case of any difficulty. 
Offering customer support builds their trust in your brand, imparting a sense of your availability when they are facing a challenge or in their time of need.
Customers also value your willingness to help with your support system regarding any difficulty in order tracking.

How does a Branded-Order Tracking Page improve customer retention?
The branded order tracking page is probably the first thing your customers will visit after confirming their order with you. You can put customers' "track my order page" to the best use by creating opportunities for them to repurchase from your site.
Offering a unified experience to your customers in respect to order tracking can include timely delivery updates alongside allowing them to browse different products till their order is delivered. It will help you improve the customer post-purchase experience and increase the customer retention rate.
With customization, you can build your own branded order tracking page for your customers on your site, which means you are not redirecting your customers on any carrier site's tracking page. It boosts their loyalty to your brand resulting in increased repeat purchases.
For eCommerce customers, real-time order status updates appear to be an unavoidable piece of information as it tells them about "where is my order?", is it getting delayed, etc. Maintaining transparency is one of the difficult tasks in eCommerce but is now possible with eCommerce automation solutions.
You can use a set of emails to share useful information about your product(s) or promote reward programs. Moreover, creating these emails with some personalization can add more loyal customers to your store.
These personalized emails have a high open rate of 50-120% compared with other marketing emails to have open rates of 10-20%.
Sending personalized emails is also an effective channel to ensure an increase in customer retention at your online store.
Personalized emails can work like a charm for you creating a great opportunity to use creative content and make your customers' shopping experience delightful.
Include more and more information that you communicate to your customers during their post-purchase journey (till their order is delivered). Keep your customers engaged while they will be waiting for their order to arrive at their door.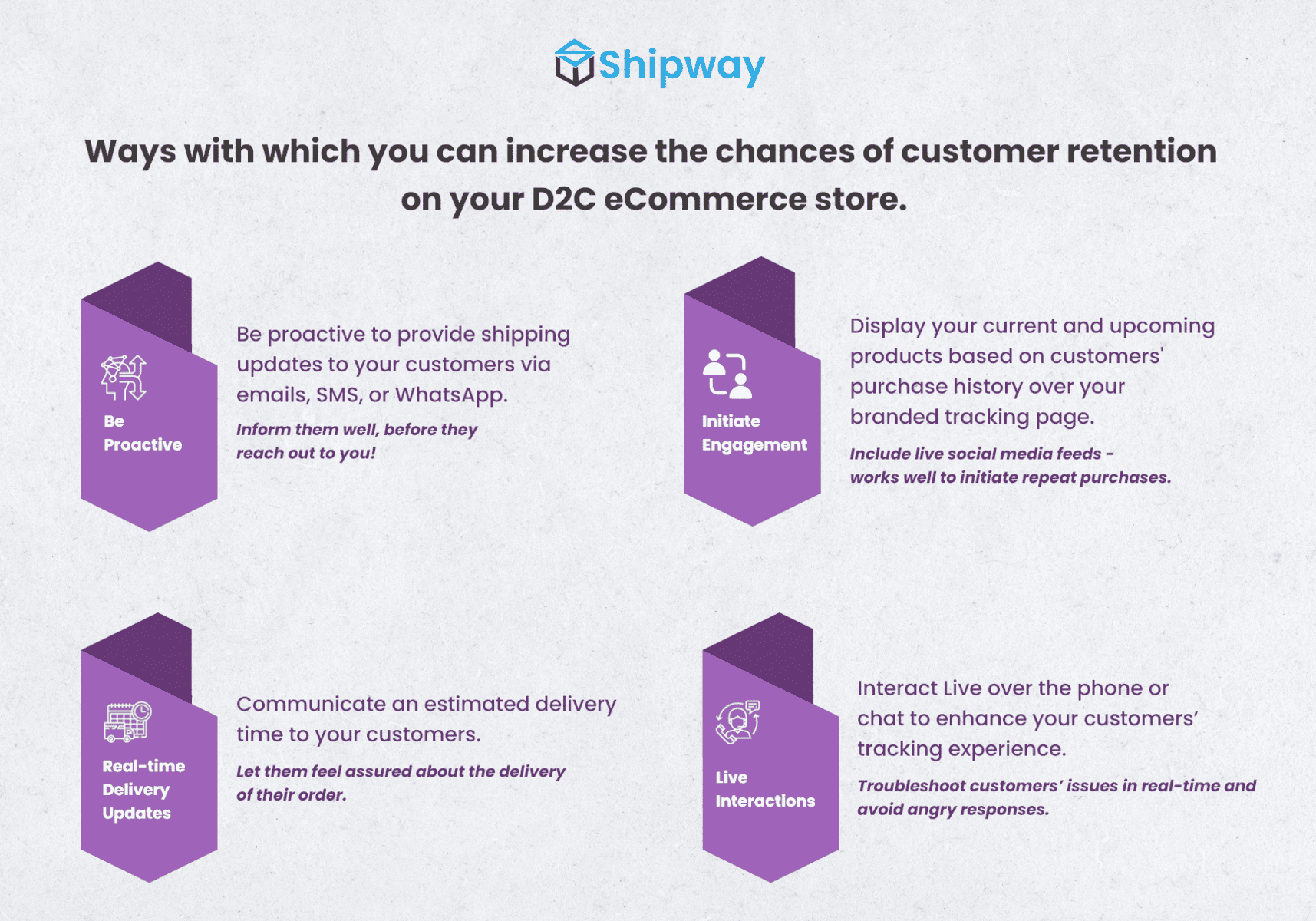 Key Benefits of Providing Branded-Order Tracking Experience to Customers
Following are some major benefits you can get by offering a customized branded post-purchase experience to your customers:
Reduce Customers Anxiety:

Keep customers engaged, provide them with real-time updates on their order delivery status and reduce your customers' resulting anxiety.

Build Customer Loyalty:

Always be transparent with your customers and let them know in advance, in case of any delivery delays. Also, proactively communicate with your carrier to resolve them ASAP. Develop a trust relationship with your customers and build loyalty.

Increases Customer Delight:

Offer a reliable order tracking experience to create memorable post-purchase moments for your customers. 

Drives Repeat Purchase:

Send regular post-purchase communications and use your branded order tracking page to run the relevant promotional campaigns to drive repeat purchases.

Lowers Customer Inquiries:

Always keep your customers aware of their ecommerce order shipping and delivery status updates to reduce the number of customer inquiries.
Wrapping Up 
Closing the information on the order tracking page, the post-purchase experience gap it fills and boosts the repeat purchase, just want to add one thing that creating a customized branded order tracking page, can create the best opportunities for you to impress your customers and increase your sales percentage. 
Creating a blend of personalization and marketing on a single order tracking page is more likely to improve the order tracking experience for your customers.
Frequently Asked Questions
1. How do I make a track order page? 
Ans – There are many platforms available in the market which can help you with easy-to-create order tracking pages. Or you can install the order tracking app from Shopify App Store where you can easily create your branded tracking page. One of such apps on Shopify is Shipway.
2. How do I tell my customer about the delivery status?
Ans – Automatic notifications for order status updates can inform your customers about their real-time order delivery status. Many applications are available on the Shopify App Store that can help you with branded order tracking and automate your notifications for order status updates. One such example for Shopify App is Shipway.
3. Can I receive automatic notifications for order tracking?
Ans – Yes. You don't need to call the seller as they will provide you the automatic notifications regarding your order status updates in real-time. You don't need to worry, sit back and relax. Your order is arriving!
4. Are the Shopify order tracking app's order update notifications/shipping alerts customizable to your brand?
Ans –  With the right order tracking app you can easily customize the transactional as well as order delivery notifications and turn these emails into an amalgam of order tracking and personalized marketing emails. Turn your ordinary branded tracking page into beautifully created branded marketing opportunities that will help you increase customer retention rates.
Did you know 38% of online shoppers will abandon their order if the delivery will take longer than a week? Today, the eCommerce landscape is rapidly...
read more