Social media marketing is the collective process of creating and promoting content to build a strong connection with your customers and drive traffic to your eCommerce business. Social media is an incredible platform to understand, interact and communicate with your customers.
As a direct-to-consumer brand, it is a good exercise to build social media marketing personas, as the more active you will be on your social media profile more engagement you'll receive.
If you are planning to start social media marketing for your eCommerce brand you can start by analyzing who is your target audience (gender, age group, etc.), what type of content they are interested in (entertainment, product detail, etc.), on which social media platform they hang out the most, content format they like the most (video, infographic, etc.), etc.
Incorporating a smart eCommerce social media strategy into the core of any eCommerce organization will become the strongest catalyst for the success of your eCommerce business in the long term.
In fact, social commerce alone is forecasted to be a $70 billion market in India by 2030.

Impact of Social Media Marketing
Social media presence has played a strong role in changing buying behavior. The industry report states that 55% of younger consumers who purchase from direct-to-consumer (D2C) brands discover them through social media. Amongst middle-aged consumers, 45% use social media to know and discover such brands. 
Once you get a clear idea of your target audience i.e., end customers, and what they want – it becomes easy for your eCommerce business to prepare a social media marketing strategy.
Another important aspect to look at before starting social media marketing is to study, analyze, and segment the strategy for different social media platforms, on the basis of – no. of users using the platform, age group of audience on the platform, platform's industry impact, the platform can be best utilized for.
Today where the youth is spending most of their time on Facebook, Instagram, LinkedIn, Youtube, etc., the emphasis is only laid on being realistic, and interactive. The same quality of the social media platforms can be used for your D2C marketing as well.
The potential power of social media marketing is to gather the following for your D2C:
Increase brand awareness

Generate leads and sales

Grow your community around your business

Boost community engagement

Drive traffic to your site

Provide social customer service

Boost one-to-one interaction with your community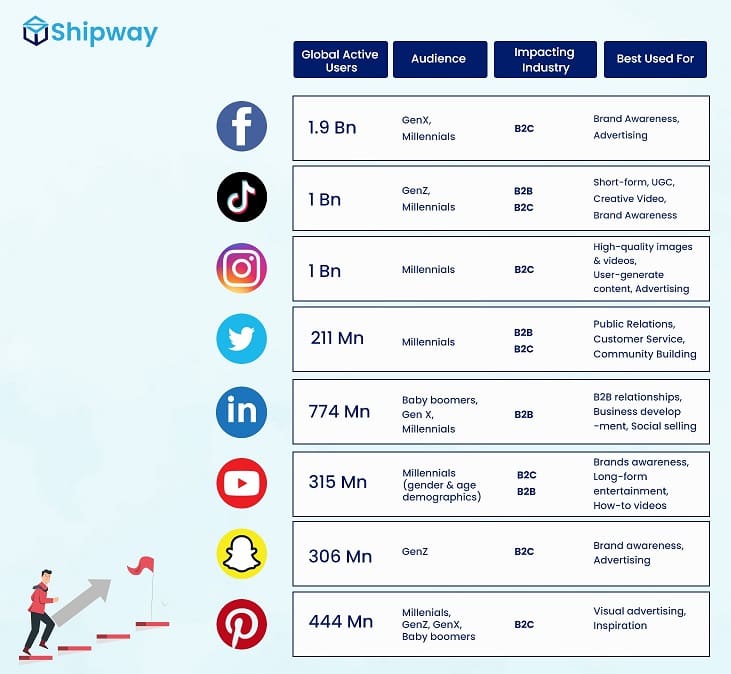 Actionable Social Media Marketing Tactics
What do Millennials and GenZ do as their first thing in the morning? That's right, they scroll through the feed on Facebook, Instagram, LinkedIn, etc. They start their day by checking the feed and updates on their social media handles.
For many eCommerce brands marketing wheels is like experimenting with new and exciting methods to reach their audiences.
Best Social Media Tactics To Increase ROI Results
To spark your inspiration, here is a list of the best social media marketing tactics for getting higher ROI results.
1. Grab More Engagement 
Above everything, marketing on social media is primarily done for building relationships on social media. Sharing engaging information,  building trust, and focusing on customer feedback are given priority over any sales efforts on social media.
Sustained interaction on social media will eventually lead the consumer to a product purchase. To build better relationships with customers, brands need to undertake a number of activities, such as:
Interacting with followers

Participating in groups

Hosting live chats, and more
E-commerce should rethink their social media strategies more towards "building an emotional relationship" rather than a "transactional relationship"  alone, with their customers.
In fact, you need to include an emotional connection with your audience.
2. Social Listening
Social listening is the tracking of online conversations that happen around your brand. These conversations can be in the form of tags, mentions, hashtags, and reviews.
Strategy to track your social listening allows you to better understand what your customers/audience want from your products and services.
Top reasons why social listening should be a part of your e-commerce social media strategy are:
A better understanding of what your customers like and dislike about your brand

Learn what your customers actually need from your business

Know the concerns of your customers that need to be addressed urgently

Gain insights into your customers' minds and get an edge over your competitors
3. Social Influence of Influencers
74% of people stated that they turn to social media platforms for guidance on their purchase decisions.
Influencers that have strong followers list on their social media handles can go a long way in giving a big boost to your brand. This is not only true in terms of reaching out to a wider audience but also in building trust.
If done right, Influencer marketing content alone can deliver 11X higher ROI than traditional forms of digital marketing.
Tip – Your brand needs to choose the right influencers whose content aligns with your brand values and whose audience is also relevant.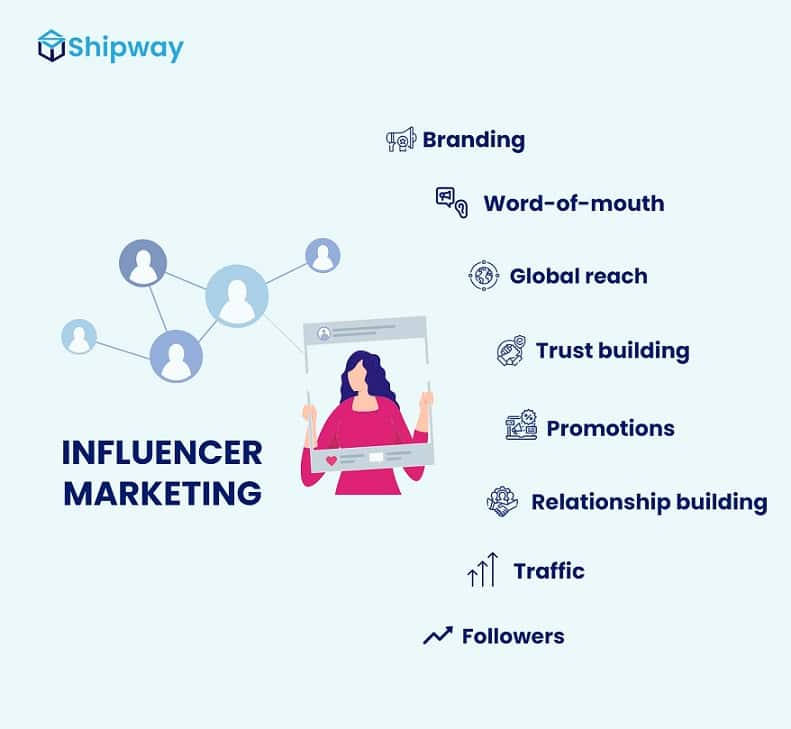 4. Build Trust Through Your Blog
A blog is a digital asset that helps in SEO as well as facilitates sharing thought leadership and engaging content on social media channels. It also serves as a pitch when you launch new products or services and can redirect a lot of traffic to your website.
Connecting your blog with engaging social media posts can string together a better path for a smoother buying journey for your customers.
The best example of a leading e-commerce company that made the best use of its blogs is Myntra, India's major e-commerce portal for fashion and lifestyle which has curated thought-provoking articles and has become an opinion leader in its industry. Placing product links strategically within their blog has led to a better conversion rate.
5. Creative Communicating Design
While designing social media posts, make sure the entire aesthetics and color scheme of the post, it should reflect the core values of the brand.
Staying true to your brand's personality can lead a long way in identifying your brand values and targeting your content accordingly.
As well-researched keywords have the potential to reach beyond your immediate followers similarly, using hashtags makes your content more discoverable on social media platforms. A/B Testing of post creative or content is another effective way of conversion optimization.
6. Promotional Offers
Discount & giveaway campaigns are really effective on social media giving your brand a good engagement for e-Commerce marketing strategy.
A perfect example of this is Lenskart, an e-Commerce company for eye care and spectacles. They have gained a lot of success in their promotional social media campaigns where they provide a free coupon of Rs. 150 on the new registrations. One of their campaigns had garnered as many as 1.6 million hits on Facebook and 6000+ tweets on Twitter, which is no small feat to achieve.
Similarly, incorporating polls in your posts will magnify the engagement as well as provide you with deep insight into your audience's thought processes and behavior.

Scale Your D2C With Social Media Marketing
Creating a social media strategy focusing on your eCommerce goals is always fruitful. Always follow a data-driven approach – count the reach, clicks, engagement, hashtag performance, organic and paid performance, and the sentiments of your customers. You need to remember that all social media platforms attract different audiences, and have different results.
This is just the first part, another part is waiting for you with some more social media marketing strategies that can help you grow your eCommerce business.
Till then keep experimenting…