We are living in a busy world full of innovations and technology, where people don't have time to go out and shop. The pandemic has forced people to maintain social distance and do shopping online from regular groceries to furniture everything. Therefore with the rise in huge demand and market competition of delivering fast, eCommerce D2C brands need a secure and accurate delivery system.
A delivery system that can keep track of every stage that passes by, a better version is a delivery tracking system, that only manages on-time order delivery but also tracks and notify customers about the same.
Due to increased online business involvement, people expect and demand updates for every little detail, especially when they purchase something online. They look forward to fast and efficient order delivery.
Also, an effective courier tracking system ensures proper management of fleet and courier.
Why is a delivery tracking system necessary?
The D2C model of eCommerce business requires huge responsibility of on-time fulfillment including packaging, dispatch, shipment, and delivery as the whole process. 
In the quest of raising high in competition, D2C brands need to listen to their customers and provide a better experience than products. Because if they receive a wrong/damaged/bad-quality product there is still a chance they could repeat the purchase but if their shopping journey and experience went poorly they might not return it to you for future purchase.
The delivery tracking system helps you here by clearing all of your and your customer's doubts regarding order delivery. The system tracks orders at each step and informs the customers about the same via regular notifications about their order.
The key necessity of a shipping tracking system is that it enables the brands to redesign their way of managing operations by eliminating unnecessary steps, and make the process smart with automation turning the whole fulfillment process efficient and catering faster deliveries.
Using the supreme technology of online delivery tracking system, create a quick and effective operational administration and order deliveries leading your brand towards a stronger bond with your customers and their increased delight.
What does the delivery tracking system do? How does it function?
As your business grows with time, you will need better resources and increased efforts to maintain the standards of your services. As the number of orders increases, you will require more skilled staff along with a stronger system to manage the order fulfillment process effectively, thereby increasing your on-time order delivery rate and profit margins.
An effective delivery courier service tracking system on board will enable you with multiple functionalities such as route optimization, real-time updates, data analytics, and access to delivery data i.e., whereabouts of any particular order at any particular time, etc. 
With an accelerated process of order fulfillment and delivery, the productivity and growth of your brand also pace up significantly.
The system helps to improve the post-purchase communication between you and your customers by providing them real-time updates on their order delivery status, with the exact location of the delivery vehicles and the contact details of the delivery staff, as additional information, increases the level of transparency with your loyal customers.

Features of a delivery tracking system
The modern-day delivery tracking system allows you to customize the system according to the requirements of your business model. The common features you get are:
1. Route optimization
The tracking system allows you to optimize the best/fastest route available to take for the delivery and also enables the customers with real-time location tracking of the order.
2. Visibility about vehicles and delivery staff
The system provides full transparency to your customers regarding the delivery information that includes who is executing their delivery and their vehicle.
3. Regular delivery status updates
The customers will enjoy the real-time updates of their order delivery status while waiting for the order to arrive. (Example, if the order delivery gets delayed for any reason it will be informed to the customers with the specific reason and where their order is currently.)
4. Vehicle parameters
Customers get visibility about every parameter of the delivery such as what is the exact location of the delivery vehicle, which route it is taking, etc.
5. Vehicle maintenance factors
The online delivery tracking system will help you keep an eye on the scheduled maintenance of your delivery vehicles and update you about the same via notification.
6. Speed of vehicles and their resting time 
The system is enabled to provide real-time information travelling speed of the delivery vehicle as well as its resting time during the journey.
7. Alerts and reminders
The system will automatically update the customers at every passing stage concerned to the current delivery execution.
8. Digital proof of delivery
The system will provide you with the delivery receipt as proof, once the order is handed over to the customer successfully.
9. Integration with other systems
The system is well fit for integration with other systems as well.
Benefits that D2C Brands get from a delivery tracking system
Apart from regularly notifying customers about the courier tracking when the shipment is on its way, the system maintains proper contact and communication between the brand, Ecommerce courier partner, delivery guy, and end-customers as its primary functionality.
In the process of pushing your brand to meet customers' expectations, the following are the benefits you get from the delivery tracking system:
Improved interaction with inventory managers, delivery staff, and end-customers

Paperless environment

Transparent and effective communication

Increased customer satisfaction

Increased accountability of delivery personnel

Improved vehicle maintenance

Enhanced productivity and efficiency
Conclusion
Having an effective shipping tracking software provides access to all the stage operations of fulfillment till delivery along with their real-time updates. The efficient processing of all the operations leads to quick delivery schedules, meeting the customers' expectations, and concluding their shopping journey, cheerful!
This boost in customer delight will induce the rate of customer retention on your online store which means more customers, more sales, more repeat purchases, better brand value, and more profit.
Happy Delivery Tracking!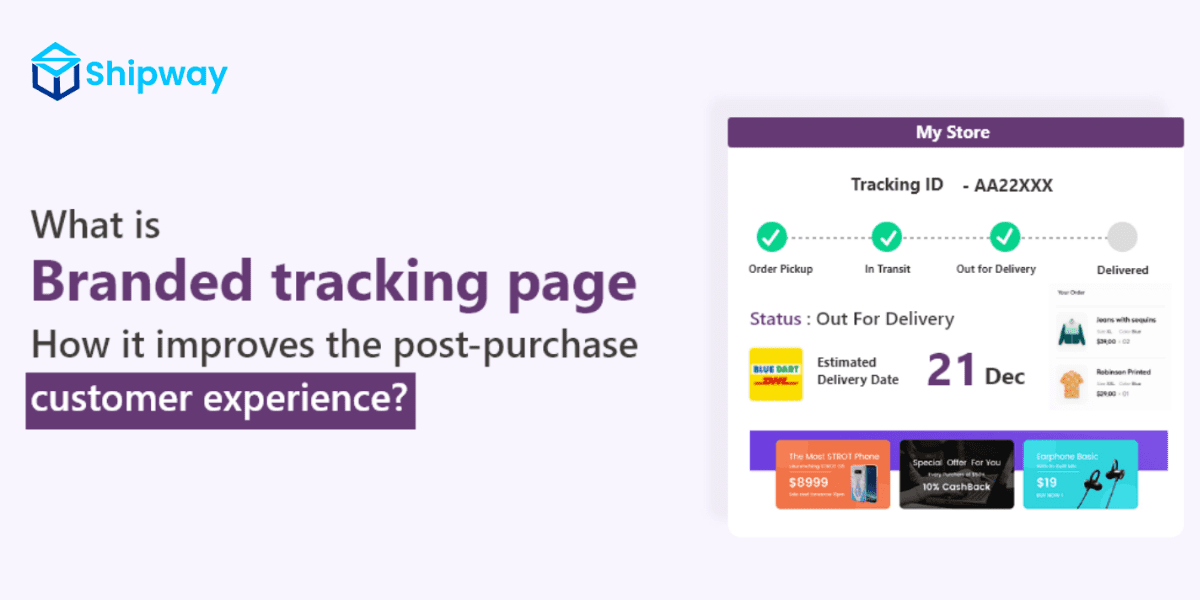 Purchasing online has become an integrated part of people's lives today. Beyond shopping, they still look forward to a few things either purchasing...
read more